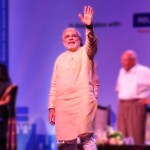 Ever since Narendra Modi was elected prime minister nearly two years ago, business tycoons and foreign policy mandarins seem to have started talking a language that revolves around resurgence of India by leveraging foreign policy to attract investment into the country and scouting for overseas markets for Indian products, energy security and technology access.
Gateway House co-hosted a panel discussion on 8 February 2016 as part of the Kala Ghoda Arts Festival, where it asked eminent personalities from business, entertainment, and diplomacy to discuss their thoughts on "Renegotiating our Neighbourhood : the Modi doctrine".
Kicking off the discussion, businessman and panellist Vijay Crishna opined that India was not playing to its strengths and the country was losing out on lucrative deals as policymakers often stumbled or moved too slowly to pitch Indian investments.
Such delays and extreme risk aversion had allowed China to "encircle" India through the so-called "String of Pearls", with possible dual purpose port projects in Sri Lanka, Pakistan and Myanmar.
Film-maker Kabir Khan agreed that Indian foreign policy could do with a greater focus on business with securing the official entry of Bollywood movies as a non-controversial access point in difficult neighbourhoods as films were already present there through massive grey market operations.
This call for India's foreign policy to take a more business-oriented approach along with a realistic tinge is not new, but diplomats like TCA Raghavan, former ambassador to Pakistan, see danger in taking a strictly "forprofit approach in foreign policy or investments that India makes.
Raghavan, who was India's top diplomat in Pakistan until end 2015, agreed with the energetic outreach of PM Modi. But he cautioned against New Delhi developing a hegemonic view of South Asia as he believes there is no real alternative to peace other than through talks with neighbours no matter how unpalatable the situation, especially with Pakistan.
According to the former top diplomat of India to Pakistan, not choosing to talk to Pakistan would mean the country will have to resort to a military solution of the Jammu and Kashmir issue. And taking this road would mean having to choose from a "menu of bad options".
A "good" military option without a high risk fallout, especially, that of a nuclear holocaust between the two countries does not exist, according to Raghavan.
Therefore, for the former senior diplomat, the process of negotiation and renegotiations on issues was the only viable option for India.
"We need to realize that most neighbourhoods in the world are difficult places. But, compared to the relationship between the North and South Koreas, we are in a far better place," Raghavan remarked.
It is a paradox, according to the diplomat, that Indian leaders know in their "gut" that the country's distractions in the neighbourhood need to reduce if it has focus on social and economic aims, but are not willing to step back from "hard line" positions taken during elections.
It is common sense that in negotiations between two unequally placed parties or countries, the one with smaller heft would want to be sure of the intent of the bigger one before agreeing to a concession or treaty.  So, it is up to the bigger player to clear the air if it wants the talks, the deal.
Thus, the concern India feels when talking to China is the same as what Sri Lanka feels when talking to India. This "big brother" effect is something Delhi needs to keep at the back of its mind when negotiating with smaller neighbours.
More importantly, Indians should be aware that for all the headlines that talk about how fast China's foreign office moves to secure deals across the world, leaving India behind, the same media outlets rarely check on the progress of these projects or whether the people are happy about them.
A case in point would be that, despite scaling up investments in Africa to nearly $26 billion (2013) from $7 billion (2008), the perception Beijing has run up in the continent is that of a "coloniser" whose labour force sooner than later follows into the country that opened its gate to Chinese investment.[1]
India should dwell on this. Perhaps a better recipe for renegotiating India's neighbourhood without the negative tags would be to mix business with strategic interests and soft power.
Because, like the old Afghan saying "a tree with a bitter seed, fed with butter and sugar, will still bear a bitter fruit", any foreign policy deal made with a cold mercantile view and preying on weakness will have positive power only for a short while.
Aditya Phatak is a senior researcher at Gateway House. 
This article was exclusively written for Gateway House: Indian Council on Global Relations. You can read more exclusive content here.
For interview requests with the author, or for permission to republish, please contact outreach@gatewayhouse.in.
© Copyright 2016 Gateway House: Indian Council on Global Relations. All rights reserved. Any unauthorized copying or reproduction is strictly prohibited
References
[1] Knowledge at Wharton, University of Pennsylvania, China's investments in Africa: what's the real story?, 19 January 2016 <http://knowledge.wharton.upenn.edu/article/chinas-investments-in-africa-whats-the-real-story/>