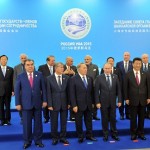 Prime Ministers Narendra Modi and Nawaz Sharif will find themselves under the same roof on 8-9 June 2017 in Astana, the capital of Kazakhstan in Central Asia, where the 17th Summit of the Shanghai Cooperation Organisation (SCO) will take place. Both India and Pakistan will be admitted as its members in its first ever exercise in expansion since its establishment in 2001.
Speculation has been rife in the Pakistan media over the last several weeks about the possibility of a meeting between PMs Modi and Sharif in Astana on the sidelines of the SCO Summit. There has been no such corresponding hype in the Indian media, print or electronic. In fact, India is staunchly opposed to any such meeting. There is growing public demand in India that even cricket matches with Pakistan under the Champions Trophy, currently in progress in the UK, should be abandoned, just as Afghanistan has done by refusing to play any cricket with Pakistan in response to the dastardly truck bomb terrorist attack in Kabul on 30 May 2017 in which 90 people were killed and several hundreds injured.
The Ministry of External Affairs has clarified that it has received no request for a meeting from Pakistan nor has any meeting between the two leaders been planned. But the possibility of it taking place is being discussed, and this is not without reason—for, it was on the sidelines of the 15th SCO Summit in July 2015 in Ufa, the capital of Bashkortostan in Russia, that the jinxed Ufa Declaration was stitched together between the two Prime Ministers and their officials.
The operative parts of the statement pertained to a meeting in New Delhi between the national security advisers (NSAs) of the two countries to discuss all issues connected to terrorism, and ways and means to expedite the 26/11 trial. The agreement proved to be stillborn as Sharif could not fulfill his part of the bargain on returning to Islamabad as there were strident protests from the Pakistani people as the 'K' word did not find mention in the statement.
Relations between India and Pakistan today are at their lowest ebb, more so than at any other time in the last few decades. The situation has deteriorated due to Pakistan's brazen involvement in stoking violence and protests in Kashmir, which is likely to increase as the snows melt on the borders.
No formal dialogue between the two countries has taken place over the last 18 months: there were hopes of this in December 2015, with meetings taking place between the NSAs and foreign secretaries of the two countries in Bangkok on December 6, followed by participation of External Affairs Minister Sushma Swaraj in the Heart of Asia Conference in Islamabad on December 9 when a decision was taken to launch the Comprehensive Bilateral Dialogue.
These interactions were capped by the bold, impromptu stop-over by Prime Minister Modi on his way back from Kabul to Lahore and Raiwind to wish Sharif on his birthday and participate in his granddaughter's wedding.
Hopes of an impending dawn in bilateral ties were short-lived. Modi's visit was quickly followed by an attack by terrorists from across the border on the Pathankot airbase on 1 January 2016. This led to Uri, the surgical strikes, Nagrota, and now, a new low has been reached by the arrest of and death sentence for former Naval Commander Kulbhushan Jadhav on 10 April 2017.
The worsened relations between India and Pakistan today are a reflection of the civil-military tussle within Pakistan. There was hope of Nawaz Sharif being exposed to a change of approach with Raheel Sharif being replaced by Qamar Bajwa as the Pakistan Army Chief, but that evaporated quickly. Bajwa has continued to act in ways that have embarrassed Sharif politically and also done much to provoke India to internationalise the Kashmir issue—one has only to take note of the increased ceasefire violations, his repeated visits to the LoC, mutilation of the bodies of two Indian soldiers, and numerous attempts at cross-border infiltration.
These provocations may also be designed to curry favour with China, with whom Pakistan's relations have been gaining in strength even as India's with China have deteriorated. In recent months, India's quarrel with China has had to do with: its veto of the UN ban on Jaish-e-Mohammed chief, Masood Azhar; its not permitting India's membership of the Nuclear Suppliers Group; and its opposition to His Holiness the Dalai Lama's visit to Arunachal Pradesh. On the other hand, India's refusal to partake in the Belt and Road Forum–since the Belt and Road Initiative passes through Pakistan-occupied-Kashmir—has been a burr in China's flesh.
These are very separate and fraught issues on their own, and may seem to be only obliquely linked to Pakistan's acts of provocation, but what also makes any chance of a meeting between the two prime ministers at Astana seem distant is that Nawaz Sharif finds himself in a much emasculated state with the continuation of his trial in the Panama papers scandal and the Dawn[1] leaks case.
Furthermore, the Pakistani prime minister's clout and sense of power were severely dented when he was neither allowed to speak at the plenary of the Islamic Summit in Saudi Arabia on May 20-21, nor did he get an audience with President Trump. Consequently, no significant purpose will be served if Prime Minister Modi were to have an interaction with Sharif.
India knows full well that Pakistan's policy on relations with India is determined by the Pakistan army, and the civilian government's role, even in normal circumstances, is extremely limited. India can hence be expected to not seek, let alone be enthusiastic, about a meeting with Sharif in Astana.
Yet, India and Pakistan will be under tremendous international pressure, from the U.S., Russia and China to have a meeting so that dialogue between them may resume and they give peace a chance. Russia and China would like the SCO, as a body, to assume greater responsibility in promoting peace in the region–and get a major boost too–if it is able to bring India and Pakistan to the negotiating table. This will also enhance the international image and heft that Russia and China would like to wield, the notion that their decisive efforts to resolve a long festering problem in the region bore fruit.
Even if the bilateral meeting were to take place, it is likely to be proforma, and not have any significant impact or positive result. For an upward turn to happen in India-Pakistan relations, Pakistan will have to abjure the use of terrorism as an instrument of its foreign policy. And that, at the moment, appears to be a far cry from reality.
Ashok Sajjanhar is currently the President of the Institute of Global Studies. He is the former Ambassador of India to Kazakhstan, Sweden, and Latvia. He is also the former Secretary/ Principal Executive Officer, National Foundation for Communal Harmony, India.
This article was exclusively written for Gateway House: Indian Council on Global Relations. You can read more exclusive content here.
For interview requests with the author, or for permission to republish, please contact outreach@gatewayhouse.in.
© Copyright 2017 Gateway House: Indian Council on Global Relations. All rights reserved. Any unauthorized copying or reproduction is strictly prohibited
References
[1] "Dawn leak case: Nawaz Sharif sacks aide; 'incomplete' action, says Pakistan army", Dawn, 29 April 2017, <http://timesofindia.indiatimes.com/world/pakistan/dawn-leak-case-nawaz-sharif-sacks-aide-incomplete-action-says-pakistani-army/articleshow/58434225.cms?>