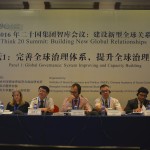 The T20 (Think 20) Summit in Beijing drew to a close another year of intense deliberations on global economic governance. T20 is the official sub-forum of the G20 for think tanks from G20 countries (and beyond) to discuss research-based solutions for the world economy.
What began as a simple experiment by the Mexican presidency in 2012 with a few experts has evolved into a vibrant forum for scholars globally to discuss global economic governance issues under the G20 mandate, such as reform of the global financial architecture, reformulation of international standards of trade, evolution of globalisation, introduction of sustainable development goals, and efficacy of global macroeconomic policies.
It was the Turkish Presidency in 2015 that expanded the institutional scope and reach of the T20. The forum was spearheaded by TEPAV (The Economic Policy Research Foundation of Turkey), a leading think tank on foreign policy issues and the official coordinator of the T20 for the year. They held close to 30 meetings with think tanks from around the world – South Korea, South Africa, China, Australia, and of course, India (with Gateway House). TEPAV's focus on small and medium enterprises was particularly energising for countries like India, where the majority of the population depends on this sector for their livelihoods and growth.
The Chinese think tanks – Institute for World Economics and Politics , Shanghai Institute for International Studies, and Chongyang Institute of Financial Studies – helped evolve the forum further by giving the meetings a thematic order and sequencing which worked very well. The meeting on international finance was held in Shenzhen, multilateral financing in Shanghai, international trade in Geneva, sustainable development in Washington D.C. and global economic governance in Mumbai (again, with Gateway House).The three think tanks worked in perfect synchrony, projecting China effectiveness as a manager of global processes.
The 2015 and the 2016 meetings in India were instrumental in providing an Indian, an emerging market, and a non-OECD perspective on the global financial architecture to the Turkish and Chinese G20 presidencies. The study of foreign economic relations has traditionally been a weak area of study in India, limited largely to the study of trade in goods. In contrast, the meetings in Mumbai discussed advanced subjects such as global financial regulations, financial market infrastructure, macroeconomic coordination, and the globalisation of businesses. The keynotes was delivered in 2015 by India's Reserve Bank of India Governor, Raghuram Rajan, and in 2016 by India's G20 Sherpa, Arvind Panagariya. The participants included think tank experts from G20 countries, and India's neighbouring countries, business leaders and corporate executives from Mumbai, and, of course, diplomats. This experience will help India when it holds the G20 presidency in the future.
Five years on, it is clear that the forum's core strength lies in its power to convene the brightest minds on global economic governance. The assembly of a group of think tank analysts with expertise in global economic studies makes for a rich interaction in itself. Live debates that highlight the opposing perspectives championed by developed and emerging economies have only enriched discourse and understanding between scholars, many of whom play important advisory roles in their respective countries. T20 sherpas from the host countries are especially requested by their governments during their presidency to provide research support and scholarly advice.
Also, the breadth of expertise at the T20 is naturally aligned with the G20's focus on cross-disciplinary issues – a strength that is often neither understood nor appreciated. G20 is catching up with what experts have long known – that globalisation now requires policies that reflect global inter-linkages. Trade issues cannot be left to the WTO, socio-economic development to the UN, banking regulations to the Bank for International Settlements, capital flows to IMF and development financing to the World Bank.
On the other hand, the forum is often critiqued for failing its mandate to be the "ideas bank" for the G20, most vocally by its own participants (including me). The trans-Atlantic financial crisis of 2008 confirmed that governments needed new ways to govern the global economy. Yet, no major initiative for global governance can be exclusively traced back to the T20. The discussions also often remain limited to "what" and "why" something needs to be done instead of "how", which frustrates clients, in this case, government officials.
As a result, the G20 has continued to depend on international organisations such as the OECD, IMF, World Bank, FAO, IEA, IEF, FSB, and BIS to provide the technical research secretariat to the G20. This is not only an opportunity loss for the T20, but also disappointing given that these were the very organisations which completely failed to see the oncoming crisis in the first place.
T20 will now enter its adolescent years, and Germany will have to parent the evolution carefully as it takes on the presidency next.
What should T20 become when it grows up?
Two German think tanks – Kiel Institute for the World Economy and DIE (The German Development Institute) – are the institutes responsible for the forum in 2017. They have already announced plans to improve the processes so that the outputs can be fed to the G20 more effectively. This is a natural next step and welcome move.
What will be more difficult for T20 is to build an identity and purpose. Unlike advocacy platforms like the B20 – established to promote business interests – T20 is an intellectual platform established to promote global interests and therefore, by definition, works for the global good. Its goal should not be to develop common policy positions as is popularly expected, but to provide a range of policy options supported with thorough research that global policy-makers can use to weigh decisions as elected representatives.
After all, creative thinking coupled with research can provide some path-breaking ideas for global economic governance!
Akshay Mathur is the Director of Research and Fellow, Geoeconomics Studies at Gateway House: Indian Council on Global Relations.
This feature was exclusively written for Gateway House: Indian Council on Global Relations. You can read more exclusive features here.
For interview requests with the author, or for permission to republish, please contact outreach@gatewayhouse.in or 022 22023371.
© Copyright 2016 Gateway House: Indian Council on Global Relations. All rights reserved. Any unauthorized copying or reproduction is strictly prohibited.