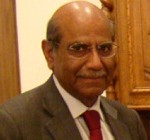 The next BRICS Summit is scheduled to take place in Durban on 26-27 March 2013. A proposal to create a BRICS development bank is being discussed at the Summit. Ambassador Shyam Saran speaks to Gateway House's Akshay Mathur about the need for a BRICS development bank and why Western-dominated financial institutions and systems cannot be easily replaced in the near future.
Q: BRICS, as a concept, seems to have fallen out of flavor, especially among western scholars. Do you see any promise in the grouping?
If you're expecting a major impact on the international economic or monetary order, it is too early for the group to act with the same coherence that, for example, the G7 has done for a long time. The G7 has carried a lot of heft in the global economy for the last fifty years. BRICS, in contrast, is not there yet.
Moreover, China is growing so fast that it is overshadowing Brazil, Russia, India, and South Africa. It has been adding one Indian economy each year to itself. It is difficult to work with coherence with such asymmetry between the members.
The West will take BRICS more seriously if BRICS can deliver on its proposal for a development bank. We need the bank to achieve our own Millennium Development Goals 2015 as assistance from the developed countries dries up. It will also energize the development work BRICS are doing abroad, especially Africa, where India and China have extensive presence.
Within BRICS, cooperation will remain issue-based for now. We need to discuss our assessments on new global rules for banking or new global rules for exchange rate stability.
Note that in some cases our interests are closer to US and Europe, while in some we are closer to China.
Q: The BRICS suffered from the sanctions imposed on Iran since no dollar based payments could be made for trade or energy. Can BRICS design alternative financial structures to trade and settle local currencies for inter and intra-BRICS trade?
We have the Asian Clearing Union but India has not used it because it was much more convenient to use the US dollar. It is not only a question of currency, but a question of operating an entire financial system, banking system, and clearing system that supports the currency. The infrastructure for alternative systems does not exist today. The Asian Clearing Union was setup for this purpose but the supporting systems were not built. 
Q: Did we not have a similar situation when sanctions were imposed on Myanmar?
Yes, we began to use Singapore at the time and eventually it became much easier to just operate through the Singapore banking system. Financial transactions for trading with Myanmar were done through Singapore and thus a significant part of our imports from Myanmar got routed through Singapore.
Q: Perhaps, we could have joined the Chiang Mai initiative that China championed with the South-East Asian countries for trading in local currencies?
India did not embrace the initiative when it began. There was no decision to stay out of it. Nor did any country resist our participation. We took an interest in the early days but did not follow up with the contributions even though South-East Asia has been our focus area since the launch of Look-East Policy in 1992.
At the time, there were several players. Now, China dominates the initiative and it is difficult to become part of it. Essentially, we just got left behind as the momentum picked up. We must be proactive. We cannot wait to be invited all the time.
Ambassador Shyam Saran is Chairman, National Security Advisory Board, India, and a Senior Fellow at the Centre for Policy Research, New Delhi. During his term in the Indian Foreign Service, he served as Foreign Secretary, Ambassador to Myanmar, Indonesia and Nepal, and High Commissioner to Mauritius.
This interview was exclusively conducted for Gateway House: Indian Council on Global Relations. You can read more exclusive content here.
For interview requests with the author, or for permission to republish, please contact outreach@gatewayhouse.in.
© Copyright 2013 Gateway House: Indian Council on Global Relations. All rights reserved. Any unauthorized copying or reproduction is strictly prohibited.