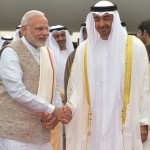 The invitation to the Crown Prince of the United Arab Emirates (UAE) to be the chief guest at our 2017 Republic Day celebrations reflects our growing attention to the Gulf countries where our interests are manifold: energy, trade, manpower, remittances and security. We have 2.6 million Indians in the UAE[1] and remittances from there are a sizeable $12.57 billion[2]. The UAE also provides us with 8% of our oil imports, which  amounted to 16.11MMT in 2016, and we intend to import an additional 2.5 MMT[3]. Our bilateral trade stood at almost $50 billion in 2015-16, making UAE our third largest trade partner[4]. It is intended to raise trade by 60% in the next five years[5].
The visit of the Crown Prince not only follows the visit of Prime Minister Modi to the UAE in August 2015, but also his own earlier one to India in February 2016.
Our enhanced attention to the Gulf countries, and beyond, to West Asia as a whole, flows from our 'Link West' policy. The growing instability in the region can affect our vital interests and this requires us to deepen our engagement with key countries, like the UAE.
The rise of the Islamic State (IS) represents a new challenge to the region and beyond, including, potentially, India.  Some Gulf States are themselves responsible for its rise to serve the goal of ousting Syrian president Assad and countering Iran's regional expansion.
With the IS turning against the Gulf states, we now have convergence on combating terrorism. During Modi's 2015 visit the joint statement expressed this shared interest in formulations of our choice. The two countries, it said, "condemn efforts, including by states, to use religion to justify, support and sponsor terrorism against other countries".  "They also deplore efforts by countries to give religious and sectarian colour to political issues and disputes, including in West and South Asia, and use terrorism to pursue their aims", it said. In a further implicit swipe at Pakistan, it called "on all states to reject and abandon the use of terrorism against other countries, dismantle terrorism infrastructures where they exist, and bring perpetrators of terrorism to justice".
The statement further called on "all nations to fully respect and sincerely implement their commitments to resolve disputes bilaterally and peacefully, without resorting to violence and terrorism". The Indian proposal for a Comprehensive Convention on International Terrorism, which has languished in the UN because of Arab opposition, received the UAE's support. Later,  the UAE  condemned the January 2016 terrorist attack against the Pathankot airbase.
During Modi's visit "the start of a new and strategic partnership" between the two countries was announced, as part of which it was decided to hold a dialogue both between the National Security Advisors every six months, and additionally, between the National Security Councils of the two countries. It was further decided to together strengthen maritime security in the Gulf and the Indian Ocean region, promote inter-operability for evacuation in conflict situations, fortify defence relations, including through regular exercises and training of naval, air, land and Special Forces, and work together in coastal defence. Significantly, the UAE supported India's candidature for permanent membership of the UN Security Council, which Pakistan strongly opposes.
The Crown Prince's visit should build on the foundations laid during the Modi visit. The first round of the strategic dialogue between the two countries took place on January 20. A Comprehensive Strategic Partnership Agreement between India and the UAE is expected to be signed during the visit, the first such agreement signed by the UAE with any foreign country. It is expected to cover cyber security, counter-terrorism, maritime security and the Indian Ocean Rim. Progress in defence cooperation is expected by way of UAE's participation in Make in India in defence manufacturing and procurement of some defence items from India
The UAE, like other Gulf countries, has a large sovereign fund that could be invested in India, but so far, no significant investment has taken place. The UAE private sector's investments, such as those by Emaar and Etilsalat, have faced problems, and this has not helped create a favourable image of India as an investment destination. With Modi's determination to make it easy to do business in India, the high rates of growth of the Indian economy, the slowdown of growth in China, and problems in Europe, the environment in India for the Gulf country to make investments is improving.
The UAE is currently the seventh largest investor in India, with $4.03 billion worth of investments between April 2000 and March 2016[6]. During Modi's 2015 visit it was agreed to set up a $75 billion UAE-India Infrastructure Investment Fund[7] to support investment in India's infrastructure, especially in railways, ports, roads, airports and industrial corridors and parks. In March 2016, the government cleared an MoU in this regard. The UAE side is now waiting for the Indian side to issue the bylaws, documentation and mechanisms for operating this Fund.
Modi's 2015 visit has also announced a strategic partnership in the energy sector, including through UAE's participation in India in the development of strategic petroleum reserves, and upstream and downstream petroleum sectors. The two sides have been working on resolving tax-related matters in this regard and some progress is expected to be announced during the Crown Prince's visit.
In sum, the Crown Prince's visit will consolidate the remarkable progress achieved in India-UAE ties.
Ambassador Kanwal Sibal is former Foreign Secretary to the Government of India and has served as India's Ambassador to Turkey, Egypt, France and Russia. He has also been a member of India's National Security Advisory Board.
This feature was exclusively written for Gateway House: Indian Council on Global Relations. You can read more exclusive features here.
For interview requests with the author, or for permission to republish, please contact outreach@gatewayhouse.in, or call 022 22023371.
©Copyright 2017 Gateway House: Indian Council on Global Relations. All rights reserved. Any unauthorized copying or reproduction is strictly prohibited.
References
[1] Embassy of India, Abu Dhabi – United Arab Emirates, Government of India, Indian Community in UAE, https://www.indembassyuae.org/category/community-affairs/indian-community-in-the-uae/ (Accessed on 26 January 2017)
[2] Pew Research Center, Remittance Flows Worldwide in 2015, http://www.pewglobal.org/interactives/remittance-map/ (Accessed on 26 January 2017)
[3] Sengupta, Chiranjib, 'India set to ramp up oil imports from UAE', Gulf News, February 10, 2016, http://gulfnews.com/business/sectors/energy/india-set-to-ramp-up-oil-imports-from-uae-1.1670096 (Accessed on 26 January 2017)
[4] Ministry of External Affairs, Government of India, India-UAE Bilateral Relations, https://www.mea.gov.in/Portal/ForeignRelation/Bilateral_Brief_for_US_DD_new.pdf (Accessed on 26 January 2017)
[5] ibid
[6] ibid
[7] Ministry of External Affairs, Government of India, 'Joint Statement between the United Arab Emirates and the Republic of India', 17 August 2015, http://www.mea.gov.in/bilateral-documents.htm?dtl/25733/Joint_Statement_between_the_United_Arab_Emirates_and_the_Republic_of_India (Accessed on 26 January, 2017)