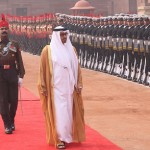 Prime Minister Narendra Modi and Crown Prince Mohammed bin Zayed Al Nahyan of the United Arab Emirates Sheikh will officially raise the bilateral relationship between the two countries to a "Comprehensive Strategic Partnership" on Thursday. India does have a high-level partnership with Saudi Arabia and Oman: such raising of the bar in its relationship with the UAE is the first milestone in India's 'Link West' policy that Prime Minister Modi has pursued aggressively since taking office in May 2014. All his top cabinet ministers have visited[1] the UAE between 2014 and today which too has made a positive impact.
The current instance constitutes a convergence of interests that could not have been better timed. India needs uninterrupted access to reasonably priced oil to maintain its economic growth while the UAE is looking towards Asia–that is, the East–for a reliable customer.
India was the world's third largest oil consumer in 2015, with its needs expected to rise to 245.0 million metric tonnes (MMT) in 2021-22 from 186 million MMT[2] currently. Imports of oil from UAE were already the fourth largest in 2015-16 and valued at nearly $4.3 billion[3].
The UAE needs high-volume oil sales to finance its economy. The combination of depressed oil sales alongside a fall in prices has caused sharp fiscal stress, with its budgeted revenues covering only 80% of its total expenditure versus 92% in 2014[4]. Dubai had to be given a $20 billion[5] bailout package in 2009 after a real estate collapse sparked questions about its solvency. Fuel subsidies[6] had to be abolished in an unprecedented move in 2015. Ending the fuel dole out was risky since the UAE avoided large-scale "Arab Spring"-related turmoil by promising reforms and spending programmes in the poorer regions of the north.[7]
Leaders of both countries have pledged to expand their bilateral trade over the next five years  by 60%[8] from the current $59 billion[9]. But Dubai is the hub of informal trade between India and Pakistan, estimated to be around $4.7 billion[10] though the official figure is pegged at $2.6 billion. So any gains to Islamabad from the increased flow of trade between India and the UAE could militate against Delhi's own hard stance on terror emanating from Pakistan.
Besides, India will have to be proactive in fostering investment opportunities for the UAE.  Delhi cannot allow a replay of 2012, when the UAE-based telecom major Etisalat had to shutter its India operations after the Supreme Court cancelled its spectrum allocation licence while the UAE will have to deliver on its promise to invest $75 billion[11] in India's infrastructure and avoid seeking deals that ask for sovereign guarantee of investments where the profits are free market-based.
China is a far bigger market for UAE than India owing to its size and economy–in 2015, it was already the world's second largest consumer[12]–but its distance from the Persian Gulf is a factor in its disfavour. The UAE is likely also to be concerned about the emergence of Iran from the nearly two decade-long sanctions regime, offering India and China more viable options for sourcing their oil needs. Iran became India's third top supplier in 2015-16 from being seventh in 2013-14.
These factors may have urged the UAE to offer India its excess[13]oil to help build up the latter's strategic petroleum reserves when Dharmendra Pradhan, India's Minister of State (Independent Charge), Ministry of Petroleum and Natural Gas, paid a visit in April 2016.
China is trying to negate the allure India holds for the UAE by offering large investments in the overall Gulf region ($55 billion)[14] and through projects such as the China-Pakistan Economic Corridor (CPEC) that terminates at Gwadar port at the mouth of the Persian Gulf. But the ongoing tensions between U.S and China, as well as Beijing's links to Shiite Iran may muddy the waters for the monarchies. Also, the uncertainty over policies that President Trump may pursue to deliver on his campaign promise to tackle China may weigh on the monarchies' engagement with Beijing.
The need for a stable and secure neighbourhood that is key to trade and investment is the second point of convergence between India and the UAE. The United States-led regional security architecture that the UAE and its oil-rich monarchies have depended on for the last seven decades is looking increasingly shaky. First, the massive costs of its campaign in Iraq and Afghanistan have sapped its economy and social resolve for new military operations. And their other ally–Pakistan–which has benefited massively from their largesse, will not be able to become the net security provider for the region.
Pakistan is already grappling with the violence emanating from the Pakistani Taliban and the complicated relationship with India and Afghanistan at its flanks. Islamabad's refusal to join the Saudi-led intervention in Yemen in 2015 laid bare its limitations. Pakistan said it would act only if the integrity of Saudi Arabia's territory was threatened[15]. Meanwhile, with the Islamic State openly calling for the destruction of the monarchies, India is at closest proximity to be able to step into the vacuum that will be created as Washington pulls out of the region to focus on China under its 'Rebalance to Asia' policy.
India and China both have the ability to become net security providers in the region, what with their large military arsenals modernising at a rapid pace and demonstrated capabilities to move-and-support troops across large distances. But it's only India that has shown the political will so far to exercise its military arm in aid of other countries, such as, in the creation of Bangladesh in 1971, and the naval intervention in the Maldives in 1988 to end an attempted coup. In contrast, China has not come to the aid of its ally, Pakistan, in any of its open conflicts with India. There have been three so far–1965, 1971 and 1999.
More importantly, what also holds appeal for the monarchies is India's strong naval presence in the region and geographical preponderance near the key choke point of the Persian Gulf.
The global strategic situation is thus favourable for the deepening of ties between UAE and India and worth Delhi's while to leverage.
Aditya Phatak is Senior Researcher at Gateway House.
This article was exclusively written for Gateway House: Indian Council on Global Relations. You can read more exclusive content here.
For interview requests with the author, or for permission to republish, please contact outreach@gatewayhouse.in.
© Copyright 2016 Gateway House: Indian Council on Global Relations. All rights reserved. Any unauthorized copying or reproduction is strictly prohibited
References
[1] Government of India, Ministry of External Affairs, India-UAE Bilateral Relations, 26 January 2017, <https://www.mea.gov.in/Portal/ForeignRelation/Bilateral_Brief_for_US_DD_new.pdf>
[2] Government of India, Ministry of Petroleum and Natural Gas, Petroleum Planning & Analysis Cell, Oil Industry Information at a Glance, 26 January 2017, <http://ppac.org.in/WriteReadData/Reports/201612011257481815002ReadyReckoner,November2016-Web.pdf>
[3] Government of India, Ministry of Commerce and Industry, Department of Commerce, 26 January 2017, <http://commerce.gov.in/EIDB.aspx>
[4] Central Bank of the UAE, Financial Stability Report 2015, 26 January 2017, <http://www.centralbank.ae/en/pdf/reports/FinancialStabilityReport2015.pdf>
[5]  Central Intelligence Agency, The World Factbook, 26 January 2017, <https://www.cia.gov/library/publications/resources/the-world-factbook/geos/print_ae.html>
[6] Central Bank of the UAE, Financial Stability Report 2015, 26 January 2017, <http://www.centralbank.ae/en/pdf/reports/FinancialStabilityReport2015.pdf>
[7]  Central Intelligence Agency, The World Factbook, 26 January 2017, <https://www.cia.gov/library/publications/resources/the-world-factbook/geos/print_ae.html>
[8] Government of India, Ministry of External Affairs, India-UAE Bilateral Relations, 26 January 2017, <https://www.mea.gov.in/Portal/ForeignRelation/Bilateral_Brief_for_US_DD_new.pdf>
[9] Government of India, Ministry of External Affairs, India-UAE Relations, 26 January 2017, <http://www.mea.gov.in/Portal/ForeignRelation/UAE_2015_07_02.pdf>
[10] Taneja, Nisha and Samridhi Bimal, 'Working Paper 327: India's Informal Trade with Pakistan', Indian Council for Research on International Economic Relations, July 2016, <http://www.icrier.org/pdf/Working_Paper_327.pdf>
[11] Government of India, Ministry of External Affairs, India-UAE Bilateral Relations, 26 January 2017, <https://www.mea.gov.in/Portal/ForeignRelation/Bilateral_Brief_for_US_DD_new.pdf>
[12] Government of India, Ministry of Petroleum and Natural Gas, Petroleum Planning & Analysis Cell, Oil Industry Information at a Glance, 26 January 2017, <http://ppac.org.in/WriteReadData/Reports/201612011257481815002ReadyReckoner,November2016-Web.pdf>
[13] Government of India, Ministry of Petroleum and Natural Gas, Strategic Petroleum Reserve, 26 January 2017, <http://indiaenergy.gov.in/doc/Expert-view/Strategic%20Petroleum%20Reserve.pdf>
[14] European Union Institute for Security Studies, China in the Middle East: not just about oil, Sebastian Hornschild, 26 January 2017, <http://www.iss.europa.eu/uploads/media/Alert_31_China_MENA.pdf>
[15] Islamic Republic of Pakistan, Prime Minister's Office, PM Meets Parliamentary Party Leaders, 26 January 2017, <http://www.pmo.gov.pk/press_release_detailes.php?pr_id=906>