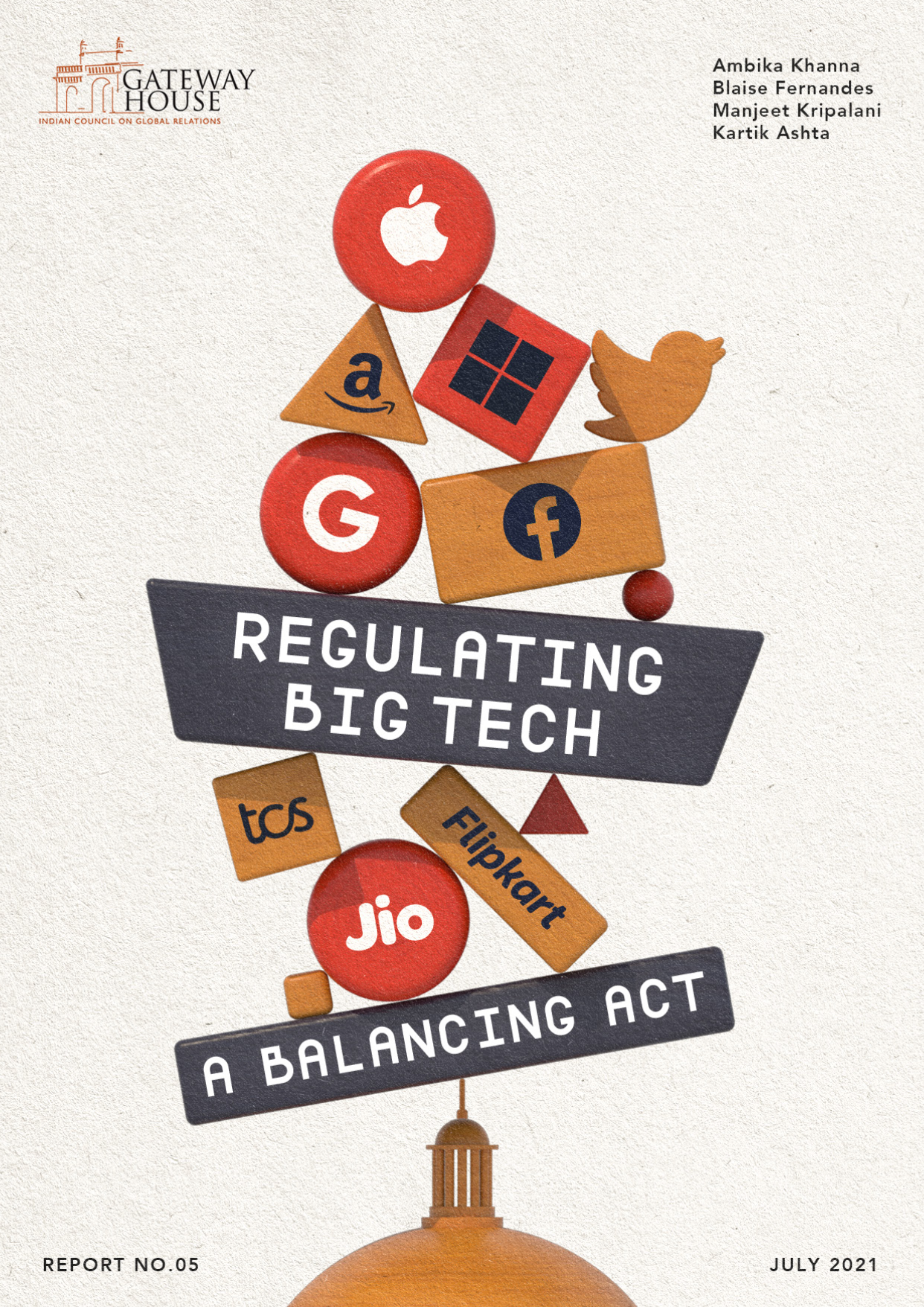 Through the ravages of the COVID-19 pandemic are some bright spots and some beneficiaries. One such spot is Big Tech and the global digital marketplace. From governments to institutions to consumers, all have turned to digital platforms to conduct business, work from home, seek COVID-related help, and fulfil their everyday needs – from schooling, to retail, payments and telemedicine. Big Tech's profits have soared – a 105% increase over the last year. [1]
However, the omnipresence of these tech platforms raises crucial questions on their dominance, data protection and privacy, and the specific role of intermediaries. Understanding this, developing and developed countries alike are focussing on digital governance in order to determine fundamental ground rules and principles on the operation and expansion of digital businesses and platforms. In the last few years, the European Union has taken the lead in framing rules on digital governance that promote innovation as well as a level playing field. In addition to the flagship General Data Protection Regulation (GDPR), which has been like a model law for several nations, there is the Payments Service Directive, the revised e-commerce directive and the Digital Services Act, amongst others.
India is behind the EU on digital rules, but it is leading the way on fintech. The cornerstone of India's fintech revolution is the India Stack – a set of application programming interfaces (APIs), that are publicly available, thereby promoting open-source information for the provision of digital services for public use. With India ahead of the fintech game on the technology, regulatory and consumer fronts, it will be looked at as a leader in the global fintech order.
With several countries in the process of determining domestic technology laws and rules, it is imperative for multilateral bodies to run parallel with global rules. Groups such as the G20 must work on establishing the global rules on digital governance and arrive at an international consensus. The aim should be to strike the right balance between innovation and regulation.
This report analyses key aspects of the digital revolution – from fintech, digital public goods and intermediaries, to global data rules and issues of anti-trust. It makes pointed recommendations on creating digital equity, uniformity of global digital regulations along with digital empowerment of policy makers. None of this is possible without the combined and sustained efforts of all stakeholders from governments to corporates, academia and civil society organisations.
You can download the PDF version of this report, here.

Ambika Khanna is Former Senior Researcher, International Law Studies Programme, Gateway House,
Blaise Fernandes is Board Member, Gateway House, and President & CEO, The Indian Music Industry.
Manjeet Kripalani is Executive Director and co-founder, Gateway House.
Kartik Ashta is Researcher, International Law Studies Programme, Gateway House
This report was exclusively written for Gateway House: Indian Council on Global Relations. You can read exclusive content here.
For interview requests with the author, or for permission to republish, please contact outreach@gatewayhouse.in.
© Copyright 2021 Gateway House: Indian Council on Global Relations. All rights reserved. Any unauthorized copying or reproduction is strictly prohibited.
References:
[1] https://www.ft.com/content/42c5f1d6-36e5-4117-b30e-635c85c6a55c