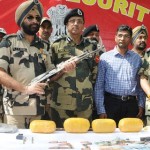 This article is the second of a two-part series on Punjab. Read part one here.
Last month, Punjab's Congress government completed one year in office. The Congress party had been strident during its election campaign in criticising the then Bharatiya Janata Party-Shiromani Akali Dal ruling coalition for failing to solve the state's drug problem. It even accused the government of being involved in the drug trade. The party promised to eliminate the menace in four weeks, using a catchy slogan, 'Char hafte vich khatam'[1].
It was an optimistic but impractical goal. The factors that caused and perpetuated the state's drug problem–an agrarian crisis caused by an over-reliance on cash crops, a lack of job opportunities, the easy availability of narcotic substances and ties between drug syndicates, organised criminal gangs, politicians and rogue elements of the law enforcement agencies–are not amenable to quick fixes. Moreover, Punjab is just one of several corridors in India for drug smuggling; dismantling the whole global network that drives the illicit trade requires a much larger national and international effort.
Another key problem is that Pakistan's Inter Services Intelligence agency is patronising some smuggling syndicates as part of a 'hybrid warfare' strategy against India that also involves sending counterfeit Indian currency notes and small arms across the international border into Punjab.
Despite the daunting challenges, Chief Minister Captain Amrinder Singh vowed following the election to take on the problem. His crackdown focused on:
targeting the state's drug networks to reduce the drug supply;
improving the condition of the de-addiction centres and introducing "Outpatient Opioid Assisted Treatment"; and
creating greater public awareness on drug abuse to reduce demand for drugs.
The highlight of this crackdown was formation of the Special Task Force (STF), headed by a high-ranking officer of the level of an additional director general of police to oversee the government's drug-elimination efforts.[2] The STF initially set out to identify hubs of drug trade across the state and target drug peddlers.[3] In the first month of Congress rule, more than 1,400 people engaged in the drug trade were arrested.[4]
Since then, de-addiction centres across the state have reported an increase in the number of patients, demonstrating the impact of awareness campaigns. But tackling the drug supply has proved to be difficult. Drug peddlers have now either gone underground or moved to online black markets, while the drug syndicates' smuggling network–international and intra-state–continues to thrive.
This is evident in Punjab's border districts, where local communities and the law enforcement agencies are grappling with the twin challenge of addiction and drug smuggling.
Punjab abuts the heroin-producing 'golden crescent' of Pakistan, Afghanistan and Iran. The state shares a 553-km international border with Pakistan. Though fenced on the Indian side of Punjab in all but a few sectors, the fence has not deterred Pakistan-based drug smuggling syndicates from creating a cross-border network for smuggling heroin (locally called chitta, or white powder) and opium (fukki). Their routes run through the border districts of Firozpur, Fazilka, Tarn Taran, Gurdaspur and Pathankot. Amritsar, where smuggling routes have been 'tried and tested' over the last 30 years,[5] is the preferred hub.
The Border Security Force, which guards the India-Pakistan border, has taken various steps to check the smuggling across most of the international border, including:
electrifying the fencing;
deploying sensors, night-vision devices and hand-held thermal imaging devices to detect cross-border movements;
increasing the number of human observation border posts;
floodlighting the border;
deploying BSF jawans as 'Kisan Guards' to keep watch on farmers whose lands lie near the fencing; and
engaging with the border communities to keep track of suspected couriers.
Some of these measures form a part of the Comprehensive Integrated Border Management System[6], which was launched after repeated cross-border terrorist attacks in Punjab in 2015-16, when terrorists infiltrated into India from Pakistan, using the same smuggling routes.
The BSF's measures have contained the problem to some extent. Earlier, there used to be daily seizures of contraband consignments, but now there are seizures once in few weeks. However, with global demand for narcotics spiking, smugglers have shown ingenuity. At times, they throw packets of contraband across the border and use locals, who are well-versed with the topography, as couriers. They also deploy 10-12 meter-long plastic pipes for bulk smuggling to dodge electric fencing; use cavities in vehicles plying across the border; and even farmers, despite the deployment of BSF's 'Kisan Guards'. In areas where there is no fencing because of riverine gaps, such as in Firozpur, Amritsar (Ramdass) and Gurdaspur (Dera Baba Nanak) districts, Pakistani couriers sometimes physically cross the Beas river to deliver the contraband to the Indian side. In some cases, smugglers have also dug tunnels to breach border fencing.[7] To remain in touch with their Pakistani counterparts, smugglers on the Indian side use Pakistani SIM cards close to the border points, evading Indian security agencies' surveillance.
Drugs come into Punjab not just through the India-Pakistan border, but also from neighbouring Indian states.
Drug syndicates have smuggled opium into Punjab from Rajasthan (Sri Ganganagar and Hanumangarh districts, in turn, smuggled from Pakistan in the same manner as in Punjab) and Jammu and Kashmir (Jammu and Kathua districts), while heroin is usually smuggled from Madhya Pradesh.[8] Both Jammu and Kashmir and MP are known to cultivate poppy illegally.
Baddi town in neighbouring Himachal Pradesh is an important source of synthetic drugs, such as Amphetamine-Type Stimulants (ATS) and Ecstasy. This town is home to several private pharmaceutical companies, and substances, such as ephedrine and acetic anhydride, which are used here for medicines, are also an important component for synthetic drugs. The Punjab police say that despite regulatory controls, these substances are diverted from these companies for producing synthetic drugs and then smuggled into Punjab and other states.
An entrenched cocaine smuggling network has spread in Punjab. According to the Chandigarh police, Nigerian drug peddlers from Delhi's Dwarka and Uttam Nagar areas have set up a base in the Chandigarh Tricity (Chandigarh-Mohali-Panchkula).
Regulating professionally organised drug syndicates and reducing the drug trade remains a complicated endeavour for law enforcement agencies worldwide. The challenges are particularly great for India, where, despite the best intent, coordination between centre and the state on security issues remains mired in inter-agency turf battles. The Multi-Agency Centre (MAC) was set up in New Delhi in 2008, along with the Subsidiary MACs in state capitals, and the Narco Coordination Centre was established in 2016 to address this problem. But these efforts are insufficient to solve the problem.
In trying to counter the smuggling on the India-Pakistan border, the BSF is at a serious disadvantage: insufficient trained manpower, inadequate funding and insufficient electricity supply to keep its hi-tech equipment running. Complicating the situation further, elements in the security forces are themselves involved in drug smuggling activity. For instance, between 2014 and 2016, 68 personnel from Punjab's police, state jail and home guards departments, and the BSF, Railway Protection Force and Chandigarh Police, have been arrested for participating in drug smuggling.[9]
Drug smuggling networks have proved to be resilient for decades, and will not be easy to dismantle—not when a conspiracy involving the drug syndicates, politicians, and rogue elements of law enforcement agencies keeps it afloat. Breaking this nexus will require political will and a multi-pronged approach, focused on capacity-building in the security agencies, better border management, better implementation of the counter-narcotic regulations and a sustained de-addiction campaign.
A concerted national effort to get rid of the drug problem is critical. Without it, India risks suffering a fate like that of the Philippines, which is caught in a vortex of unending wars against drug smuggling syndicates and organised criminal gangs, with neither focus nor resources left for economic development.
This article is the second of a two-part series on Punjab. Read part one here.
Click here to view our repository on the Arc of India's Border Security.
Sameer Patil is Director, Center for International Security and Fellow, National Security Studies, Gateway House.
This article was exclusively written for Gateway House: Indian Council on Global Relations. You can read more exclusive content here.
For interview requests with the author, or for permission to republish, please contact outreach@gatewayhouse.in.
© Copyright 2018 Gateway House: Indian Council on Global Relations. All rights reserved. Any unauthorized copying or reproduction is strictly prohibited.
References
[1] Punjab Pradesh Congress Committee Manifesto, January 2017, <http://yespunjab.com/images/pdf-files/Punjab-Congress-Manifesto-2017.pdf>
[2] Directorate of Information and Public Relations, Punjab, India, Government of India, Punjab Govt Issues Formal Notification to Provide Framework for Anti-Drugs STF, 14 April, <http://diprpunjab.gov.in/?q=content/punjab-govt-issues-formal-notification-provide-framework-anti-drugs-stf>
[3] Sharma, Amit, "Drug peddlers! Cops are all out to get you", The Tribune, 25 July 2017, <http://www.tribuneindia.com/news/chandigarh/drug-peddlers-cops-are-all-out-to-get-you/441855.html>
[4] "Punjab: Nearly 1,468 persons arrested in crackdown on drugs", Financial Times, 16 April 2017, <http://www.financialexpress.com/india-news/punjab-nearly-1468-persons-arrested-in-crackdown-on-drugs/630023/ >
[5] These districts are entry points, and inevitably also thriving markets for consumption. While there are no district level figures available for drug consumption in Punjab, a government survey conducted in 2015 in 10 districts had estimated 230,000 people to be 'opioid dependents' and around 8.6 lakh non-dependent opioid users, primarily in the age group of 18-35 years.
Source: All India Institute of Medical Sciences, Punjab Opioid Dependence Survey (PODS), <http://pbhealth.gov.in/scan0003%20(2).pdf>, p. 3
[6] Department-Related Parliamentary Standing Committee on Home Affairs, Rajya Sabha, Parliament of India, Two Hundred Third Report, Border Security: Capacity Building and Institutions, 11 April 2017, <http://164.100.47.5/newcommittee/reports/EnglishCommittees/Committee%20on%20Home%20Affairs/203.pdf>, pp. 23-24
[7] In the most prominent case which drew attention to this technique, in July 2012, BSF discovered and dismantled a 400 meter long underground cross-border tunnel in the R. S. Pura sector of Jammu district.. Please see: "India Lodges 'strong protest' with Pak over tunnel issue in J&K", The Hindu, 31 July 2012, <http://www.thehindu.com/news/national/other-states/india-lodges-strong-protest-with-pak-over-tunnel-issue-in-jk/article3707643.ece>
[8] Narcotics Control Bureau, Ministry of Home Affairs, Government of India, Annual Report 2016, <http://narcoticsindia.nic.in/upload/download/document_idcfa45151ccad6bf11ea146ed563f2119.pdf>