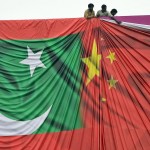 The Indian government must be commended for staying away from the Belt & Road Forum in Beijing this week on the basis of principled objections. However, the forum has robust global participation – 30 heads of state[1] attended the meeting, as did the chiefs of the UN, World Bank and International Monetary Fund (IMF). India was the only country in the world that was invited, but refused to participate.
The one country, though, that was prominent in the forum was Pakistan. Despite Indian assertions that it has been effectively isolated on issues of terrorism, Pakistan is, in fact, riding high. Not only because the $62 billion China-Pakistan Economic Corridor (CPEC) is being hailed as the flagship project of the nearly $1 trillion Belt & Road Initiative (BRI). Pakistan now has several other arrows in its geopolitical quiver, which, far from leaving it isolated, have enabled it to position itself very well in the fluid geopolitics of the region.
BRI has clarified for the world that as the U.S. grew more disenchanted with Pakistani perfidy, Pakistan has gained larger and more open Chinese support, economically and geopolitically.
By ignoring India's protests of routing CPEC through Gilgit-Baltistan, China has made clear its position on the Jammu & Kashmir dispute, and ensured that this Pakistan-occupied region will remain in Pakistani hands.
Pakistan will be flush with foreign funds. Along with BRI's $62 billion investment over 20 years, Pakistan will continue to receive an annual aid and development payout of an estimated $6.63 billion from global multilateral institutions like the World Bank, IMF, Asian Development Bank, Asian Infrastructure Investment Bank, Gulf Cooperation Council (GCC), and Japan International Cooperation Agency, for building its economy, aid for health and education, humanitarian programmes, etc. (See table below).
The country is already highly indebted. In 2016, rating agency Standard & Poor's raised Pakistan's sovereign rating from a B- (junk) to B–a positive fallout largely from the infusion of[2] a $6.6 billion extended loan and bailout package from the IMF[3] and on the "high investment associated with the China-Pakistan Economic Corridor."
In March[4], the Trump administration announced it will consider increasing troop deployments in Afghanistan, up from the existing 8,400 troops. This will return the U.S. to its pathological dependence on Pakistan as a transit and logistical route to and from Afghanistan.
U.S. President Trump is currently on his first foreign visit–and it is to long-time ally Saudi Arabia. In Riyadh, where Trump will meet the Saudi and GCC leadership, he will also meet leaders from select Sunni-majority Muslim countries, including Pakistan. Here, he will have his first meeting with Pakistani Prime Minister Nawaz Sharif. In contrast, India's efforts for a meeting in Washington with Prime Minister Modi and Trump have yielded no dates.
In Riyadh, the 'Islamic NATO' will be part of the wider conversation with Trump because of its focus on fighting terrorism. Significantly, the commander of the Islamic NATO forces is Raheel Sharif, the former Pakistani army chief. This clearly shows that Pakistan enjoys a superior position of trust among the Sunni Arab Gulf countries, despite India's high-octane efforts and diplomacy with the GCC.
Long-time India supporter Russia now has an extremely cordial relationship with Pakistan which includes arms sales, military exercises and consultations on accommodating the Taliban in the ruling dispensation in Kabul.
The Chinese support, Russian approval, U.S. dependence, multinational funding, Saudi proximity–have all emboldened Pakistan to provoke India over the kidnapping and death sentence of Indian national, Kulbhushan Jadhav.
Pakistan has again made the most of its strategic location for economic and strategic gain. And as always, it continues to be short-sighted about its own long term fate. The BRI's massive investment, and Pakistan's inability to repay the debt, will lead it to become a vassal state of China. Pakistan is already highly indebted; in the last three[5] years it has taken on an addition $25 billion in foreign debt and $30 billion in domestic debt. It's debt to GDP ratio is 66%–high for a low-income country.
Foreign Direct Investment into Pakistan:
Country
Year
Amount
China
2016
$595 million
United States
2016
$52 million
Japan
2016
$35 million
Saudi Arabia
2016
$24 million
(Source: State Bank of Pakistan)
The BRI will only add to Pakistan's debt–and more. A May 15 report[6] in Pakistan's Dawn newspaper reveals that all the benefits of the CPEC will accrue to Chinese enterprises, with very little left over for ordinary Pakistani citizens and Pakistani companies. Along with CPEC comes the obligatory dissemination of Chinese culture–surely a coming clash with a deeply religious country like Pakistan.
Islamabad's memory is short–it has already forgotten that the epidemic of terrorism within Pakistan is the blowback from its collaboration with the U.S. and Saudi Arabia to create the Mujahideen and defeat the Soviet Union in Afghanistan. With the BRI, Pakistan will eventually have to cede chunks of its territory to China–as seen from the experience of the Hambantota port in Sri Lanka, now owned by China.
Meanwhile, Pakistan is enjoying a moment of revived regional relevance.
Aid and Official Development Assistance (ODA) to Pakistan
Organization
Commitment
Type
United States (USAID, Dept of Defense, Dept of State)
$947 million (2016) [7]
$653 million – economic aid, $294 million – military aid
Japan (JICA)
$180 million (2015) [8]
Major economic infrastructure and healthcare aid
UK (DFID)
$580 million (2015) [9]
Social infrastructure aid and loans
EU
$110 million (2015) [10]
Social infrastructure and humanitarian aid
ADB
$400 million (2015) [11]
Economic infrastructure loans and grants
AIIB
$100 million (2016) [12]
Co-financing project with ADB  on road infrastructure
World Bank (IDA)
$1.6 billion (2015) [13]
Social infrastructure and economic infrastructure aid and loans
IMF
$510 million (2016)[14]
Financial assistance and loans
China
$1.3 billion (2016)[15]
Aid disbursed in 2016
Saudi Arabia
$122 million (2016)[16]
Economic aid and grants
UAE
$83 million (2015)[17]
Social infrastructure and economic infrastructure aid and loans
Kuwait
$45 million (2015)[18]
Economic infrastructure loans
GAVI (The Vaccine Alliance)
$100 million[19]
Social aid- vaccines
Neelam Deo is Co-founder and Director, Gateway House: Indian Council on Global Relations, Mumbai and is a former Indian Ambassador.
Manjeet Kripalani is Co-founder and Executive Director, Gateway House: Indian Council on Global Relations, and is the former India Bureau Chief of Businessweek magazine.
This article was exclusively written for Gateway House: Indian Council on Global Relations. You can read more exclusive content here.
For interview requests with the author, or for permission to republish, please contact outreach@gatewayhouse.in.
© Copyright 2017 Gateway House: Indian Council on Global Relations. All rights reserved. Any unauthorized copying or reproduction is strictly prohibited
References
[1] "Full text: Joint communique of leaders roundtable of Belt and Road forum", Xinhuanet, 15 May 2017, <http://news.xinhuanet.com/english/2017-05/15/c_136286378.htm>
[2] "IMF to release final instalment of $6.6 bn loan to Pakistan", The Economic Times, 5 August 2016, <http://economictimes.indiatimes.com/news/international/world-news/imf-to-release-final-instalment-of-6-6-bn-loan-to-pakistan/articleshow/53564319.cms>
[3] International Monetary Fund Country Focus: Pakistan, International Monetary Fund, IMF Survey: Pakistan Gets $6.6 Billion Loan from IMF, 4 September 2013, <https://www.imf.org/en/News/Articles/2015/09/28/04/53/socar090413a>
[4] McLeary, Paul, "More U.S. Troops Bound for Afghanistan, As Marines, Commandos, Arrive In Syria", Foreign Policy, 9 March 2017, <http://foreignpolicy.com/2017/03/09/more-us-troops-afghanistan-marines-syria-commandos-iraq/>
[5] Rana, Shahbaz, "In three years, Pakistan has taken on $25b in fresh loans", The Express Tribune, 20 October 2016, <https://tribune.com.pk/story/1203863/external-debt-three-years-pakistan-taken-25b-fresh-loans/>
[6] Husain, Khurram, "Exclusive: CPEC master plan revealed", Dawn, 15 May 2017, <https://www.dawn.com/news/1333101/exclusive-cpec-master-plan-revealed>
[7] United States Agency for International Development, Foreign Aid Explorer, Country Summary, <https://2009-2017.state.gov/r/pa/prs/ps/2016/02/252303.htm>
[8] Organisation for Economic Co-operation and Development, Compare your country, Aid statistics by donor, recipient and sector, Gross disbursements of Official Development Assistance (ODA) in 2015, Pakistan – ODA by donor and sector, USD million, <http://www2.compareyourcountry.org/aid-statistics?cr=665&lg=en&page=21>
[9] Ibid
[10] Ibid
[11] Ibid
[12] Asian Development Bank, ADB Approves First Cofinancing with AIIB for a Pakistan Road Project, 10 June 2016, <https://www.adb.org/news/adb-approves-first-cofinancing-aiib-pakistan-road-project>
[13] Organisation for Economic Co-operation and Development, Compare your country, Aid statistics by donor, recipient and sector, Gross disbursements of Official Development Assistance (ODA) in 2015, Pakistan – ODA by donor and sector, USD million, <http://www2.compareyourcountry.org/aid-statistics?cr=665&lg=en&page=21>
[14] International Monetary Fund, Press Release: IMF Staff Completes Review Mission to Pakistan, 12 May 2016, <https://www.imf.org/external/np/sec/pr/2016/pr16215.htm>
[15] Government of Pakistan, Ministry of Finance, Revenue, Economic Affairs, Statistics and Privatisation, Status Report July-December 2016-17, <http://ead.gov.pk/frmDetails.aspx?id=83&opt=publications> ; Government of Pakistan, Ministry of Finance, Revenue, Economic Affairs, Statistics and Privatisation, Status Report July-December 2015-16, <http://ead.gov.pk/frmDetails.aspx?id=74&opt=publications>
[16] Government of Pakistan, Ministry of Information, Broadcasting and National Heritage, Press Information Department, PR No. 88 EAD, SFD Sign Grant/Loan Agreements Islamabad: March 10, 2016, 10 March 2016, <http://www.pid.gov.pk/?p=16204>
[17] Organisation for Economic Co-operation and Development, Compare your country, Aid statistics by donor, recipient and sector, Gross disbursements of Official Development Assistance (ODA) in 2015, Pakistan – ODA by donor and sector, USD million, <http://www2.compareyourcountry.org/aid-statistics?cr=665&lg=en&page=21>
[18] Ibid
[19] Ibid