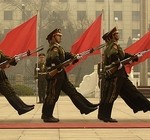 In recent years, China has become more assertive in its dealings with India over their disputed border.  To begin with, the Chinese have started forcefully referring to the Indian state of Arunachal Pradesh – a large portion of which is claimed by China – as "southern Tibet."  This is an important development for there is no reference to "southern Tibet" in China's official remarks prior to 2005.
Furthermore, it has also been reported that China plans to extend its railway network right up to the Tibetan border with Arunachal Pradesh.
But perhaps more importantly and disturbingly, China has raised the ante in Kashmir.  To be sure, China has always been a party to the Kashmir dispute.  Chinese road-building activities through the Aksai Chin region of Ladakh had begun soon after the China's military annexation of Xinjiang and Tibet (in 1949 and 1950-1 respectively).  China officially annexed Aksai Chin after the 1962 Sino-Indian War.  China also received a part of the so-called Northern Areas of Pakistan, including the Shaksgam Valley – a region that India considers to be a part of Kashmir – in 1963.  However, until recently, China considered all of Kashmir (barring Aksai Chin) to be a region disputed between India and Pakistan.  But in a dramatic shift of policy in 2010, China referred to Pakistan-administered Kashmir as "northern Pakistan", while referring to Indian-administered Kashmir as a "disputed" region.  In other words, China's emerging position on Kashmir seems to be that while Pakistani-Kashmir is sovereign Pakistani territory, Indian-Kashmir is a disputed region.
These factors coupled with a recent article in the New York Times about the long-term presence of 7,000 – 11,000 soldiers of China's People's Liberation Army (PLA) in the Northern Areas of Pakistan – reports that were in part confirmed by the Indian establishment – have set alarm bells ringing in New Delhi.  Noting the military and strategic implications of these developments, India's mild-mannered economist Prime Minister Manmohan Singh recently stated that China was trying to use Kashmir, India's "soft underbelly," and Pakistan "to keep India in low-level equilibrium."
India must respond to China's growing assertiveness strategically as well as operationally.  First and foremost, India needs to fully integrate its northeastern states, including Arunachal Pradesh, economically and politically with the rest of India.  Secondly, India needs be economically magnanimous towards its smaller neighbors in South Asia, particularly Nepal, Bangladesh, and Sri Lanka, where Chinese influence is growing rapidly.  India needs to tie its rapidly growing economy with that of its subcontinental neighbors.  Close ties with Bangladesh may also pave the way for India to physically connect with its own northeastern states in the future.
Thirdly, India needs to launch the next phase of its "Look East" policy and reach out strategically to Southeast Asia.  With its geographic and ethnic borders with Southeast Asia, India's northeastern states will be able to prosper economically only if they are fully integrated – physically and economically – with the dynamic economies of this region.  It also needs to be noted that Southeast Asian states remain wary of China's rise given their outstanding territorial disputes and uncertainty regarding China's rapid military modernization.  However, no such problems exist in India's relations with Southeast Asian states and New Delhi must take advantage of these facts and develop robust naval and strategic relations with like-minded states in the region, notably Singapore and Vietnam, but also with Indonesia, the region's largest state.
Next, in the context of India's "Look East" policy, New Delhi needs to meaningfully engage the region's democracies up north – Taiwan, South Korea, and Japan.  It remains unclear why Taiwan has been deemed an "untouchable" by India's foreign policy pundits when all other major countries including the United States and Japan, not to mention China, have developed robust economic relations with this dynamic and high-tech island polity.  While it remains prudent for India not to raise the Taiwan issue politically, there is no good reason for New Delhi not to engage Taiwan economically.  Looking ahead, New Delhi may even wish to develop links with Taiwan's avid China-watching intelligence apparatus.
New Delhi also needs to foster strategic links with South Korea and Japan, both of which have invested heavily in the Indian economy.  Tokyo's diplomatic spat with Beijing over the Chinese fishing boat captain arrested by Japan in the East China Sea a few weeks ago is an opportune moment for New Delhi to reach out to Tokyo.  Similarly, China's lack of willingness or ability (or both) to diplomatically reign in its client regime in North Korea as witnessed earlier this year when the South Korean vessel, the Cheonan, was sunk has also led Seoul to worry about China's intentions.  As with Japan, the time may be right for India to raise its level of engagement with South Korea.
Finally, in the context of India's "Look East" policy, New Delhi needs to realize the United States actually lies to India's east.  With its massive military presence and bases all across East Asia and the Pacific, the United States is the most important geopolitical player in India's eastern neighborhood.  Given the growing Indo-US partnership and the fact that many East Asian states are favorably disposed towards US military presence in the region, New Delhi should boost its strategic (and economic) links with its Southeast and Northeast Asian neighbors in partnership with the United States, and should also cooperate with the US Navy in this region.
While hedging against the rise of an assertive China in partnership with its East Asian neighbors and the United States, India must also make sure that it maintains an operationally robust deterrent posture vis-à-vis China along its northern frontiers.  India needs to respond to China's military modernization and the development of infrastructure along its frontiers.  At the same time, India should make sure that it does not ignore China's growing naval presence in the Indian Ocean region while it is preoccupied with managing its northern frontiers with China.  India must respond to an assertive China both diplomatically and by building up its economic and military strength.
Manjeet S. Pardesi is a doctoral student in Political Science at Indiana University-Bloomington studying the initiation of interstate rivalries and their escalation to war.
This article was exclusively written for Gateway House: Indian Council on Global Relations. You can read more exclusive content here.
For interview requests with the author, or for permission to republish, please contact outreach@gatewayhouse.in.
© Copyright 2010 Gateway House: Indian Council on Global Relations. All rights reserved. Any unauthorized copying or reproduction is strictly prohibited.