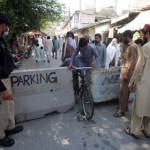 Under cover of China and COVID-19, Pakistan continues to avoid responsibility for its actions. The recent meeting of the Financial Action Task Force (FATF), with China as Chair, has kept Pakistan on the grey-list despite its inaction on terror financing, for which China cited COVID-19 as the reason. However, its handling of COVID-19 has also been mismanaged. In April 2020, Lt. Gen. Asim Bajwa, Chairman of the China-Pakistan Economic Corridor (CPEC) was appointed as information head of the civilian government, entrenching the army deeper into the civilian sphere. In June, India and Pakistan expelled each others' diplomats, with reduced representation in their capitals. And on 27 June, Pakistan played the Sikh-card declaring that the Kartarpur corridor would be open for Sikh pilgrims. All this while, India has been facing off China in the mountains of Ladakh.
Executive Director of Gateway House, Manjeet Kripalani, discusses these issues with Tilak Devasher, Pakistan expert and author of several books including Pakistan: Courting the Abyss, is also member, National Security Advisory Board.
Manjeet Kripalani (MK): What role do you see Pakistan playing in the escalation on India's borders?
Tilak Devasher (TD): I don't think Pakistan per se, has a role in the escalation. This is China-centric and China's own aggressive ambitions, as you've seen in the South China Sea vis-a-vis Taiwan, Japan, and Vietnam. Pakistan will try, or is trying to ride piggyback on what China's been doing in Ladakh, rather than being a sort of trigger for China's activities against us. To that extent, Pakistan thinks that it could be a beneficiary rather than being the initiator.
MK: Is there any credence to how much influence the Pakistani generals have over the Chinese PLA? There's a lot of talk that they are parked in China, stay there, and share information and strategy about India.
TD: If at all it would be that the Pakistani generals would be very junior partners. China knows what it wants to do and what the direction of the PLA is. Pakistan, at best, could be filling in gaps in information that the Chinese may or may not have, or would want to want to be amplified. The Chinese generals would have a relationship with their counterparts in Pakistan but the PLA would pretty much be handling things on its own.
MK: How has Pakistan managed or mis-managed the COVID-19 crisis? It seems to have completely given up. Imran Khan seems to have no control over the health ministry or the health of his citizens.
TD: That's very true because from the word go, if you remember, the messages of Imran Khan have been appalling. He said Covid is like flu, and it affects only old people and when summer will come it will just die away. So the impression that the people got was that it's not a serious issue at all. Later he started blaming the people for not following the restrictions. Then by opening the lockdown people got the impression that the situation is over, so everybody flocked to the roads, to the markets during Eid, and to mosques.
So the messaging has been extremely bad and now the situation is out of control. The ministers have started to blame the people. For example, a minister in Punjab has called the people jahil which means illiterate and that it is strange that they were not following the restrictions.
Second, Imran Khan has been extremely stubborn and obstinate on how to deal with it. Since the government declared a lockdown straight away and because it's the Pakistan Peoples Party (PPP) government, Imran Khan adopted the tactic that 'no I will not go for a lockdown' and he opted for what's called a "smart lockdown." As a result of which it's really strained.
Now what the Pakistan government is doing fortunately is that it has drastically reduced the testing, and is showing that positive numbers are coming down. In the middle of Juneit had ramped up testing to 25,000 to 30,000 a day and the number of positive cases were 6,500 to 6,800 cases per day. Suddenly in the last 2 weeks of June it has drastically reduced testing to below 20,000, and the number of positive cases are only 3,000 a day. And they've started patting themselves on the back because the numbers have reduced as a result of the "smart lockdown". That isn't the case.
Fact is that they have reduced testing so the number of positive cases has come down, but the pressure on hospitals is that much more and people are dying. The analyses made in Karachi for example, is that there are more dead bodies coming to hospitals and graveyards; much more than last year. But because there is no post mortem they are saying that this is not COVID-19 related, it is related to something else
The situation has been very badly mishandled by Imran Khan's government, and now they say that the peak is to come toward the end of July. The number is going to be at 4 million or 40 lakh positive cases. Close to 80,0000 deaths according to a study conducted by GEO [the Pakistani TV station].
MK:What are the international agencies doing about it? Is the WHO watching it? None of this news seems to be getting out.
TD: The WHO in fact, has given several recommendations including ramping up testing to 50,000 and later on to 100,000. They've also asked for a two-week lockdown to contain and flatten the curve but Pakistan is not listening. The WHO is monitoring this very closely and has warned the Pakistan government that what they're doing is incorrect. They've specifically mentioned the case of Punjab that it is not ready for any kind of relaxation whatsoever, but because he's obstinate and because he doesn't want the numbers to show.
Pakistan's health services are already pretty fragile, because over decades, successive governments have not invested enough in the health infrastructure, because there was no money. All the money went into paying off debts and loans and to service the army; so the expenditure on health has been very weak. Now you've got this pandemic where more and more people are coming into hospitals requiring ICUs and ventilators. Hospitals are bursting at the seams. In Lahore for example, it's a very major situation. In Karachi the doctors have warned that soon patients will be out on the streets because there is no space in the hospitals. The people are really going to suffer because of the lack of health facilities and the mismanagement of the pandemic crisis by the government.
MK:Is this going to lead to any kind of revolt from the people? Or are they just so fatigued from the continued poverty and repression by the military etc.? Is the Karachi stock exchange blast an outcome of this frustration?
TD: No I don't think you can relate the two. There are a lot of theories about the Karachi blast. It was said initially that it was done by the Baloch Liberation Army. People who have analysed the operation have now come to a conclusion that it was a false flag operation done by the Imran Khan government itself, to divert attention from a lot of the problems that they face, and also to tell the Chinese – because the Chinese own a chunk of Pakistan's stock exchange – that both Chinese and Pakistani interests are being attacked. I don't think this is to do with the pandemic as such.
There is a lot of resentment. The doctors have already come out to the streets. They are saying that they have not received enough PPE kits, that there were lots of deaths of medical workers and doctors, they have been protesting. Students have been protesting in Peshawar, Quetta and Sindh, because they said that they would be having online classes but there is no internet in these areas, for example, like in Quetta or in Waziristan. Petrol suddenly went up by 25 Pakistani rupees a litre, so in society there is a lot of anger.
If you look at Pakistan history, the only time a revolt took place in the street is against Ayyub Khan, and once against Zia during the movement for the restoration of democracy. Other than that, they really haven't come onto the roads as such. So I don't see that happening as yet, unless the situation further deteriorates. If there are problems of food distribution, then I think the situation would be right for this kind of a movement.
MK: What is the role of the Mullahs in all this – they have kept remarkably silent.
TD: The Mullahs have taken the position that nothing could happen to somebody who offers Namaz five times a day. They've asked people to come to the mosque, and pray, and have faith in God and nothing will happen to them. So they are actually trying to benefit. A lot of the contributions for the Mullahs, for the rest of the year, come from the donations made by the people during Eid. So they were very keen that this should be done otherwise their earnings would get affected. They are actually pushing the case that if you can do your Namaz, if you come to the mosque, you will not get affected by COVID-19.
It all stems from the top: its failure to recognize, or understand, or having misunderstood it initially; then saying we made a mistake. The messaging has not got across to the people, especially the rural areas.That's why they're in a pretty pathetic situation.
MK: Within the Pakistani military: Have they taken care of their own people and said "all of you stay in your barracks under lockdown". Is the Pakistani military affected at all?
TD: No, there have been no reports to suggest that the army or any units have been affected. I have not come across any information in the open domain. But when the people go back home and they return after leave, I'm sure a lot of them would have been affected. But this is just speculation. I can't answer it with certainly based on any sort of evidence that has come before. But they would look after their people.
MK: Most countries are reducing their military budgets because of COVID-19. China of course is increasing its military budget, and so is Pakistan. The Pakistani military is now more embedded in the country than ever before – embedded in its economy, embedded in its foreign affairs, of course. And more than that in civilian life. How is that even possible?
TD: That's just it, you see, because the loan repayment and the military budget, this exceeds Pakistan's revenue. So everything else, including development, administrative fees, salaries etc, everything Pakistan has to borrow to pay. Now the defense budget went up by 12% but there were a lot of hidden costs for example – pensions are debited to the civilian budget, the nuclear program, or the military, other developmental expenditure is all debited to the civil program. Despite that there's a 12% increase in the military budget. Now the development budget is less than 50% of the army budget – there's only 650 billion rupees.
There is very little investment going into water, into education, into health, and into population welfare schemes; because there just is no money. The tax collection, which they had projected to the IMF, would be something like 5.5 trillion rupees, is falling short at 1.5 trillion rupees. Revenue generation has shrunken on the one hand and the expenditure, the loan repayment, as well as the defense budgets have increased. There's very little left to spend on the uplift or the economic development of the country.
MK: Pakistan is our neighbour, it exists. It is in such a bad shape and it is up to all these tricks. What does this really mean for Pakistan?
TD: The biggest thing going for Pakistan since in 1947 has been its geographical position. It has been able to leverage its geographical position first for the British then with the U.S. and now with China. And, because it's a nuclear power, it is in the interest of all the major powers to ensure that it does not sink.
Therefore, it can continue stumbling in this manner. The ultimate test is this: so long as the Pakistan military and the army retain their chain of command and integrity, Pakistan will not sink. But the minute the Pakistan army starts unravelling, then Pakistan is in for serious trouble.
MK: And what are the chances of that happening at the moment?
TD: At the moment very little, because the kind of radicalization, which has been happening since the time of Zia-ul-Haq has taken deep root. Now, for example, a bulk of the requirement today of the Pakistan Army comes from South Punjab. South Punjab is also the area from where Lashkar-e-Taiba and Jaish-e-Mohammad recruit. So it's quite possible that one brother is going into the Army and one brother going to the Lashkar-e-Taiba orJaish-e-Mohammad. What is not available in the public domain is information that how many of the Jawans in the Pakistan Army have attended madrassas and then joined the Army; and how many have gone through the government school system?
If you have an idea of the madrassa recruits, then you'd have a better idea of what is the kind of radicalization in the Pakistan Army. But that is the danger to Pakistan, because so far, when the chain of command holds, it is upholding a constitutional system. But once the Islamicised kind of recruits come in and take charge, then it will be a totally Sharia-oriented assistance that they would want to introduce. That's going to be a lot.
MK: Given that China has been successful in its fight against COVID-19 and Pakistan is a close strategic partner – why is there no collaboration and help from China to help Pakistan fight COVID-19?
TD: Actually, there was, right in the beginning. I think in April, there was a team from the Xinjiang Autonomous Region, which came from China – a medical team. And the lady doctor who was heading the team said in a press conference that Pakistani doctors are fighting in the dark, because they don't know how many cases to deal with. And she recommended testing.
The only way to tackle COVID-19 is that Pakistan must ramp up its testing. In April Pakistan was barely testing 5,000 to 6,000 cases a day. The Chinese have donated a large number of PPEs. They've donated masks they've donated some ventilators. So that's the kind of collaboration that is going on. But ultimately, he testing that has to be done is not by the Chinese doctors. It has to be done by Pakistani doctors and by the Pakistani medical system and that is not being done.
MK: Has Pakistan's relationship with its Islamic counterparts, especially Saudi Arabia been affected by its close-ties to China?
TD: I think not by close-ties to China, but the fact that Imran Khan together with Erdogan of Turkey and Mahathir bin Mohamad of Malaysia was trying to set up an alternate block to take over leadership of the Islamic world, which Saudi Arabia, the U.A.E and the other Arab states were very upset about.
For example, when Imran Khan went to the U.N last year and made his big speech about outreach to the Islamic world, and setting up an Islamic TV channel, the aircraft that he was going back in, belonged to the Saudi Prince. The Saudi Prince was so upset with Imran's U.N. speech that he recalled the plane mid-flight and made it land in New York. Imran Khan had to take a commercial flight back to Pakistan.
Second, when Imran Khan was to attend the alternate O.I.C summit in Malaysia, Mohammed Bin Salman said that if you do that, we're going to throw out all the Pakistani workers from Saudi Arabia
So there is a rift in the Islamic world, not because of China, but because Imran Khan feels that he, Erdogan, and Mahathir of Malaysia can have a dominant voice and sort of edge out Saudi Arabia and the U.A.E.
MK: Pakistan has just received more than $ 2 billion from the A.D.B, E.U., World Bank and, several other countries. Why is this aid not helping to facilitate the mitigation of the COVID-19 crisis?
TD: A lot of this aid is project aid. A lot of aid is tied over the foreign exchange prices to build reserves. It is not specifically targeted towards COVID-19. I think the I.M.F has given some financial assistance for COVID-19 aid, but we don't know where that money has been spent. Has it been spent in buying ventilators, PPEs and for testing kits? We don't know the details, but a lot of money which has come from other international financial institutions is for other projects.
One of the things that I would like to mention here is that Pakistan is undergoing a serious attack from desert locusts. About 30% of Pakistan's area in Baluchistan, Sindh and South Punjab, is being devastated by locusts. And a second wave of locusts from East Africa is on its way. The World Food Program has said that this is greatly going to impair Pakistan's food security and this is something we need to watch for in the future.
MK: There are, people saying thatmadrassas are no more the incubators of radicalization. Is that just untrue?
TD: Well, madrassas have tough competition from government schools, in terms of being incubators for Islamicisation. There are studies carried out on the curriculum of Pakistani textbooks showing that the qualities of shahadat and jihad and hatred for Christians, Jews, and Hindus, are actually taught as part of the syllabus of government schools.
Madrassas, they're doing what they're doing; but it's the government schools – where about 65% to 70% of the children of Pakistan study – where this kind of radicalization and hatred is being taught. So yes, probably in comparison to the total number, government schools are probably producing much more radicalized children than even what the madrassas are. It has to start from improving of the textbooks.
MK: – And at this time, who has an interest in doing that?
TD: Nobody has. Even all the countries like U.K. and U.S.A that give financial assistance to Pakistan or for the education sector. Nobody is looking at what is being taught in Pakistani schools. So they are actually reinforcing the existing textbooks, existing curriculum. Unless and until the reform is made where all these offending texts, hatred for Christians, Jews, and Hindus, looking at them as the other, and not glorifying violence and jihad, and shahadat; is done away with, we will continue to have a generation after generation of radicalized children.
MK: The way Pakistan has used geography to gain leverage in the past. India today is similarly positioned vis-a-vis balancing China. Should we not be learning how to leverage our geography towards playing the balancer against China? If yes – what are the key things to learn in playing the geography card to our advantage from the Pakistan experience?
TD: Pakistan leverages its geographical position is because it abuts China, and connects Gilgit-Baltistan, Afghanistan and Iran. This arc has been a very critical arc for the West because it was close to the Middle East.. It's very critical to China to have an outlet into the sea. India's geographical position, the way we are situated, and what we can leverage is the Indian Ocean. So this whole Indo-Pacific strategy, which is being evolved, I think India is leveraging its situation and we do realize how important it is.
Over the centuries, India has been a land power, a continental power. It's only now that the maritime domain has started becoming important. This is where we can leverage our geography.
MK: What do you make of Chinese refuelling and transport aircraft landing in Skardu city, in Gilgit-Baltistan? What do you make of troop movement to Gilgit-Baltistan, even though denied by I.S.P.R?
TD: I would be surprised if it actually does take place. The Chinese airfields in Tibet are at a disadvantage compared to Indian air assets. So if they were to use Skardu specially I would not be surprised. I can't say with certainty if it's already happened or will happen, but you cannot rule out that possibility.
Pakistan already has troops in Gilgit. If there's any additional movement, railways, a lot of people would have reported about it.
But this again is a possibility for Pakistan to try and get India to divert its attention from a one-front activity, to a two -front activity. Pakistan will certainly try and play the shift in this regard, whether it has already happened or not I can't say at the moment.
MK: Can you throw light on Pakistan's present relations with its South Asian neighbours?
TD –The main South Asian neighbour is India and we all know what the relationship is like. They have very little interaction, either with Bangladesh, where the animosity continues as part of the 1971 war. Similarly relations are strained with Nepal and Sri Lanka. Pakistan has tried to get close to Maldives playing the Islamiccard, but I am not very sure whether it was successful or not. So, barring its animosity with India, its relationship with other South Asian neighbours is superficial.
MK: Why has Pakistan escaped unilateral sanctions in spite of its established involvement in terrorist financing for years – that have adversely impacted several western countries with adequate economic heft?
TD: When president Trump started off, for example, he was very hostile towards Pakistan. However, no major power in the world would like to see Pakistan sink, so they will go up to a point, and not go the whole way. Pakistan is a country of 21.22 crore people with nuclear weapons. You cannot have a state like this imploding. And it will implode if international financial or bilateral financial assistance stops, because they just do not have the resources for structural reform to the economy or to run their own country. It is really a basket case because it can't run its own administration without foreign loans, but that will not cease.
Even the FATF, they have been on the grey-list for two years now. It was June 2018 when it was first put on the grey-list, it hasn't fulfilled the conditions. Yet the countries don't want to push it over the edge of putting it on the blacklist.
MK: What is happening between the Taliban, Pakistan and China, of late, as far as Afghanistan is concerned?
TD: We all know the close relationship between Pakistan and the Taliban where Pakistan would like to see Taliban proxies in power in Kabul. China has been talking to the Taliban because they do not want the open spaces or the ungoverned spaces in Afghanistan to become a training ground for the Uyghurs. They are keen to deal directly with the Taliban to make sure that Uyghurs don't get radicalized. That's the reason Pakistan has been acting as a facilitator. That is the connection.
Second, China would like to set up the Mes Aynak copper-mines, to have investment over there, to use the mineral resources of Afghanistan that are still unexplored. They treat the Taliban as an upcoming sort of power. And also, I think it's a way to get back at the U.S. to keep boosting the Taliban.
Tilak Devasher is a former civil servant who retired as special secretary in the Cabinet Secretariat. He is currently member, National Security Advisory Board.
Manjeet Kripalani is Co-founder and Executive Director, Gateway House.
This interview was exclusively conducted for Gateway House: Indian Council on Global Relations. You can read more exclusive content here.
For interview requests with the author, or for permission to republish, please contact outreach@gatewayhouse.in or 022 22023371.
© Copyright 2020 Gateway House: Indian Council on Global Relations. All rights reserved. Any unauthorized copying or reproduction is strictly prohibited.