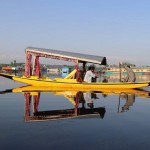 This article is based on the author's recent visit to Jammu (Jammu city, Suchetgarh) and Kashmir (Srinagar, Anantnag and Baramulla) and interactions with the local people, security officials, academics and journalists there.
Today, 31 October 2019, the state of Jammu and Kashmir (J&K) has officially been reconstituted into two union territories (UTs), Jammu and Kashmir (with a legislative assembly) and Ladakh (without a legislative assembly). This is a major territorial overhaul, which aims to integrate the region into the country, promote economic investment and thus better address security challenges. It was the outcome of the Jammu and Kashmir Reorganisation Act, 2019[1], passed on August 5, which accompanied the withdrawal of the special status for J&K.
It's no easy task, and will take months, years, to achieve.
Most immediately, the region's security has to be addressed, especially with Pakistan ratcheting up its threats of nuclear war over this legislation. The Indian security establishment is alert to the generals in Rawalpindi readying to act both officially, and through their proxies, like Jaish-e-Mohammed and Lashkar-e-Taiba, to carry out mass-casualty, spectacular attacks in India's hinterland. Already, there has been a spate of terrorist attacks, targeting security forces and civilians in the Kashmir Valley in the past two weeks.[2]
A week-long visit to the region this month revealed both the clarity and complexity felt by residents about their new status. Issues like jobs, investment, land rights, identity, law and order, communications restrictions – the practicalities of daily existence more than ideology – dominate their lives.
Across the region, opinion on the new status is mixed.
In the Kashmir Valley, the centre of the conflict, there is a recognition that the provision only benefited politicians and the elites, not ordinary Kashmiris. Residents highlight the absence of major protests and stone-pelting incidents post-August 5 – barring a few which occurred in parts of Srinagar – as proof of the indifference towards the withdrawal of special status. Conversely, some say that the newly configured status has no bearing on their continuing 'freedom struggle'.
Jammu largely approves of its new status, but is acutely concerned about jobs, the prospect of crime, land rights and its identity. Many expect legal measures will be put in place to protect them from an influx from other parts of India, particularly Punjab. The upcoming delimitation exercise by the Election Commission will redraw assembly constituencies in the new union territory of J&K; Jammuites expect more seats and a greater share of resources, and therefore, dominance over the Kashmir Valley.[3] However, this is not an assured outcome, creating an underlay of anxiety in the region.
Internationally, while the legislative change of status was accepted, concerns focused on the communications restrictions enforced by the authorities. They were aimed at maintaining law and order and to prevent the loss of innocent lives, but it has certainly disrupted normal life in J&K. Television was always available, but with the internet down, it has hurt the region's nascent e-commerce sector: websites, like Kashmir Box and Kashmir Origin, had begun to sell handicrafts and agricultural produce online, helping revive local crafts and provide livelihoods.
The internet is still not available, but a successful outcome of the shutdown has been the neutralisation of Islamabad's social media-driven, anti-India propaganda. This has forced Pakistan to rely on Radio Pakistan for its propaganda in the region, even while its global propaganda is in overdrive. Pakistani Prime Minister Imran Khan's speech at the UN General Assembly on September 27, [4] and the Pakistani state-enabled protests across the Anglo-American world, were keenly watched on televisions in the Kashmir Valley.
It has created a new angle of affinity towards Pakistan that has given the Kashmir Valley global importance and made it the centre of its official attention. In contrast, Prime Minister Modi's August 8 speech[5] on integrating Jammu, Kashmir and Ladakh into the union of India, broadcast across India, did not receive the same traction in the Valley.
Now many expect Pakistan to act on its rhetoric and promises to support Kashmir. But this new affinity could be short-lived. Suspicions about Pakistan's vacillating policy on Kashmir remain. There are also concerns over its grey-listing by the Financial Action Task Force (FATF).
In Jammu, the communications restrictions also caused inconvenience – but they played a critical role in keeping communal harmony, preventing the mobilisation of celebratory rallies, and avoiding unnecessary provocation.
Life in the Kashmir Valley is now returning to normalcy, with resumption of activity in markets and public transportation back on the roads. However, the militants too are back to their business of disruption and violence. They have targeted those shopkeepers in Srinagar and Anantnag who attempted to reopen their shops, as also apple orchard owners, non-local traders and truck drivers engaged in apple harvesting in south Kashmir. In the latest of such attacks, they killed three non-local truck drivers and five construction labourers from West Bengal in Shopian, Anantnag and Kulgam in the past one week.
With security still fragile, the much-anticipated J&K investor summit, proposed to be held in October in Srinagar, has been postponed to next year. The evolving security situation is a key parameter for private investment. There is scepticism in both Jammu and the Kashmir Valley about receiving large-scale economic investments. Till that promise is fulfilled there are functional sectors that can receive small investments and kick-start the industry in horticulture and food processing, real estate, micro-finance, handicrafts and pharmaceuticals. For now, these early investments will need to be supported by a government package and incentives.
The most promising outcome of the new status is Ladakh, where the separation from troubled J&K and its position as a union territory has been received with enthusiasm since it was the region's long-standing demand[6].  The Ladakhis are looking forward to greater central attention that a UT title and resources bring:  improved governance, expanded connectivity and fresh private investments in the tourism sector. China, with its eyes already on Ladakh's Buddhist repositories and proximity to Tibet, will be watching carefully. So will India's security establishment, which has red-flagged the border vulnerabilities.
Caution and incrementalism are key to integrating the region into the larger union. To reap the benefits of the August 5 move, a three-pronged action plan can help:
1) empowering Panchayati Raj institutions in the region and ensuring accountability to prevent corruption: the recent Block Development Council (BDC) elections are a step in this direction;
2) preserving Kashmir Valley's handicrafts through special skilling initiatives with new technological innovations, just as the July 5 Union Budget had proposed[7]; and
3) reviving and reinvigorating the traditional, moderate Sufi school of thought, culture and  scholarship to counter radical Wahhabi  propaganda in the Valley.
This article is based on the author's recent visit to Jammu (Jammu city, Suchetgarh) and Kashmir (Srinagar, Anantnag and Baramulla) and interactions with the local people, security officials, academics and journalists there.
Sameer Patil is Fellow, International Security Studies Programme, Gateway House
This article was exclusively written for Gateway House: Indian Council on Global Relations. You can read more exclusive content here.
For interview requests with the author, or for permission to republish, please contact outreach@gatewayhouse.in
© Copyright 2019 Gateway House: Indian Council on Global Relations. All rights reserved. Any unauthorized copying or reproduction is strictly prohibited.
References
[1] Ministry of Law and Justice, "The Jammu and Kashmir Reorganisation Act, 2019", Government of India, 9 August 2019, <http://egazette.nic.in/WriteReadData/2019/210407.pdf>
[2] They are also expected to devise novel modus operandi as was seen in the case of drones dropping arms in Tarn Taran district of Punjab in the last week of September 2019.
[3] United News of India, "EC holds first internal meeting on delimitation in J&K", 13 August 2019, <http://www.uniindia.com/ec-holds-first-internal-meeting-on-delimitation-in-j-k/india/news/1696902.html>
[4] UN Web TV, "Pakistan – Prime Minister Addresses General Debate, 74th Session", 27 September 2019, <http://webtv.un.org/search/pakistan-prime-minister-addresses-general-debate-74th-session/6090067120001/?term=Imran%20khan&sort=date>
[5] "PM Modi addresses the nation", 8 August 2019, <https://www.narendramodi.in/prime-minister-narendra-modi-s-address-to-the-nation-on-8th-august-2019-545901>
[6] Patil, Sameer, "China targets India's Ladakh", Gateway House, 21 June 2018, <https://www.gatewayhouse.in/china-targets-indias-ladakh/>
[7] Ministry of Finance, Government of India, "Budget 2019-2020, Speech of Nirmala Sitharaman, Minister of Finance", 5 July 2019, <https://www.indiabudget.gov.in/budgetspeech.php>- see points 83 and 87