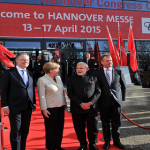 This week, Prime Minister Narendra Modi is in Germany to inaugurate the Hannover Messe, on April 12,the first time an Indian head of state has done so.
Germany is a crucial partner for India, especially for the Make in India programme. The country is industrialised, highly technological, and the success of its companies depends on disciplined processes that suit both shareholders and stakeholders.
The needs and strengths of both countries are complementary: in India, German companies are among the largest employers, and Germany is the second largest destination for Indian investment in Europe. India needs to develop and enhance the skill of its population, and develop an advanced manufacturing base. For this, a new level of collaboration is required.
In preparation for the Messe, Gateway House invited Michael Siebert, the Consul General of Germany in Mumbai; Baba Kalyani, chairman of Bharat Forge, which earns half of its revenue in Germany; and Sunil Mathur, the chief executive officer of Siemens India, to discuss with Manjeet Kripalani, executive director of Gateway House, the potential of the bilateral and how the Messe can help Make in India.
Manjeet Kripalani: Gentlemen, how can Germany and the Messe help to Make in India?
Consul General Michael Siebert: There already is a lot of activity in the bilateral. About 1,500 companies from Germany have created jobs in India, around 300,000 people are directly employed by German industry, and many lakh more including suppliers to German companies. There are the big companies of course, such as Siemens, but the backbone of Germany's economy is the "Mittelstand", small and medium-sized enterprises including many "hidden champions". These are coming to India, and they have come during the difficult years too, opening factories in places like Pune. They are making long-term investments, they have confidence in the Indian market.
But our relationship is not a one-way affair: Indian FDI also comes into Germany. Almost 400 Indian companies are in Germany and  creating almost 20,000 jobs.
Other factors are bringing us together too.  Germany hosts the largest number of Indian students in the non-Anglophone countries. And we have around 120,000 people of Indian origin in Germany, making a great contribution to our society.
Sunil Mathur: What is it that connects Hannover and Make in India? One crucial factor is innovation. When one talks about making in India we usually think about factories in the middle of nowhere. In reality, manufacturing has moved forward from those days. Hannover will actually present India in terms of an innovative country in the field of manufacturing.
Most countries grow in three phases of the manufacturing cycle: electrification, automation (getting more productivity and business complexity), then digitalisation. This is a totally new era that is going to transform manufacturing to a new level. An example of digitalisation in automobiles: we started with cars with their safety systems, and we are now inventing self-driving cars. India will have to ask itself: where do we fit in, in this new era of manufacturing?
Baba Kalyani: Manufacturing in India for the last 25 years has been largely about textiles, small-scale manufacturing, iron, steel. Simply put, it is low technology, low investment, high manpower, hardly any innovation. This is how we have understood manufacturing for the last 60 years.
But manufacturing today and in the next 10 years is extremely different from what 90% of India does. Therefore, partnering in Germany in terms of manufacturing is very important for India. Today, manufacturing in the Indian economy represents $300 billion, about 15% of an economy that is $2 trillion.
Prime Minister Modi wants manufacturing to be 25% of Indian GDP in 10 years in order to create enough jobs. Assuming size of the Indian economy would be about $6trillion by 2025, the country's manufacturing sector must reach $1.5 trillion in this period i.e. a three fold growth in size of the economy and a five-fold growth in the size of the manufacturing sector.  For this to be achieved, the Indian manufacturing sector will have to transform from basic manufacturing to "enhanced/advanced manufacturing" comprising digitalisation, industry 4.0, new advanced technologies etc.
Hannover is very important: innovations, technologies coming out from German enterprises, all these ideas will create an amazingly large momentum.
MK: Why Germany? What can India learn from Germany?
Baba Kalyani: Two things about Germany: one, the German small and medium sector is very different from India's. But the technical entrepreneurs are the same in both countries: they have a lot in common in the way they think. Second, in terms of enhanced manufacturing, because of the similarities between German and Indian entrepreneurs, there is no better country to take this relationship forward and reach this level of enhanced manufacturing.
Another subject is the ease of doing business—it is high on the prime minister's agenda; as you know, India is ranked 148 on this index. My experience of the ease of doing business in Germany shows how simple it is to set up a new factory in this country. It took only 25 days, in India it would take 25 months. India can really learn from the process Germany follows to improve the ease of doing business.
MK: How can Germany accelerate its contribution to India's new and urgent development agenda? What can be done government-to-government?
CG Siebert: Government-to-government can only be a beginning. We try to bring together people who are beyond governments, as well. Nevertheless, in certain areas we try to enhance contacts between companies and societies.
Climate change is a common concern. In Germany we have the Energiewende ("energy turn-around"): we are phasing outnuclear energy by 2022 and emphasising renewable energies–25% today, up from 8% in 2000. We want to step it up to 35% in 2020, and 80% in 2050. We have  experience in transforming an energy network into more renewable energies.
With the Indian government, we have created Green Energy Corridors. It is a necessity, if you want to bring in more renewable energies, to make smart grids that will support the variable input of renewable energies and create storage.
We have committed over $1 billion into that, and have started projects in many Indian states, such as Andhra Pradesh, Rajasthan, Tamil Nadu, Gujarat, and Himachal Pradesh. More will follow. This takes time, about three to four years.
Solar energy is one of the top priorities of both our governments. We hope to create a solar partnership. India only has 3 gigawatts of capacity, and wants to increase it to 100 gigawatts in 2022.
MK: India is urbanising rapidly—here too it needs Germany's help.
Sunil Mathur: Everyone is talking about Smart Cities, debating what they should be–high-speed trains or more. These are aspirations that are on the right track and in the right direction. Now we have to convert a vision into real action on the ground. A Smart City in Europe would look very different from one in India. We have to develop our own models, because we have different needs. For issues such as energy distribution and energy efficiency, smart grids will be critical factors in the future. High speed trains are a wonderful vision, but involve huge amounts of investments. On the other hand, locomotives carrying freight have an average speed of 25 kilometres per hour. Before we start talking about high speed trains, we should use the technologies out there to first go up to 160 kilometres per hour without too much investment and effort.
MK: What are the two or three areas where Germany can make in India? What can Germany do differently from other countries?
Baba Kalyani: Major German companies are already participating in Make in India. For example, Daimler in Chennai is making trucks and selling them all over the world. This is a classic example of a German company, using technology from all over the world (Japan, for instance), and manufacturing in India, not only for the Indian market but also for the global market. There are many companies like this.
Ten years ago, the example given about German technology was that of Siemens, to show how German industry helped India's industrialisation. We are in another period in time now, where India is in a different place, technology is in a different place.
We must move up to a new level of technology. One common mistake that many companies make is thinking of India as a big market, and they bring in old technologies, hoping that will work.
Sunil Mathur: Siemens started out taking products manufactured in Germany, and selling them in India. In the next phase we started to play by the rules of globalisation: we decided to manufacture in India. But a host of Indian entrepreneurs had emerged in our space and were selling cheaper products. So we came up with "smart products" which were designed, developed, manufactured, and delivered in India, for the Indian market. Simple, maintenance friendly, affordable reliable and timely to market. We had Indian competitors who were going global. To outdo them globally, the best way was to be competitive in India first.
CG Siebert: German companies like Bosch and Mercedes are setting up R&D centres in India for their worldwide operations. This is also a way of skilling India.
Prime Minister Modi has shown an interest in our dual system of vocational training, one of the reasons of the success of the German industry. It has a mix of practical training in companies for two to three days a week, and schooling and theoretical learning for the rest of the week. This includes almost everybody who is not interested in pure academia.
For blue collar workers, India needs cooperation and investment in human resources development, because 30,000 people join the job market in India every day—10 million a year. Some institutions already train young Indians according to the dual system: The Indo-German Training Centre  of the Indo-German Chamber, vocational training centres set up by German companies in Pune and elsewhere, or CRISP —for example, a vocational training centre in Bhopal, started by GTZ long ago, now the biggest vocational training centre in Madhya Pradesh, and making money!
MK: What can the small and medium sector in India learn from Germany?
Sunil Mathur: Manufacturing is not only about selling, it is about the supply chain too. SMEs in India are today incentivised to remain SMEs. Collaboration between SMEs in Germany and Indian entrepreneurs is something that I hope will increase, because the reason for their success in Germany is their ability to innovate. We need to find a way to connect them.
These meeting notes were prepared by Sharmadha Sreenivasan, Researcher, Gateway House
Gateway House meetings are for members and invitees only. To know more about becoming a member click here.
© Copyright 2015 Gateway House: Indian Council on Global Relations. All rights reserved. Any unauthorized copying or reproduction is strictly prohibited