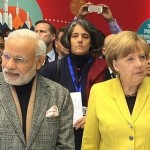 Chancellor Angela Merkel is on a three-day visit to India. German assistance for India's smart city mission is expected to feature prominently in discussions between her and Indian Prime Minister Narendra Modi. The visit also presents a golden opportunity for Modi and Urban Development Minister Venkaiah Naidu to go beyond mere formalities and discuss specific issues pertaining to 'smart city' development in India. So what should India seek to achieve from Merkel's visit?
For starters, Modi must seek technical assistance from Germany in developing a comprehensive strategy for medium-sized smart cities in India. Of the 100 cities that have been selected under the smart cities mission, approximately 50 cities fall under the medium-sized category (population under 10 lakh). Internationally, research has often pointed to the fact that even though the bulk of urban population reside in these cities, the focus of urban development strategies often tends to be limited to the larger metropolises[i]. Hence, the challenges faced by these smaller cities, which are relatively less equipped in terms of resources and organisational capacity is often ignored. Hence, as the central and state government combined will only be providing approximately 20% of the funding to the development of these cities[ii], a comprehensive funding strategy would need to be developed by the Urban Development Ministry to ensure that these cities are able to attract private investment to the tune of 80%, given the already poor investment climate in tier 2 and tier 3 Indian cities.
This move would further entail an analysis of the innovative financial instruments adopted by Germany in funding a city's transition to smartness and the business structures established. It would also entail an understanding of what are the business models being employed internationally to monetise investments and the customer value proposition of these models. Furthermore, an ability to inclusively measure return on investment and value creation within the Indian context, would be key to developing a holistic and enabling regulatory framework. As the government begins to grapple with these challenges, expertise from Germany may be sought further to augment the institutional capacity of the Indian state[iii].
Secondly, India must also seek to develop sister city matrices with German cities and the same may be monitored by the 6 member Indo-German joint committee that was set up this January 2015. When Modi visited Japan, a Memorandum of Understanding (MoU) was signed to facilitate strategic cooperation between Varanasi and Kyoto[iv]. Similarly, a number of Indian cities that have initially made the cut could be paired with German cities that share some similarity in city dynamics. As there is no universally acceptable definition of a 'smart city' per se, this measure would broaden the discourse on how cities in India could achieve 'smartness' in the areas of governance, economy, mobility, environment and living in a manner that is comparable to the highest standards as envisioned by a German city.
As this relationship between sister-cities is institutionalised and governance channels are deepened, the Indian bureaucracy and the government would be able to better understand what were the market conditions in Germany and Europe that fuelled innovation, technology sharing and largely promoted indigenous manufacturing of affordable smart technology. They would also understand the key legal and regulatory policies that have had an impact on the development of pilot city development projects and whether these initiatives are replicable in India under the 'Make in India' initiative.
Lastly, it is also often misunderstood that smart cities are about complex software and high-end technology. On the contrary, smart cities are about its citizens. And to ensure that Indian citizens are capable of adopting the smart services developed for them remains the next big challenge. In this regard, India must actively seek out Germany's help in developing a vision, clear objectives, quantifiable targets and key performance indicators for its cities.
In January 2015, Venkaiah Naidu and the visiting German minister Barbara Hendricks signed an agreement to partner in developing three smart cities[v]. 10 months after setting up of a joint committee, the NDA government is yet to identify 3 cities that will be jointly developed with Germany (the U.S. has already identified its three cities-Ajmer, Vishakapatnam and Allahabad). It has also taken the government more than a year to develop project guidelines and announce the 100 cities to be 'smartened'. Also, it is yet to identify the 20 cities to be developed in the first phase.
For India's cities to become liveable and productive, the government now seriously needs to move beyond slogans and aspirations and start addressing the more pressing issues specific to smart city development in India. Then only will the Modi-Merkel diplomacy be viewed as a success at home.
Nandan Sharalaya is a Parliamentary Analyst and tracks legislative policy and politics in India. He currently heads the Congress Party's Parliamentary Research Unit under Prof. Rajeev Gowda. He was previously a L.A.M.P Fellow (Legislative Assistant to a Member of Parliament) with PRS Legislative Research. Nandan is also the co-founder and Managing Editor of ParliaMint, soon to be launched and a first of its kind legislative opinion portal. He is a guest faculty in several media and public policy schools in India.
This feature was exclusively written for Gateway House: Indian Council on Global Relations. You can read more exclusive features here.
References:
[i] Center of Regional Sciences, Smart cities Ranking of European medium-sized cities, October 2007, http://www.smart-cities.eu/download/smart_cities_final_report.pdf
[ii] Smart Cities Mission, Financing of Smart Cities, http://smartcities.gov.in/writereaddata/Financing%20of%20Smart%20Cities.pdf
[iii] Whyte, Jeanette, 'Smart City Project Methodology', UK-China Smart Cities, May 2014, http://uk-chinasmartcities.com/wp-content/uploads/2014/05/Smart-City-Project-Methodology_Jeanette-Whyte.pdf
[iv] Press Information Bureau, Possible areas of cooperation between Kyoto and Varanasi discussed, 13 January 2015, http://pib.nic.in/newsite/PrintRelease.aspx?relid=114596
[v] Ramachandran, Smriti K., 'Now, German help for smart cities', The Hindu, 29 January 2015, http://www.thehindu.com/news/national/now-german-help-for-smart-cities/article6831220.ece
For interview requests with the author, or for permission to republish, please contact Ashna Contractor at C.ashna@gatewayhouse.in, or call 022 22023371.
©Copyright 2015 Gateway House: Indian Council on Global Relations. All rights reserved. Any unauthorized copying or reproduction is strictly prohibited.