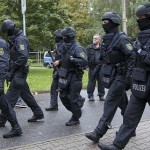 The Brandenburg Institute for Society and Security (BIGS), Potsdam conducts a survey of the German security industry every fall to measure economic activity, and identify trends that are helping or hindering its growth—and has enumerated the many challenges before it. In the past, when Germany suffered from structural unemployment security services offered the unemployed a way to re-enter the labour market. Today, rising wages and a lack of qualified labour have forced security companies to intelligently combine labour with sensor technology to offer the same level of protection at competitive prices. The introduction of norms and standards support this trend. Thus single technologies can easier be put together to build a security system in which, for example, a CCTV camera is not just a video camera, but the visual sensor where data is matched with motion detection sensors or 'sniffers'.
The emerging trends in the industry are: substitution of labour with technology and the merging of technology with service. In recent years, barriers between the various security sectors have blurred due to the conflation of technology and service solutions due to labour shortages. Such merging also makes for simpler application processes, allowing companies to become more wireless and digital.
Analysing security market trends in Germany can offer some interesting insights for a country like India—despite its quite different cultural heritage and history. The Indian security industry may well face similar trends a few years from now. If these are spotted in time, private security service providers in India will have a bright future, adapting more readily to changes in demand for protection. These changes are coming about in the face of a growing middle class which has the disposable income to increase its level of security beyond the government's provisions for society as a whole.
Providing security – whether against an alien enemy or the criminal in one's own backyard – is often seen as one of the major reasons for the development of the nation state. The prevalent notion is that security is a public good whose provision is the state's responsibility solely. However, in reality, we see private enterprises playing an important role when it comes to offering protection from crime in the real and even more so in the digital world.
As India continues to modernise and seek profits within the security sector, it can look at Germany to cultivate a model of government intervention that is paired with private-sector growth and serve as a source of economic good. The German model has a legal framework, with room for the entrepreneurial spirit to flourish within it. There is scope for new businesses to offer security services beyond those that the government is extending to people. This combination of private and state provision of protection can help pave the way for a healthy growth of the security market in India.
Private and public security provision hinges on historical circumstances, and is, to a great extent, culture-dependent: while gated communities and privately operated police forces are undisputed in the United States, the planning of such a community or the proposal to form a private police force would cause public outrage, especially from the political left.
Therefore, while the legislator sets the rules, the executive branch of the government is in charge of enforcing them, particularly when such enforcement impinges on civil liberties. For example, the state's use of new technologies for eavesdropping or video surveillance needs adaptation of the legal framework.
Social media has its uses – volunteers can step in productively during natural disasters—but it also has its flip side—it allows fake news to spread more quickly. The state has not yet begun to police cyberspace seriously, leaving it to individuals and businesses to equip themselves with the necessary cyber defenses. Increasing damages in cyber security, like the WannaCry or Petya ransomware episodes, have propelled the private sector to the forefront of German cyber security protection. Data protection, data security, and the protection of intellectual property have become increasingly important. The IT security industry has, for the most part, grown more quickly than its counterparts, with software for anti-virus, tracking and recovery, and firewalls being a prominent aspect of it.
These technological trends and innovations—and their social impact – will occur sooner or later in India, reflecting what has already materialised institutionally, historically, and politically in the U.S. or the EU, and India is likely to develop in the same way: government institutions and the armed forces need protection from cyber attacks, but private enterprises too, especially when they are part of the critical infrastructure that provides essential services and goods for society.
The German private security market
Germany's private security industry consists of products and services that provide protection from both man-made risks and threats and environmental and natural disasters. This multi-dimensional aspect also stems from both the 'demand' side (i.e. state actors, private enterprises, and citizens themselves) and the 'supply' side (physical protection service companies, technological companies, classical defense industries, and cyber security enterprises).
BIGS sub-divides the civil security industry into three parts: the producers of security services, the producers of security goods, and the IT security industry, each often working in conjunction with the others. Its overall size in Germany is roughly 35 billion Euros annually.
The German security industry is characterised by many Small and Medium Enterprises (SMEs) and a few large companies, and diversified product portfolios. The security services industry has traditionally grown at around the same speed as the economy as a whole (i.e. 1.5- 2%), but it escalated after the 2015 migrant crisis when hastily opened refugee camps needed oversight and protection.
Security services are traditionally labour-intensive and increasing demand makes it difficult for its providers to find suitably qualified personnel. The security services industry was once a vehicle to integrate the less educated into the labour market. Today, due to an increasing minimum wage in Germany, higher service and security levels, and a merging of labour and technology, the industry consolidates goods and services. Instead of services, companies now often sell comprehensive security solutions, which require higher skill levels and pay grades. Security consulting services include companies that offer security audits, risk assessments, advice on safety management systems, and security concept developments.
Private security alone is rarely a substitute for the police or fire-fighters, the ones who respond first, though such hires sometimes fill gaps in an otherwise government-mandated system. Private security guards in Germany supplement the police in domains, such as airports and subway systems, letting the latter concentrate its scarce resources where most needed.
Suppliers of security products offer private households, businesses, security service companies, and government entities goods needed to better perform their duties or increase the protection of valuables. In Germany this sector has grown more rapidly than the entire economy—driven, in particular, by industry demand. Thanks to technological advances, these goods have become more affordable compared to labour.
India and R&D                
Security service providers traditionally do very little R&D, yet growth in the technology sector is based fundamentally on new or improved products. Consequently, the security companies that invest in R&D benefit from substantially higher growth rates.
India, a more technologically savvy country that is more open than Germany to quick, digital, change, will see greater business success with the inclusion of numerous teams devoted to R&D.
The success of German industry is based not only on innovation, but also on free trade and open markets. German security technology companies tend to spread their value chains across borders and market their products internationally. Internationalisation is a driver of growth, and companies harnessing international trade are more likely to expand.
The security industry can be an important driver of growth in India. This potential goes beyond what the Indian government has in mind when trying to establish an Indian defense industry. Unlike in defense, where 'Make in India' protects the domestic industry from competition and the preasure to constantly innovate, value creation in the civil security industry is happening to a large degree domestically, yet in a competitive market. To allow the industry to grow, it is the government's task to clearly define the role and space for private security providers. Also, it needs to define standards that private companies need to comply with if they want to operate in this market.
Dr. Tim Stuchtey is Executive Director, Brandenburg Institute for Society and Security (BIGS), Potsdam, Germany. He is also a lecturer at the Business and Information Technology School, BiTS Hochschule, and Senior Research Fellow at the American Institute for Contemporary German Studies. 
Hannah Shade is Research Intern, Brandenburg Institute for Society and Security (BIGS), Potsdam, Germany. 
You can read exclusive content from Gateway House: Indian Council on Global Relations, here.
For interview requests with the author, or for permission to republish, please contact outreach@gatewayhouse.in.
© Copyright 2017 Gateway House: Indian Council on Global Relations. All rights reserved. Any unauthorized copying or reproduction is strictly prohibited