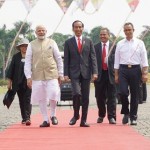 Prime Minister Narendra Modi's official visits last week to Indonesia and Singapore and a brief stopover in Malaysia contributed to progress in achieving the goals of India's Act East Policy. Measuring that progress, however, will require time and patience, for actual implementation of agreements and decisions announced will determine the degree of success of the latest phase in India's high-level diplomacy.
Already, political pundits in South East Asia have been inquiring about what Modi brought for its people. "Mana oleh olehnya?" (Where are your gifts), asked an editorial in the Jakarta Post. Indonesians expect India to be generous financially – as China and Japan are; they may not be content with words and assurances only.
These visits took place in the backdrop of major power rivalries unfolding in the region: China, asserting its control over the South China Sea and proceeding with its unimpeded militarisation, the United States focusing almost exclusively on developments in the Korean Peninsula, and a simmering U.S.-China trade war.
India had its own diplomatic backdrop: Modi's informal summits with the presidents of China and Russia in the preceding weeks lent special significance to his latest voyage; they increased the Indian leader's stature in South East Asia.
While the speech at the Shangri-La Dialogue received the most attention, perhaps the most important, but less analysed visit was to Indonesia, a country which is the largest member-state of ASEAN and one of the most significant in Asia — and yet punches below its weight.
The visit was long overdue. Official and non-official circles have felt, with regret, that the full potential of this vital relationship had not been tapped. Indonesia had been keen to deepen the cooperation with India, but for India, the bilateral assumed importance – and hence the prime ministerial visit — particularly after the Doklam border stand-off, a high point of tension in China-India ties. As the tense diplomatic-military confrontation gave way to compromise, New Delhi and Jakarta moved swiftly on to the same page, clearing the way for a series of high-level meetings involving their foreign ministers, defense ministers, trade ministers and national security advisers. These meetings took place soon after the Doklam episode was out of the way. The ground was thus thoroughly prepared for PM Modi's long-awaited visit to Jakarta.
During the visit, the single most significant decision by the two governments was to elevate their relationship to the "New Comprehensive Strategic Partnership." This implies a substantial increase in defense and economic cooperation as well as a stronger commitment to secure this objective. It was agreed, for example, that the top leaders would hold annual summits to foster the relationship. The bilateral cooperation would, of course, have to extend to all four key areas: political and diplomatic; defense and security; trade and the economic domain; and cultural cooperation and people-to-people contacts. The joint document, crafted with care, on the shared vision of maritime cooperation provides the underpinning to the new phase in the bilateral relationship.
A new defense cooperation agreement has been signed that adds bilateral joint exercises between the Navies and Air forces of India and Indonesia to ongoing coordinated patrol and training. Joint production of equipment, technology transfer, technical assistance and capacity as well as sourcing of equipment (by both sides) would be undertaken. Expansion in counter terrorism and intelligence exchanges is also planned.
The decision to build connectivity between Andaman Nicobar-Aceh to unleash the economic potential of the two areas, and to establish a joint taskforce for undertaking port-related projects "in and around Sabang" have long-term implications. India could get access to a port of strategic importance near the Malacca Straits. However, it should be added that the Indonesians may be less excited about this issue than some in the Indian media.
On the economic side, an ambitious goal to boost bilateral trade from $18 billion to $50 billion by 2025 was set. Trade has suffered from a lack of direct connectivity between Indonesia and India as well as other constraints such as mutual neglect. What is needed is the preparation of a detailed, sector-wise and time-bound roadmap to secure the goal. India should export more of its pharma, IT products and services and railway equipment and be willing to buy more palm oil from Indonesia. A two-way flow of investments should also be stepped up.
Prime Minister Modi's stopover in Kuala Lumpur to call on Mahathir Mohamad, who returned as the prime minister in a surprise election victory, was prudent diplomacy. India and Malaysia could be in consonance on China: Mahathir has reservations and objections to China's economic forays into Malaysia. His ideological impulses – sympathy for the Bhumiputera, tendency to use the Islamic card, and a kind of mixed approach towards India in the past — made Malaysia a less reliable partner in the past. Modi's visit acknowledged a respected Asian figure. He may have used the opportunity to sensitise Mahathir about the Indian perspective on the changed realities in the region. "We had productive discussions on India-Malaysia ties," Modi tweeted after the meeting. He is among the first foreign leaders to connect with the Malaysian leader. The fact that Deputy Prime Minister Wan Azizah Ismail and her spouse Anwar Ibrahim – the likely future PM – saw off Modi at the airport demonstrated Malaysia's recognition of India's growing importance in the region.
In Singapore, the Indian prime minister delivered the keynote address at the Shangri-La Dialogue on June 1. Modi emphasised that India's definition of the Indo-Pacific Region stretches "from the shores of Africa to that of the Americas", was "inclusive" and did not exclude any nation (read China). The speech was well received by the two major players in the Indo-Pacific – the U.S. and China. It should be seen neither as a wish list nor a mere statement of idealism. It reflects calibrated ambivalence and innate pragmatism, which are amply justified at a time when the Indo-Pacific is in the midst of a churn on a daily basis.
Rajiv Bhatia is Distinguished Fellow, Gateway House. A former ambassador to Myanmar and former DCM in Jakarta, he also served as a member of India-Indonesia Eminent Persons' Group (EPG).
This article was exclusively written for Gateway House: Indian Council on Global Relations. You can read more exclusive content here.
For interview requests with the author, or for permission to republish, please contact outreach@gatewayhouse.in or 022 22023371.
© Copyright 2018 Gateway House: Indian Council on Global Relations. All rights reserved. Any unauthorized copying or reproduction is strictly prohibited.