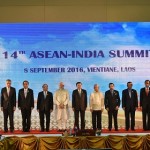 This feature was originally written for Where Geopolitics Meets Business, Vol. 2, the compendium for The Gateway of India Geoeconomic Dialogue. 
The Indo-Pacific is a geopolitical construct that has gained much salience in the current decade. It encompasses oceans and lands, book-ended by the eastern rim of Africa and the western Pacific. But its core is represented by a confluence of the Indian Ocean and the Pacific Ocean, with the membership of the East Asian Summit reflecting its diverse stakeholders.
So viewed, it presents the most active theatre of global politics today. In comparison, other geographies may not be as vital for international affairs, because nowhere else are as many major players as directly involved as they are in the Indo-Pacific.
What prospects for peace, development and conflict does it hold in this decade? Exploring this question days after Donald Trump became the U.S. president is somewhat hazardous, but also fascinating, as he joins an exclusive group of assertive leaders and wields the power to shape the world's destiny.
Stakes in the Indo-Pacific are high indeed. It is home to several of the largest and most rapidly growing economies. It is also host to some of the biggest military forces, caught up in an arms race and a large stock of nuclear weapons. Mega trade deals seemed the central thrust of the region until now. Nuclear threats, climate change, international terrorism, poverty and development and the quest for a peaceful resolution of disputes on territorial and maritime claims, have lately been the defining issues. They are being addressed at a time when uncertainty prevails about relations among the four nations in the top league: U.S., China, India and Japan.
The blend of U.S.-China strategic contestation, competition and cooperation is not a new phenomenon. As John Pomfret observed in his book, The Beautiful Country and the Middle Kingdom, the two are locked "in an entangling embrace that neither can quit", and this mutual dependence is "vital for the fate of the world".
A major source of uncertainty is set to diminish as the Trump Administration defines its policy towards East Asia. Already indications are that there is no choice but to accord it a high priority. The earlier fear of a U.S. slide into an isolationist phase, vacating the Asian space to China is proving unfounded. A strong policy stance seems a distinct possibility now.[1]
Experts, therefore, broadly agree that U.S.-China relations could become increasingly tense in the coming months or years, as President Trump asserts himself and shows that he is no conciliatory Barack Obama. China's "Core Leader" Xi Jinping is now impatient to be treated as the dominant presence in East Asia. Mutual accommodation, therefore, may not be easily achieved or sustained.
On the other hand, U.S. relations with India and Japan are likely to become stronger, in spite of a few differences. Each arm of this triangle —U.S.-India, U.S.-Japan and India-Japan—has a sound foundation. The factors that motivate the three nations to cooperate on a range of vital issues will remain relevant in the future.
Two other nations—Russia and Indonesia—have the potential to influence equations within the Big Four in Asia. In recent years, U.S.-Russia relations deteriorated significantly, [2] a trend that Trump wants to reverse. Should these ties improve on a sustained basis, it could motivate Moscow to reduce its excessive dependence on China, a country with which it otherwise has a natural rivalry. [3] Better U.S.-Russia relations may also pave the way for an easier relationship between Russia and Japan and arrest the recent tensions in India-Russia ties.
Indonesia is perhaps the region's most under-rated player, essentially because it punches below its weight. But this may be changing in the world's third most populous nation. President Joko Widodo's Maritime Fulcrum Policy reflects a veiled ambition to play a larger role in the Indo-Pacific.
For this purpose, Jakarta needs to raise its leadership profile in the ASEAN, saving it from its current disarray, and find a smart balance in its relations with China, on the one hand, and U.S., India and Japan, on the other. The Indonesian leadership is inclined to move in that direction, but it needs to overcome its internal and external constraints.
From now until 2020, the Indo-Pacific faces the full spectrum of possibilities—from peace and prosperity to tensions, accidents, crises and conflict. India will have a crucial role in the area. New Delhi hopes that neither a G2-like accommodation between the U.S. and China that recognises the latter's hegemony in Asia nor an armed conflict between them occurs.
What is almost inevitable is the clash of ambitions, interests and policies of the key players that results in the aggravation of tensions. Statesmanship demands that states cooperate to realise a collective dream of a peaceful and prosperous Asia, instead of pushing their own national dreams. [4] They need to reinforce their habits of working together rather than against each other. This is the most daunting challenge for the Indo-Pacific at present.
Rajiv Bhatia is Distinguished Fellow, Gateway House, former ambassador, author, editor, columnist and a leading member of India's strategic community
The Gateway of India Geoeconomic Dialogue was co-hosted by Gateway House and the Ministry of External Affairs on 13-14 of February 2017. For more details on the event please click here. 
This article was exclusively written for Gateway House: Indian Council on Global Relations. You can read more exclusive content here.
For interview requests with the author, or for permission to republish, please contact outreach@gatewayhouse.in.
© Copyright 2017 Gateway House: Indian Council on Global Relations. All rights reserved. Any unauthorized copying or reproduction is strictly prohibited
References
[1] Holmes, James, 'Counterpoise Beyond Trump's Asia Rhetoric', Outlook, 16 January 2017, < http://www.outlookindia.com/magazine/story/counterpoise-beyond-trumps-asia-rhetoric/298330>
[2] Narayanan, M.K., 'The World at a crossroads', The Hindu, 10 January 2017, <http://www.thehindu.com/opinion/lead/The-world-at-a-crossroads/article17014166.ece>
[3] Mitter, Rana, 'Anything But Pacific', Outlook, 16 January 2017, <http://www.outlookindia.com/magazine/story/anything-but-pacific/298327>
[4] Saran, Shyam, 'The Future is Still Global', India Today, 16 January 2017, <http://indiatoday.intoday.in/story/globalisation-cross-border-challenges-polarisation/1/849654.html>