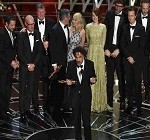 At the 87th Academy Awards on February 23, Alejandro Inarritu of Mexico won three Oscars for the Hollywood movie, 'BirdMan or The Unexpected Virtue of Ignorance',— best director, best screen play writer and best picture. His recognition marks the high point of a comeback by Mexican cinema and should be seen as an inspiration by the Indian film industry.
Before starting out his film career, Inarrute had worked in Mexican radio stations and composed music for Mexican films. He then went on to co-found 'Z Films' which produced short films and commercials. He became famous in Mexico after his film Amores Perros was nominated for an Oscar in the foreign language film category in 2000. He also directed two other Hollywood films Babel (nominated for best director and film in Oscar 2007) and 21 grams. His second Mexican film Biutiful was also nominated for an Oscar in the foreign film category in 2011.  He is directing his next Hollywood film 'The Revenant' to be released in December 2015.
Another Mexican, Alfonso Cuaron, won an Oscar for the best director for his film Gravity in 2014. He is also a product of  the Mexican film industry. Following his first film Tu mama tambien, he shifted to Hollywood, producing and directing films such as Little princess, Harry Potter and the Prisoner of Azkaban and Children of Men; all of which have received critical acclaim.
Inarritu and Cuaron are usually associated with a third Mexican film director, screen writer and producer, Guillermo del Toro.  The three consult each other, work closely and are known as the "Three Amigos". Del Toro has made movies in Mexico as well as in Hollywood and specializes in horror and science fiction themes. His Hollywood films include Hell boy ' Blade II and Pacific Rim.
In total eight Mexican films have received Oscar nominations since 1960 in the foreign language film category.
The recent Oscars won by  Mexican talent is exciting news for the Mexican film industry which has had a renaissance in the last fifteen years.  Its golden age was in the 1940s and 50s, when Mexico was the largest centre of Latin American films. Back then, Mexican films, actors and film talents went on to conquer Hollywood too. However, the Mexican film business went into a long decline from the sixties till the end of the 20th century. The political and economic instability in Mexico as well as the dictatorships and crisis in Latin America were important factors in the decline.
Thereafter Hollywood dominated Mexican theaters, accounting for over 90 % of ticket sales. The closed network of film distributors and theatre owners controlled by Hollywood dominated, aggressively squeezed out the Mexican films. The film industry also became one of the victims of NAFTA (North American Free Trade Agreement) signed by US, Canada and Mexico in 1994. As a result, the Mexican government had to abolish the law which required theaters to reserve 50% of its screens for national films. This caused a drastic reduction in the production of Mexican films from about 100 per year in the first half of nineties  to 25 per year by the end of that decade.
The revival of Mexican cinema began with Alejandro Inarritu's hit movie Amores Perros in 2000. Since then there have been a number of box-office hits. Creative Mexican directors and producers as well as talented actors have managed to win back the Mexican audience. The turning point came in 2013. The film  No se aceptan devoluciones made history by grossing close to $100 million, of which half was generated in Mexico and the other half from the rest of North America. Another 2013 film, Nosotros los Nobles, earned $26 million. The Mexican film director Amat Escalante won the best director award in 2013 in the Cannes Film festival for his film Heli.
Mexico has the fourth largest number of movie-goers in the world after India, China and the US.  The Mexican multiplex company ' Cinepolis' operates the largest number of screens in the country and has emerged as one of the top four global players with 3,400 screens in 11 countries including the US and India.
Mexico has two filmy connections to India. Cinepolis operates 193 screens in 31 cities in India— and is targeting to have 400 screens by 2017. It is the only foreign company operating in the Indian market and is the fourth largest multiplex company in India. A Mexican actress, Barbara Mori, has acted in a Bollywood film Kites as a lead cast along with Hrithik Roshan.
The Mexican film industry is tiny in comparison to its Indian counterpart which produces nearly a 1,000 films a year and possesses a large and diverse audience and talent. Indian film producers have large budgets while most Mexican films are small-budget films, many of them only survive because of government subsidies.
Yet, Indian films have received just four nominations in the Oscar foreign language category, compared to eight from Mexico so far. No Indian film director has ever won an Oscar.
Mexican films and talent have done better not only at the Oscars but also in box-office earnings. The Mexican film No se acceptant devoluciones grossed $100 million in revenue worldwide,  Indian film PK only reached the same figure ( Rs. 600 crores) in 2014.
While the Indian film industry is a giant compared to the Mexican industry both in terms of size and reach, the Oscar and box-office success of Mexican talents and films should be seen as an inspiration by Indian film industry.
Ambassador Viswanathan is Distinguished Fellow, Latin America Studies, Gateway House. He is the former Indian Ambassador to Argentina, Uruguay, Paraguay and Venezuela, and Consul General in Sao Paulo. 
This blog was exclusively written for Gateway House: Indian Council on Global Relations. You can read more exclusive content 
here
.
For interview requests with the author, or for permission to republish, please contact outreach@gatewayhouse.in.
© Copyright 2015 Gateway House: Indian Council on Global Relations. All rights reserved. Any unauthorized copying or reproduction is strictly prohibited.