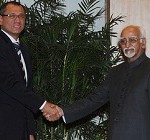 Second-tier cities in Latin America for IT/BPO
A December 4 report of the online journal Nearshore Americas has identified the top eight second-tier cities for IT/BPO operations with lower costs of operation when compared to megacities like Sao Paulo, Buenos Aires, and Mexico City. These cities, with adequate human resources, infrastructure, and connectivity are:
La Plata, Argentina – just 80 kilometres from Buenos Aires, with 35 institutions of higher learning.
Florianopolis, Brazil – known as the Silicon Valley of Brazil.
Valparaiso/Viña del Mar, Chile – the two cities, adjacent to each other, 80 kilometres from Santiago, have a growing middle class.
Barranquilla, Colombia – it has one of the best telecom infrastructures in Colombia.
Cali and Medellin, Colombia – notorious for drug cartels in the past, both have undergone a dramatic makeover, offer a good quality of life, and have a growing middle class and booming business sector.
San Jose, Costa Rica – perhaps the best city to live in, in Central America. The city offers free trade zones for companies in services sectors.
Arequipa, Peru – it is the second-most populous city after Lima, the capital.
Two dozen Indian IT/BPO companies operate in 14 of the 19 Latin American countries, with about 25,000 Latin American staff. They are already present in Medellin, San Jose and Valparaiso, in addition to a number of other second-tier cities as well as major cities.
Import of crude oil from Latin America
In the last 12 months, Reliance has imported crude oil worth $13-14 billion from Venezuela and another $2-3 billion from Mexico, Brazil, and Colombia.  In addition, Essar also imports crude oil from Latin America. These imports account for more than 10% of the total crude imports of India from around the world.
The U.S., which was the main destination of exports of crude from Venezuela and Mexico, is reducing imports thanks to the growth in its domestic production of shale oil and gas. This means that more and more Latin American crude will become available for India to import in the future.
India's soy oil imports from South America
Corn prices have fallen in Brazil by about 42% this year due to the country's bumper harvest.  Brazilian farmers and farming companies are, therefore, switching to soybean this season. Farmers in the Matto Grosso province of Brazil alone are expected to plant soybean on a million hectares, instead of corn. Brazil's export of soybeans in the 2013-2014 season is expected to reach 44 million tonnes, up from 41.9 million tonnes exported in the last season. The price of soybean and soy oil is therefore likely to decrease in 2014. This is good news for India, which imports around $2 billion worth of soy oil from Argentina, Brazil, and Paraguay.
Ambassador Viswanathan is Distinguished Fellow, Latin America Studies, Gateway House. He is the former Indian Ambassador to Argentina, Uruguay, Paraguay and Venezuela, and Consul General in Sao Paulo.
This blog was exclusively written for Gateway House: Indian Council on Global Relations. You can read more exclusive content here.
For interview requests with the author, or for permission to republish, please contact outreach@gatewayhouse.in.
© Copyright 2013 Gateway House: Indian Council on Global Relations. All rights reserved. Any unauthorized copying or reproduction is strictly prohibited.