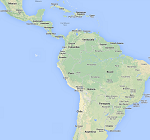 The 'orange economy'
The Inter-American Development Bank's new report titled La economia naranja (Spanish for The orange economy) presents a new argument for the creative, or orange, economy of Latin America. It argues that the region should celebrate the creation, production, distribution, and commercialisation of artistic content. It also emphasises that culture is not free. After all, Latin America's creative economy is valued at $175 billion and employs 10 million people in the region.
To put things in perspective, Brazil's $66 billion orange economy is comparable in dollar terms to the oil exports of Venezuela at $62 billion (2011). The orange economy exports of Argentina and Brazil are more than their respective exports of beef and coffee – products they are famous for worldwide. However, Latin America's orange economy also faces a large deficit – it imports more than $28 billion and exports only $19 billion of cultural goods. The countries in the region should consolidate their orange economies and increase the export of cultural goods to bridge this deficit, while at the same time promoting their region and culture to the rest of the world.
EU- Central America Association Agreement
The agreement was signed in 2012. After the internal ratification procedures in Guatemala, it has become fully operative from 1 December 2013. It became effective from August 2013 for Nicaragua, Honduras, and Panama; and from October 2013 in the case of Costa Rica and El Salvador. The agreement provides for free trade, political dialogue, and cooperation. The trade between the EU and Central America was 14.9 billion Euros in 2012. EU's share of Central American trade is 11.3%.
Central America already has a free trade agreement with the U.S. With these FTAs, Central America has access to the markets of the U.S. and EU for their textiles and agro-products.
Ambassador Viswanathan is Distinguished Fellow, Latin America Studies, Gateway House. He is the former Indian Ambassador to Argentina, Uruguay, Paraguay and Venezuela, and Consul General in Sao Paulo.
This blog was exclusively written for Gateway House: Indian Council on Global Relations. You can read more exclusive content here.
For interview requests with the author, or for permission to republish, please contact outreach@gatewayhouse.in.
© Copyright 2013 Gateway House: Indian Council on Global Relations. All rights reserved. Any unauthorized copying or reproduction is strictly prohibited.