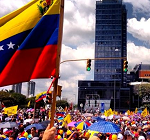 The UN Economic Commission's annual report for Latin America and Caribbean[i] (ECLAC) released this month shows a decline in the region's GDP growth. The figure for 2014 is 2.2 % – a dip from 2.6% in 2013, 3% in 2012, 4.4% in 2011 and 4.7% in 2010.
Brazil, which is the largest economy in the region, is likely to grow by just 1.4% in 2014, as against 2.5% last year. Mexico, the second largest, is expected to grow by 2.5%, an increase from 1.1% in 2013. Argentina, the third largest, is likely to face negative growth after the technical debt default caused due to a failure of talks between the Argentine government and the holdout funds.
Among the 20 countries in the region, Panama (6.7%) is expected to have the highest growth, followed by Bolivia (5.5%), Colombia, Ecuador, Dominican Republic and Nicaragua(5% each), and Peru(4.8%).  Venezuela (0.5%) will fare the worst.
South America's sub-regional growth will be 1.8%, while that of Central America (including Haiti and the Dominican Republic) will be 4.4%.
The low figures are attributed to a fall in domestic demand, decrease in the external demand for commodities – especially from China- and insufficient investment. Exports from Latin America and the Caribbean are projected to increase by 3.1%, and imports by 3.8% in 2014.
The average inflation for the first half of 2014 reached 8.7%, a gradual increase from 7.6% in December last year. Venezuela (60.9%) continues to show the highest inflation figure, followed by Argentina (21.3%), while the rest of the region has single digit inflation. Brazil's inflation in May was 6.4%, while Mexico's was 3.5%.
In general, the currencies of the region have depreciated vis-a-vis the U.S. dollar due to the monetary policies of the developed countries, and due to changes in international interest rates and commodity prices.
Foreign exchange reserves are at a historic high in most Latin American countries – both in absolute terms as well as in relation to GDP, imports and external debt, except for Argentina and Venezuela. The total reserves of the region stood at $834 billion in May 2014, increasing from $814 billion in 2013. Brazil's reserves were $369 billion and Mexico's $191 billion in 2014. Argentina and Venezuela's reserves were much below that of Peru, Colombia and Chile.
It is important to note that the total gross external debt of the region stood at 21 % of GDP in 2013 which is much below the ratio in many developed countries. The figure has remained below 20% of the GDP from 2006-2011. In 2012 it was 20.6%.  Interestingly, the open urban unemployment rate of the LAC region was at its lowest at 6.2% in 2013, after having steadily declined from 8.6% in 2006.
Brazil continues to have the highest lending rate with 45%, followed by Argentina (30%) and Mexico (3.7%). But for four countries, all others have double digit rates.
Argentina, which was improving in the first half of this year, has now been ambushed by a U.S. district court's move to block the government repayment of debt to 93% of the bond-holders, until it pays the vulture funds holding 7% of the bonds. This 'artificial default' has compounded Argentina's problems, namely, the shortage of foreign exchange reserves, devaluation of currency, and access to the global financial market. However, given the country's experience managing the much larger debt crisis it faced in 2002, it is expected to come out of this crisis soon. While the issue will have some marginal impact on its Mercosur partners, it will not derail Latin America's growth and stability.
Venezuela's economic situation continues to deteriorate hopelessly since the government has no clue, or the competence, to find solutions. It is incredible that a country which earns over $80 billion in oil exports annually is running short of foreign exchange, and essential items for a small population of 30 million. It is pure and simple mismanagement.
Prospects for Mexico, and Central America, look brighter with the revival of growth in the U.S. which is their main market for exports and a source of workers' remittances. South America has to count on China which has emerged as a large trading partner for most the countries here.
Although Latin America's growth this year is the lowest in the last five years, it should be noted that the region (except for Argentina and Venezuela) has relatively strong fundamentals with high forex reserves, FDI and low external debt, inflation and unemployment.  The policymakers are now pursuing more prudent and responsible fiscal policies, and the economies have developed the resilience to withstand external shocks, and increase the growth rate.
Ambassador Viswanathan is Distinguished Fellow, Latin America Studies, Gateway House. He is the former Indian Ambassador to Argentina, Uruguay, Paraguay and Venezuela, and Consul General in Sao Paulo. 
This blog was exclusively written for Gateway House: Indian Council on Global Relations. You can read more exclusive content here.
For interview requests with the author, or for permission to republish, please contact outreach@gatewayhouse.in.
© Copyright 2014 Gateway House: Indian Council on Global Relations. All rights reserved. Any unauthorized copying or reproduction is strictly prohibited