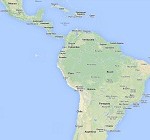 UNECLAC: economic outlook
The UN Economic Commission for Latin America and Caribbean (ECLAC), in a report released on April 29, has predicted GDP growth of 2.7% for Latin America in 2014, up from 2.5% in 2013.  According to the report, the average public debt of Latin America remained at 32% of GDP, while the external debt was 28.9 % of GDP in 2013. This is in contrast to the higher debt-to-GDP ratios of many European countries and U.S. The average inflation of the region increased to 7.3% in 2013 from 5.6% in 2012. Venezuela had the highest inflation of 56.2 % in 2013 in the region. Latin America's trade increased marginally to $2.184 trillion in 2013 (from $2.158 trillion in 2012), with exports of $1.101 trillion and imports of $1.083 trillion. Mexico and Brazil traded the most – 30% and 22% respectively of the region's total trade
IMF and IDB: LatAm economic outlook
The International Monetary Fund, in the World Economic Outlook issued in April 2014, estimates a decrease in Latin America's GDP growth from 2.75% in 2013 to 2.5% in 2014 – but it forecasts an increase to 3% in 2015. On the other hand, Venezuela's GDP is expected to contract by 0.5% in 2014 and 1% in 2015. Another study by the Inter-American Development Bank, released on March 30, is more optimistic and projects Latin American and Caribbean growth at 3% in 2014 and 3.3% in 2015.
Ambassador Viswanathan is Distinguished Fellow, Latin America Studies, Gateway House. He is the former Indian Ambassador to Argentina, Uruguay, Paraguay and Venezuela, and Consul General in Sao Paulo.
This blog was exclusively written for Gateway House: Indian Council on Global Relations. You can read more exclusive content here.
For interview requests with the author, or for permission to republish, please contact outreach@gatewayhouse.in.
© Copyright 2014 Gateway House: Indian Council on Global Relations. All rights reserved. Any unauthorized copying or reproduction is strictly prohibited.