This is the second in a three-part series. Read the first part here, and the third part here.
Mumbai's expatriate Japanese population today is small at 550 to 750 people compared to Bengaluru's or New Delhi's or the only Japantown (Sataku) in India, in Haldia (West Bengal),[1] but unique. The city's historical linkages with Japan are not only over a century old, but some of them are foundational to India's soft power in Japan. It all began with trade[2] and expanded into the cultural, political and religious realms. These ties snapped during the period of the Second World War – never to be recovered thereafter. But the history of Bombay's Japanese community is traceable through some milestones which have remained hidden from public attention.
A silent sentinel to the past
The most enduring vestige of this past is the buff-coloured granite stambha (column) in the 111-year-old Japanese cemetery, Nipponjin Boji, on Dr. E. Moses Road (formerly Haines Road),[3] which lists the names of Japanese nationals who came to the city to work in Japanese trading companies, involved in the export of raw cotton and mill-made yarn and import of Japanese cloth. They also worked in banks, shipping companies, and by the mid-20th century, in manufacturing projects using Japanese technology. Their ashes are interred at this cemetery, which also has on record those who died while lodged in British Indian prisoner-of-war camps when hostilities broke out between Japan and the Allied Powers in 1941. Some were either locally rounded up or brought from overseas.[4]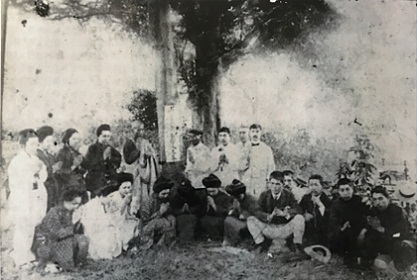 The earliest photograph of the Bombay community is of the consecration ceremony of Nipponjin Boji cemetery in 1908 by the Buddhist Bhikshu (monk) Gensho Hirota, who wrote of that day, "I reached Bombay Station and by ghoda ghari (horse cart) reached the site (sic) where I met Japanese people and, in the evening, I went to the Japanese Gymkhana[5] and did a memorial service."
This photograph also shows several Japanese women, dressed in traditional kimonos, kneeling in prayer. According to Bhikshu Morita San,[6] current caretaker and priest of the Nipponzan Myohoji temple,[7] (Worli, Mumbai) a few of them were probably Karayuki San (lit. Ms Gone-overseas) or young women sold into prostitution, first to local procurers by their poor farming or fishing families, and then to overseas brothels. What differentiated the Karayuki San from Japanese labour in India and elsewhere was that they mostly originated from the impoverished Anakusa Islands of western Kyushu, a small region, while Japanese workers came from all over Japan.
In 1908, when the cemetery was opened, there were about 200 Karayuki San and about 600 Japanese in the city.[8] These numbers were not unusual for Bombay since the global networks of prostitution (including European ones) were centred in colonial port cities, such as Shanghai, Hong Kong, Penang, Singapore and Bombay.
The Karayuki San's migration abroad began a little after Japan opened its ports to foreign trade and the Meiji Restoration of 1868.[9] An interesting aspect of their sojourn in Bombay is that they used it as a nodal hub from which to go west: East Africa, West Africa (Ivory Coast) and California (during the 1910 Gold Rush). From Mumbai, many also migrated into the city's cotton-growing hinterland.[10] In addition to those who came to the subcontinent for work, were overseas Japanese prisoners-of-war (POWs), brought to British India from theatres of conflict in the Pacific. In one instance, 3,000 Japanese civilians, captured in Singapore, including women and children, were brought to India and imprisoned along with the local expatriate Japanese in POW camps, the largest of which was Purana Qila or the old Mughal Fort in Delhi. Of the 2,115 Japanese imprisoned in Purana Qila, 106 died, including nine children and several women.[11]
The stambha thus commemorates those who died in the city and elsewhere in the subcontinent, like the overseas POWs, whose names are also inscribed here.
The Karayuki San's movement to different parts of the world was part of larger global circulations of Chinese, South East Asian, Indian, African and European workers from the 1870s. These labour circulations were facilitated by better networks of transportation (shipping, railroads), communications (postal and telegraph) and banking, whereby workers could repatriate their earnings back home as did the Karayuki San.
Besides money, the Nipponzan Myohoji or Japan Buddha Order, founded in 1917,[12] also wanted the restoration of Buddhism's influence and reach on the subcontinent, and the cemetery was, ironically enough, a starting point for such an enterprise. Next to the stambha, stands a prayer room, now a memorial to the penance undertaken by the Reverend Nichidatsu Fujii, founder of the Nipponzan Myohoji. Reverend Fujii once lived here in a makeshift hut, praying for the revival of the Buddha Dharma through its return to its original homeland – India – via Japan.[13]
Fujii and his followers believed that its revival would free India of British and European rule, and they must actively work to bring this about.[14] A few of them, such as Ananda Maruyama, were also actively involved in Gandhi's nationalist struggle.
A shrine and a temple
The prayer room in the cemetery bears an important connection to events leading to the construction of the city's only Japanese Buddhist temple, also called Nipponzan Myohoji.
Bhikshu Morita San[15] recounts how Fujii Guruji arrived in Bombay on 28 November 1931 at the Victoria Terminus station. Bhikshu Ishibashi, who received him, took him to the Nichimen (Japan Trading Company) office on Mayo Road (opposite the Royal Institute of Science),[16] where he worked. This company and another Japanese firm, Tommen, were the biggest purchasers and exporters of Indian Deccan cotton to Japan by the 1930s. Fujii Guruji then expressed his desire to undertake a penance beginning on December 1, and wanted to inspect sites where he could build a small hut for the purpose.
They went to the Japanese Gymkhana opposite the Cooperage grounds, which he did not find suitable because it was a recreational space, then to the suburb of Chembur (which was too far), before being shown the Japanese cemetery, where he decided to build a hut. He used discarded packaging material for the purpose; it had once held food items, shipped by Nippon Yuken Kaisha, also known as the Japan Mail Steamship Co. Ltd., the first Japanese shipping line to establish a regular service to India.
It is not clear when Fujii Guruji first met Mahatma Gandhi, but it is certain that he welcomed him upon his arrival in Bombay on the morning of 28 December 1931 at the Ballard Estate pier (Alexandra Docks, today's Indira Docks) after his return from the unsuccessful Second Round Table Conference in London. A photograph shows Fujii Guruji beating a hand-held Uchuva Daiko (lit. a fan-like drum) on this occasion, walking next to the Mahatma, who is greeting the cheering crowds, gathered to welcome him home.
Two years later, on 4 October 1933, Fujii Guruji met Gandhiji at his Ashram in Wardha when he and his disciples got a chance to interact closely with him over a period of two months.[17] It was at this time that his plan to build a Japan Buddha Order temple in India attracted the attention of nationalist businessman and philanthropist J.K. Birla, who eventually endowed the one that was built in Bombay.[18]
The 'little' Nipponzan Myohoji (behind the larger main temple) in Worli was built first, according to Bhikshu Morita, some time[19] before the outbreak of the Second World War. The War stalled any further development of the temple as it became 'enemy property' along with the premises of Japanese firms and expatriate assets in Bombay.
Recovering the property after the War from the custodian of enemy properties was not as difficult as evicting trespassers who had occupied the little temple (now housing a nursery school) and its land. Fujii Guruji's dream was finally realized when the Nipponzan Myohoji was completed in 1952 with funds from the Birla Trust.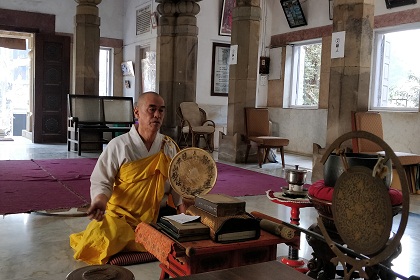 Today, the temple is an oasis of calm on the busy Dr. Annie Besant Road, and the Japanese cemetery with its Stambhas and historic prayer room, stand mute witness to the century gone by. Every November, the city's Japanese community congregates at the cemetery to remember those who once made Mumbai their home. They were sojourners very much like them, who had their condiments, sauces and rice sake imported from Japan just before the festivals of Japanese New Year (January 1), the Dawn (in March) and Star (in July).
Sifra Lentin is Adjunct Fellow, Bombay History Studies, Gateway House.
This is the second in a three-part series. Read the first part here, and the third part here.
This article was exclusively written for Gateway House: Indian Council on Global Relations. You can read more exclusive content here.
For interview requests with the author, or for permission to republish, please contact outreach@gatewayhouse.in
© Copyright 2019 Gateway House: Indian Council on Global Relations. All rights reserved. Any unauthorized copying or reproduction is strictly prohibited.
References
[1] This information is taken from the average membership numbers of the Mumbai Japanese Association, a group made up of Japanese nationals and those who may have a Japanese spouse. According to the oldest member of this Association (who did not wish to be named), many of Mumbai's Japanese residents live in the city between one to five years. The oldest member has been a resident of the city for 25 years.
[2] https://www.gatewayhouse.in/bombay-japan-trade/
[3] The Japanese cemetery in Mumbai is possibly the only one belonging to the community in India. This is indicative of the city's age-old ties through trade with Japan. This cemetery is located between the Hindu burning ground and the new Parsi crematorium. It once possessed a structure atop which a funeral pyre could be built. It also has two stambhas (columns) of which the older of the two is the buff-coloured one.
[4] Even before the Tripartite Pact was signed by the three Axis Powers – Germany, Italy, Japan—on 27 September 1940, two of the three Axis powers had initiated conflicts that would become theatres of war in the Second World War. On July 7, 1937, Japan invaded China to initiate the war in the Pacific. The German invasion of Poland on September 1, 1939, unleashed the European War. Italy entered the Second World War on the Axis side on June 10, 1940, as the defeat of France became apparent.
[5] The Japanese Gymkhana was located on Queen's Road, Cooperage. It was in the same line as the Princess Victoria & Mary Ladies Gymkhana and the former Bombay Presidency Gymkhana (today's Wodehouse Gymkhana) opposite the Cooperage football grounds. The exact location, however, has not been identified.
[6] The suffix 'San' is akin to 'respectful Sir or Madam'.
[7] The Nipponzan Myohoji Temple literally translates to Japan Buddha Order.
[8] Fisher-Tiné, Harald (2003), White women degrading themselves to the lowest depths: European networks of prostitution and colonial anxieties in British India and Ceylon ca. 1880-1914. (In: The Indian Economic and Social History Review, Sage Delhi, Vol.40 (2)), p. 177.
Contrary to their European rivals, most Japanese women worked as 'contracted prostitutes', which basically means that they were sold off by their families to procurers. In fact, the slavery metaphor, according to author Harald Fisher-Tiné, that was often misleading in the context of the European sex-trade (dominated by Irish women belonging to impoverished backgrounds), was probably much more appropriate in their case. The global dimension of prostitution became apparent to the Victorian anti-White Slavery fighters, when they realized that women (irrespective of their race) were circulating through the colonial networks for labour.
[9] The immigration of the Karayuki San abroad peaked in the early Meiji period and began reducing with the spread of economic prosperity in Japan. Japanese missions abroad soon began looking into the welfare of these women. Their earnings were mostly repatriated to their families back home and were a significant part of the foreign exchange entering Japan during the pre-Second World War period.
[10] The Karayuki San also travelled to Japanese-occupied Manchuria, Siberia, China, Hong Kong, Singapore, and what is today the 10 ASEAN countries.
[11] Yasmin Khan, The Raj At War: A People's History Of India's Second World War (Gurgaon, Random House Publishers, 2015), p. 112.
 [12] Then a relatively new sub-sect of Japanese Nicheren Buddhism.
[13] Fujii Guruji, the founder of Nipponzan Myohoji, was a follower of the great savant Nichiren. The Nipponzan Myohoji order was known for its religious and political activism. They believed that European colonial powers were able to subjugate the Subcontinent because native kingdoms were fighting among themselves. This disharmony between princely kingdoms was caused because Buddha Dharma had fled country and must return to its original homeland – India– via Japan. Fujii Guruji was presented the Jawaharlal Nehru Award for International Understanding on 19 January 1979 in New Delhi. In the program brochure for the presentation of this Award it is mentioned that he personally knew both Mahatma Gandhi and India's first Prime Minister Jawaharlal Nehru.
[14] Rev. Fujii undertook a similar penance in Calcutta. Here his hut was built of grass.
[15] Bhikshu Morita San arrived in India in 1976. He was interviewed by this author on 9 February 2019.
[16] The office of Nichimen Company, according to oral history, is believed to be the present St. Anne's Girls School (Colaba). This author has yet not come across any confirmation of this.
[17]  Taken from the abstract of: Living with Gandhi: Rev. Fujii Guruji in India and the Indo-Japanese relations in the 1930s. In the English introduction to this study (which is written in Japanese), it states "this study tries to verify his (Fujii's) descriptions with other records from Gandhiji's side, and from the background of Indo-Japan relations in the 1930s. Particularly, the different attitudes by Gandhi towards Fujii's disciples are discussed, by which the author explains why Fujii and his disciples were able to stay with Gandhi and have intimate relations (meaning intense discussions) in spite of his critical opinions against aggression by the Japanese army to (in) China".
[18] There are two (unsupported) versions about how J.K. Birla became interested in building this Japanese temple. One, that he read a report of the meeting between Fujii Guruji and Gandhi in the Bombay Chronicle dated 5 October 1933. Second, that Fujii's disciple Ananda Maruyama, a Japanese follower of Gandhi, brought up the subject of Fujii's wish to build a Nipponzan Myohoji temple in India with Shyama Prasad Mukherji, who, in turn, spoke to J.K. Birla.
[19] Interview with Bhikshu Morita dated 3 April 2019. The Little Temple is a reference to an older structure just behind the main temple, which according to Morita was built before the war.