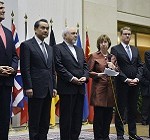 The understandings reached by the foreign ministers of Iran, the U.S., Russia, UK, France, China and Germany, as well as the High Representative of the European Union, in the early hours of November 24, are a fine diplomatic achievement.  They reflect creditably on all parties to the negotiation as they bear the hallmarks of a determined and creative search for the common ground that is the Holy Grail of wise and honourable negotiators.
The agreement addresses Western and Israeli concerns that Iran has gradually been moving towards a position from which it could hope to produce enough weapons-grade enriched uranium for one device in so short a time that the UN Security Council would be left flat-footed. It also outlines some of the elements of which a "comprehensive solution," to be negotiated in the coming months, is to be composed.
To address the so-called "break-out" or "critical capability" concerns, Iran has volunteered several important measures:
It will dispose its stock of gaseous uranium enriched to 20% U235 (a short hop, technically, from 90% U235) by converting it into the oxide form needed for fuel assemblies or by down-blending it, and will halt the production of 20% U235 material for at least six months.
It will convert whatever gaseous uranium enriched to 3.5% produced during the next six months into oxide form.
It will refrain from expanding its installed and operating centrifuge capacity for at least six months.
It will facilitate enhanced monitoring of its nuclear programme by the International Atomic Energy Agency (IAEA), notably by allowing daily access to its two enrichment facilities and access to its centrifuge production workshops to the IAEA inspectors.
These measures enable the Iranian government to demonstrate that it has no interest in "breaking out," but do not compromise a vital point of principle for Iran: all states are entitled to make peaceful use of nuclear technologies, including uranium enrichment technologies.
Meanwhile, the detailing in the text of the "Joint Plan of Action" of the "core elements" of a comprehensive solution suggests that the parties have made good use of their negotiating time to develop certain understandings concerning the long-term basis for nuclear activities in Iran.  This is very encouraging, since it was the absence of such shared understandings that proved fatal to the agreement which Iran negotiated with UK, France and Germany in October 2003.
It is in this part of the text that, reading between the lines, one can infer that the U.S. has at last signalled to Iran that it will not do whatever is necessary to force Iran to close down and abandon all uranium enrichment. The U.S. will want Iran to agree to "parameters" and will no doubt try to ensure that these are as narrow as possible, which no doubt Iran will resist.
So diplomatically "hard pounding" lies ahead. But it now seems unlikely that the process will break down over Iran's oft-trumpeted "right to enrich" – and this is a big step towards the peaceful resolution of this long-running dispute.
This part of the text also suggests that the parties will make a big effort to resolve Western and Israeli concern about the 40MW reactor nearing completion at Arak. Concern centres on the design of this reactor.  The reactor is due to be an inefficient producer of medial isotopes but a very efficient producer of plutonium.  Iran will be asked to dismantle the plant or, failing that, to find a way of building confidence that that plutonium production is not the purpose for which the plant was conceived. Relatively minor modifications to the design, before completion, may offer a solution.
The most problematic of the core elements looks to be the commitment given by the U.S. and its partners to lift UN, multilateral and national nuclear-related sanctions in accordance with a schedule to be agreed upon. One can imagine the EU quickly reaching a consensus to lift EU sanctions, and the five Permanent Members persuading the UN Security Council (UNSC) to lift UN sanctions once Iran has fully allayed the concerns expressed in several UNSC resolutions. But U.S. sanctions are a different matter.
Congressional opposition to the Obama administration's search for a diplomatic solution is already such that various senators and representatives have been arguing for adoption of additional sanctions, no doubt hoping that this would provoke Iran into walking away from the negotiating table.  These spoiling tactics are likely to intensify in the coming months, thanks to the manipulations of lobbyists who take their cue from the Israeli government.
By bringing the U.S. public opinion, which is supportive of diplomacy, to bear, the administration may be able to avert the imposition of further sanctions. However, persuading the Congress to repeal nuclear-related sanctions (and refrain from re-designating them as terrorism or human rights-related sanctions) is going to be very difficult.
A solution may have to pass by way of Israel.  Prime Minister Benjamin Netanyahu appears so viscerally suspicious of Iran (or, strategically, has relied so heavily on Israeli-fostered U.S. suspicion of Iran) that only the boldest of punters would bet on his renouncing the tactics of sabotage.  But wiser heads can be found within Israel's political class and among senior figures that have had experience of defining Israel's security interests. So, a determined campaign to shift the official Israeli position, which would reduce Congressional opposition, need not be hopeless.
This is all the more so in that the position of Saudi Arabia, hitherto seen by Netanyahu as an ally, appears to be shifting. On November 25, the Saudi government stated  that "this agreement could be a first step towards a comprehensive solution for Iran's nuclear programme."
Overall, the outlook is positive.  A comprehensive solution need not be a mirage. But countries like India can play a helpful role by offering encouragement to the parties and persuading potential spoilers to revisit their cost calculations.
Ambassador Peter Jenkins is a former British diplomat who worked on the Iranian nuclear issue when ambassador to the International Atomic Energy Agency in Vienna (2001-06).
This article was exclusively written for Gateway House: Indian Council on Global Relations. You can read more exclusive content here.
For interview requests with the author, or for permission to republish, please contact outreach@gatewayhouse.in.
© Copyright 2013 Gateway House: Indian Council on Global Relations. All rights reserved. Any unauthorized copying or reproduction is strictly prohibited.