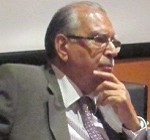 The April 2013 ruling of the Supreme Court of India, dismissing the appeals filed by Novartis claiming a patent for its cancer treatment drug Glivec, has underscored the dilemmas surrounding the intellectual property rights (IPR) framework in India. Section 3(d) of the Indian Patents Act, which prohibits granting a patent to a new form of a known substance, has generated resentment among multinational pharmaceutical companies and prompted an in-depth examination of IPR laws  and the provisions of the Trade-Related Aspects of Intellectual Property Rights (TRIPS) agreement in emerging economies. The backdoor negotiations amongst the U.S., Australia, Brunei, Chile, Malaysia, New Zealand, Peru, Singapore and Vietnam, for the contentious Trans-Pacific Partnership agreement, which is expected to include stricter IPR legislation, have added to India's concerns.
Narendra Sabharwal, the current Chair of the IPR Committee of the Federation of Indian Chambers of Commerce and Industry (FICCI) and former Deputy Director General, Cooperation for Development Sector, World Intellectual Property Organisation (WIPO), shares his personal views with Gateway House's Trupti Sarode about the flexibilities provided under the TRIPS agreement, the public health concerns of emerging economies, and the role of industry in strengthening innovation.
Q: Does the ruling of the Supreme Court of India on Novartis in April 2013, the denial of an extension of the patent for Glivec by Brazil in 2010 and South Africa's plans to overhaul its IPR laws after the recent expiry of the Glivec patent, constitute a trend building up in the BRICS economies? Does this affect multinational pharmaceutical companies, which look to emerging markets like India, Brazil and China for growth?
The Doha declaration on IP and Public Health, and the TRIPS agreement, provide the multilaterally accepted international legal framework for the patenting of medicines. A number of flexibilities have been agreed upon by the countries, which can be used by them to frame domestic laws and regulations in order to protect public health and for making medicines accessible and affordable to the patients. How and to what extent a country will use these provisions depends upon the decisions taken by each country, keeping in view its national priorities, international obligations and the imperatives of safeguarding public health. The Indian Patent Act and the laws of several countries have incorporated these flexibilities in order to provide a judicious balance between the need for encouraging inventions of new drugs and making them accessible and affordable to patients. The Indian Supreme Court, in its landmark judgement in the Novartis case, has upheld the relevant provisions of the Indian Patent Act.
The emerging markets of several countries, including the BRICS economies, will provide significant growth prospects for pharmaceutical companies. These economies in general are growing at a higher rate compared to the developed countries and the expenditure on healthcare and medicines is also likely to show a rising trend, providing a bigger market for pharma products. This situation is unlikely to be affected by a balanced application of patent laws formulated in accordance with internationally-agreed norms.
Q: The Trans-Pacific Partnership and the TRIPS-plus provisions are expected to include stricter IPR legislation. Will such agreements add pressure to the negotiations on IPR provisions between the developed and emerging economies?
Several bilateral and regional agreements have proposed IP clauses with TRIPS-plus features. This is one of the important issues for the negotiators to resolve in the overall context of the agreement. Developing countries would need to be cautious so as not to unnecessarily cede the policy space and flexibilities available in the TRIPS agreement and other international treaties.
Q: What provisions can the Indian government enact to encourage innovation in general and in the pharmaceutical industry in particular?
Generally speaking, the government has been very keen to promote innovation, creativity and entrepreneurship in this Decade of Innovation. A number of measures have been taken to create an innovation-friendly policy and regulatory framework; promote R&D in science and technology; encourage innovation in research, academic, and technical institutions; encourage innovation in industry (including in small and medium enterprises); and provide fiscal and other incentives and awards for innovation and creativity. The intellectual property system has been considerably modernised in order to support innovation. The National Innovation Council has been spearheading the initiatives aimed at strengthening the innovation policy framework and infrastructure as well as inculcating a culture of innovation in the country.
The generic pharma industry in India has recorded phenomenal growth over the years. However, domestic industry needs to do much more for investing in R&D and innovations.  Initiatives in this respect have primarily to come from the industry itself.  These should be supported by further appropriate improvements, where necessary, in the IP, tariff, pricing, procurement, delivery, healthcare and health insurance areas.
There is also a need to build innovative partnerships between international,   government and non-government organisations, public sector, private sector, R&D organisations and universities for supporting and boosting research for public health as well as creating new healthcare infrastructures and platforms for easy and affordable delivery of medicines to needy patients.
Q: Will India be able to build a consensus at the WIPO for a binding treaty on IPR associated with genetic resources, traditional knowledge and folklore?
Text-based negotiations are going on in WIPO in the above areas and India has been playing an active and constructive part in this process.
Narendra Sabharwal, the current Chair of the IPR Committee of the Federation of Indian Chambers of Commerce and Industry (FICCI) and former Deputy Director General, Cooperation for Development Sector, World Intellectual Property Organisation (WIPO)
These comments are based on the personal views of Narendra Sabharwal and do not necessarily reflect the viewpoint of any organisation with which he has been or is currently associated.
On May 2, Gateway House hosted a discussion titled 'Intellectual Property: Innovation, Accessibility and Public Interest.' To read more on the event, click here.
This interview was exclusively conducted for Gateway House: Indian Council on Global Relations. You can read more exclusive content here.
For interview requests with the author, or for permission to republish, please contact outreach@gatewayhouse.in.
© Copyright 2013 Gateway House: Indian Council on Global Relations. All rights reserved. Any unauthorized copying or reproduction is strictly prohibited.