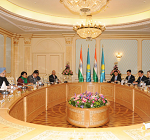 In the past five years, India's policy towards the countries forming the core of Central Asia—Kazakhstan, Kyrgyzstan, Tajikistan, Turkmenistan, and Uzbekistan—has shown the greatest progress since these states ceased to be republics of the Soviet Union. Since its independence in 1991, the little-known region of 62 million people has drawn increasing attention as the sixth-largest producer of hydrocarbons in the world and the fourth-largest producer of gas. It is also rich in other resources such as uranium and hydropower. Geopolitically, the Central Asian states (CAS), an economy of $217 billion,[1] occupy a crucial position bordering Afghanistan. That makes it a hub of regional security – or, to the contrary, an area of destabilization through networks of international terrorism and drug supply that extend from Afghanistan all the way to Europe.
India's engagement has come not a moment too soon. Unlike its Asian neighbour China which has a large energy and commercial presence in the CAS, energy-starved India needs a strong relationship with the central states  region. The political impossibility of establishing land routes through Afghanistan, Pakistan, or China's Aksai Chin territory means that India has no pipelines into those states, and does not figure on the list of the top ten countries involved in exploitation of Central Asia's rich hydrocarbons. It also lags in trade, far behind the first- and second-rank players like Russia, China, or the European Union. India's bilateral commerce with Central Asia in 2010 was a mere $467.7 million.
There are a few positives, of course, in terms of new infrastructure, health, and education initiatives begun by India in the region. And some energy successes: last year, Kazakhstan, the energy powerhouse of the CAS, agreed to supply India with over 2,000 tons of uranium by 2014 and gave Indian oil major ONGC Videsh Ltd. a 25% stake in the Satpayev oil field on the Caspian Sea.
But to find a strategic place in Central Asia, and be a real player, India will have to energetically multiply its efforts. It is just the latest in a long line of countries that have been vying for a presence in, and ultimately influence over, the region. These are led by the former regional hegemon Russia and rising superpower China, as also Iran, Turkey, South Korea, and the more distant United States.
How can India, a latecomer to the game and at a disadvantage geographically and financially, strategize its arrival on the Central Asian scene? And how can it position itself to overcome its lack of  access to the valuable energy routes in the CAS?
One sure and still available route to success is through strategic collaborations with other players. Rajiv Sikri, India's former Ambassador to Kazakhstan, said in 2007, "in order to protect and preserve its interests in the region, India has no alternative but to closely consult and cooperate with the other major powers who have an interest and a presence in Central Asia."[2] More specifically, India can align with an experienced partner which is also invested in securing better access to Central Asian resources and the geopolitical influence they bring. That partner is India's old friend, Russia.
Some effort will be needed to make that partnership work. The India-Russia bilateral relationship, while positive, has suffered from benign neglect in the past, and the two are currently passive allies in the region, sharing the same goals of stability and security yet not cooperating on specific projects.
Even so, the two allies have common strategic goals in the region. Russia, like India, is in some sense a late-comer to the game in Central Asia, as it has been preoccupied for the last two decades with reviving its own economy and infrastructure. Consequently it has failed to establish a coherent strategy in the region for years, and ceded ground to China, which swept into the vacuum and captured the valuable energy relationships that were once Russia's.
Now, under its current budgetary constraints – dating back to the fallout from the financial crisis of 2008 – and its subsequent economic slowdown, Russia may not ever be able to reassert itself as a regional force unless it has a partner familiar with its ways and one with existing goodwill in the CAS. India, is ideal.
As a prelude to a strategic Central Asian entry, Russia and India can gain quick experience in joint engagement in Afghanistan, where both countries have civilian and military missions and a vested interest in assuring Afghan stability after the projected NATO pullout in 2014. They can pool their resources to develop the war-devastated nation's development—here, India can use and learn from Russian technical expertise and specialists in engineering and information technology, while Russia, perpetually short of manpower, can learn to work with India's vast human resources. Together they can provide joint anti-terrorism training for local Afghan troops and oversee security.
Since their Afghan involvement will dominate Indo-Russian strategic relations for years to come, extending that partership into neighboring Central Asia is a natural next step.
Immediately viable is a financial partnership between India and Russia to invest in Central Asia. Determined to maintain its economic influence, Russia has existing plans to break down the customs borders with the various states, enshrining economic integration; this will open a channel for India to do business there. An example that is already working well is the Customs Union that Russia created with Belarus and Kazakhstan in 2010. Kyrgyzstan, and potentially Tajikistan, are likely to join, leading to a common regional market planned for 2012. This is a unique opportunity for India which can use its strategic partner as a gateway to Kazakhstan and any other CAS that might join in the futuristic union.
The two countries can also work together to develop joint economic development projects in Central Asia, by the following means:
1) Encouraging joint Russia-India IT projects in region with a transfer of skills.
A trilateral IT partnership between Indian, Russian, and Kazakh entrepreneurs – the latter are the most active in the CAS – could further strengthen the three states' collaboration in other high technological fields, particularly bio- and nano-technology, clean and renewable energy and water conservation. Once the paths to cooperation are established, India and Russia can work together on providing professional training via IT centers opened throughout the Central Asian region, with the aim of raising the qualifications of local specialists – a much-needed infusion of skills in the region.
2) Coordinating aid and pooling funding through joint facilities.
Both Russia and India can increase and coordinate their aid-giving to the CAS, in particular by creating a Joint Central Asian Fund for the development of the region's private sector, with initial contributions by both governments on a 50-50 basis. The fund can have downstream linkages to the Russian and/or Indian businesses in Central Asia. Most importantly the Fund can benefit the inherent artisanal skills and small-craft industries of the CAS such as textile embroidery and silversmithing by providing subsidies to small-scale manufacturers and markets.
3) Cooperation on aero-space industry projects.
One of the most fertile venues of CAS cooperation for India and Russia, and an area both have skills in, is space. Both can jointly establish large R&D facilities and testing grounds for experimentation at Kazakhstan's Baikonur Cosmodrome, the principal space facility in the former Soviet Union and still the launching pad of over 70% of Russia's space rockets. Together, the two countries can also build simulation facilities for flights and institute
s for training astronauts. Kazakhstan's vast empty spaces, far from human habitation, can be used for facilities to process rocket fuel and other hazardous operations as well as for space launches, such as the man-in-space operation that India has long been preparing for in conjunction with Russia.
4) Collaboration on infrastructure development.
All of the Central Asian republics are infrastructure-deprived, especially in railways, roads, and power plants. So far, China has dominated, particularly active in railway-building projects in Kazakhstan. However, Russia and India are also well positioned to jointly propose and bid on infrastructure projects in the CAS. For instance, Russia can construct hydroelectric power plants in Central Asia with the help of Indian labor, providing the region with a much-needed steady supply of electricity. Both countries can and should involve skilled and unskilled labor from the CAS in their collaborative projects—something that China has been notoriously unwilling to do.
5) Creating partnerships through educational and medical institutions.
Such long-term projects for the CAS will benefit from India's abundance of English-language educators and Russia's pool of talented specialists, across a number of disciplines. This can well be the Technological Silk Road Institute, jointly administered by the two nations and staffed with Indian and Russian educators as well as local experts and affiliated with reputable, internationally known universities in the two countries, such as Jawaharlal Nehru University in Delhi and Moscow State University. The goal for this institution will result in the training of a new generation of Central Asian specialists and help fill the great unemployment and development gap in their countries. Key to this will be the institutionalization of programs focused on advancing the medical infrastructure in Central Asia. This will help to promote India's affordable pharmaceutical products and low-cost Russian technologies, as also encourage medical education exchanges and doctor upscaling programs focused on the CAS, in both Russia and India. These are all institution-building initiatives that China, with its minimal commitment to economic development, has not done.
While working on strengthening bilateral relations with the CAS, the Indian diplomatic community will do well to expand its positive and trust-laden cooperation with Russia in commerce, technology, and education, into a broader regional one. By establishing a more meaningful presence in Central Asia, India will be better positioned for the future acquisition of energy resources and avoid becoming an also-ran in the modern iteration of the geostrategic power struggle for Central Asia.
Dr. Katherine Foshko is the Russia Studies Fellow at Gateway House: Indian Council on Global Relations. This Op-Ed was written as a part of her research paper, titled 'India in Central Asia: Time for a new strategy.'
This article was exclusively written for Gateway House: Indian Council on Global Relations. You can read more exclusive content here.
For interview requests with the author, or for permission to republish, please contact outreach@gatewayhouse.in.
© Copyright 2012 Gateway House: Indian Council on Global Relations. All rights reserved. Any unauthorized copying or reproduction is strictly prohibited.
[1] International Monetary Fund GDP list for 2010.
[2] Rajiv Sikri, "Beyond Oil and Gas: India's Interests in Central Asia, Global Envision, 29 June 2007.