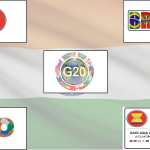 While the UN-variety of multilateralism has been in the headlines for being under much stress due to big power politics and rise of ultra-nationalist tendencies, away from that spotlight nations continue to be actively engaged with their favourite multilateral or plurilateral groupings. India is one of those countries, and come November, multilateral summiteering will be at its peak, with the government attending and leading six important summits. These range from the big-time global shows like the G20, to regional meetings like the SCO, ASEAN and East Asia Summit, to smaller ones like BRICS.
As all six summits will be held virtually, protocol officials can relax. And so can the taxpayer, for expenditure on these conferences will be negligible. Still, a mountain of preparations entailing investment of energy, time and human resources, are underway. This stems from New Delhi's conviction that these summits will promote national interest. South Block is now putting the finishing touches to its comprehensive preparations.
The most immediate meeting is that of the Shanghai Cooperation Organisation (SCO). SCO is unique in that it holds two summits a year – at the head of state and the head of government level. The first summit, initially scheduled for July and postponed due to the pandemic, will now take place on 10 November. It will be hosted by President Putin from Moscow. The second summit, slated for 30 November, will be hosted by Prime Minister Narendra Modi from New Delhi. This is the first time, since becoming a full-fledged member in June 2017, that India will host the summit of the SCO's second highest organ.
The two summits will take place under the shadow of Covid as also the six-month-old India-China border conflict. The notable deterioration in India-China relations does inhibit the chances of any spectacular success in the SCO, but credit goes to India's diplomatic resilience that bilateral disputes with China have not been linked to Delhi's role in SCO. This reflects India's sensitivity to the interests and concerns of its very special partner, Russia, and its cooperative friends, the four Central Asian Republics (CARs).
At the two summits, a collective endeavour will be made to cover the entire agenda with its twin pillars of security and development. The SCO foreign ministers who met on 10 September to prepare for the summits, have completed the ground work well. A substantive political declaration is awaited from the heads of state, who are also expected to approve the Action Plan for implementing the 'SCO Development Strategy towards 2025.'
This will be followed on 17 November by the XII summit of BRICS, also hosted by BRICS chair Russia from Moscow. It too could suffer from the ill-effects of the India-China border standoff as well as the damaging impact of COVID-19, especially on three of its member-states – Brazil, South Africa and India. Yet they, together with Russia and China, are set to carry on with their goal to keep the BRICS in business.
The Russian presidency has organised over 60 events to promote BRICS objectives since January 2020. (This is, of course, a much smaller number in comparison to the over 100 events arranged during the two previous presidencies of China and India.) Russia's priorities for the BRICS summit[1] indicate its central motivation i.e. to strengthen "multilateral principles in global politics and promoting shared interests of the BRICS countries in international fora.'[2] Russia attaches importance to multilateralism, enabling it to play its due role in world affairs as well as avoid excessive dependence on its senior partner – China. In between, from 12-15 November, are the ASEAN summit and its related events.
The 17th India-ASEAN summit is expected to take place a day or two after the 37th ASEAN summit hosted by Vietnam. This will be the first summit of the 11 countries, after India's decision last year to exit from the final negotiations for the Regional Comprehensive Economic Partnership (RCEP) Agreement. It was viewed as a setback, particularly by the ASEAN side.
On its part, India remains concerned over its $24 billion trade deficit with ASEAN.[3] At the August meeting of the trade and economic ministers of India and ASEAN, it was decided to undertake a review of the scope of the 10-year old ASEAN-India Free Trade Agreement (AIFTA) in goods. The summit could endorse the decision; if so, it will pave the way for the review. That, in turn, could lead to a revision of the rules of origin which, Indian industry feels, are being misused for the re-export of Chinese goods through a few ASEAN states to India. The summit will also deliberate on a range of issues such as maritime cooperation, connectivity, education and capacity-building and increasing people-to-people contacts.
India's absence from RCEP will be felt sharply when the RCEP Agreement is signed with fanfare by regional leaders at their summit in mid-November. This, together with the growing polarisation on strategic and security issues, will need serious attention by both India and ASEAN, as fresh endeavours are made to inject energy into India's Act East Policy.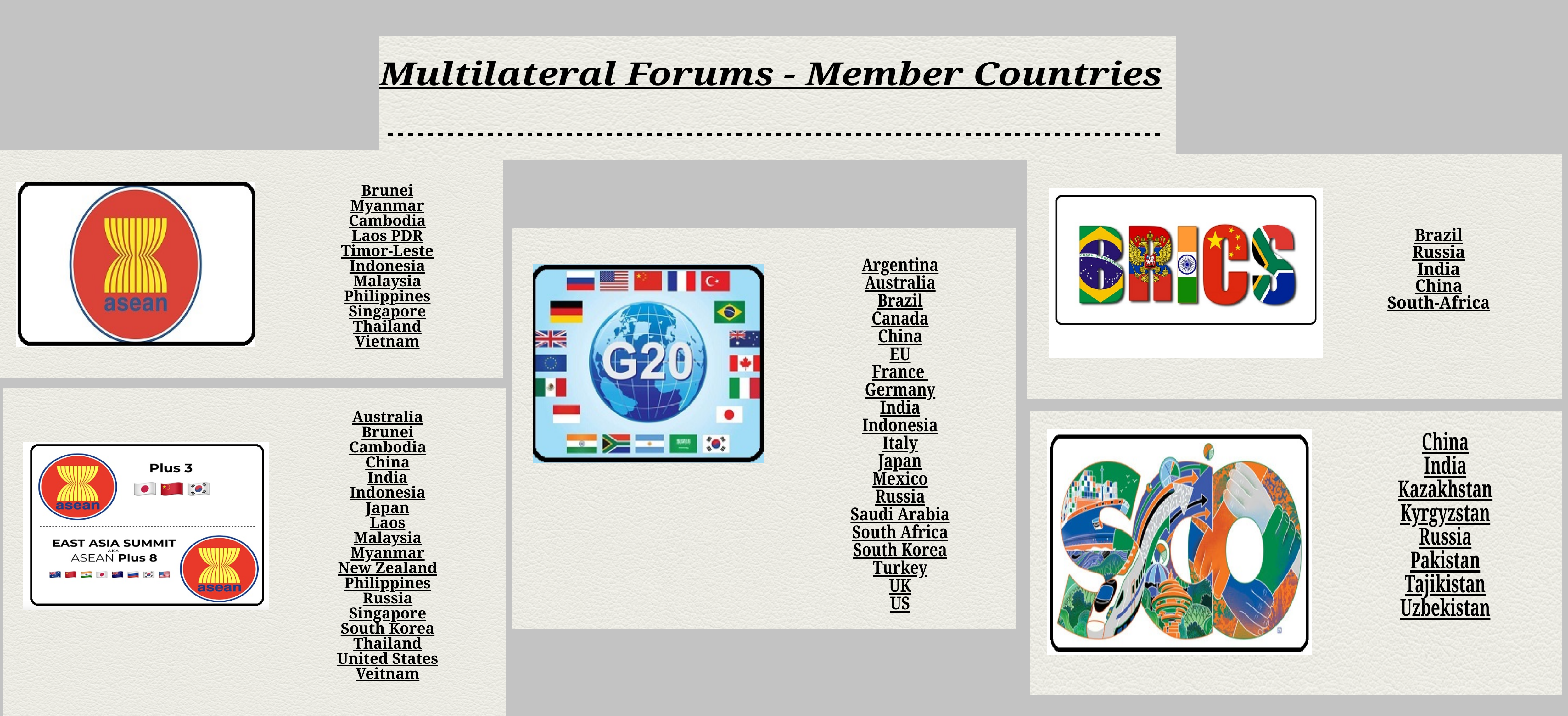 In contrast, the East Asia Summit (EAS), to be held in mid-November, may turn out to be a routine affair, given the escalating U.S.-China tensions and polarisation in the region which have robbed this ASEAN-driven institution as a potentially useful region wide platform. Some experts think that ASEAN may be ready for a further evolution in its thinking by modifying its vision reflected in the ASEAN Outlook on the Indo-Pacific. However, the gap between China and the Quad countries appears to be widening by the day, which will make it difficult for ASEAN to play a bridging role. At the last session of EAS in November 2019, India put forward its proposal on the 'Indo-Pacific Oceans Initiative', with its seven pillars.[4] Consultations with Indonesia, Vietnam and Australia have been under way, but their specific responses have not been known so far.
Of all the summits listed above, none comes close to the globally significant role played by the G20. As often cited, its 'members account for 85% of the world economy, 75% of global trade, and two-thirds of the world's population, including more than half of the world's poor.'[5] Set to be hosted by Saudi Arabia on 21-22 November, this will be the G20's second virtual summit this year. The first was held in March, with the encouragement of India.
As chair of the G20, Saudi Arabia has been striving to strike a judicious balance in the agenda between the imperatives of waging a war on Covid and sticking to the grouping's overall goal of strengthening global economic governance and spur recovery. But geopolitical dissensions, uncertainty relating to the U.S. presidential elections and distractions in Europe and the Middle East, raise doubts about the prospects of the Riyadh summit. Yet, so much hangs on it for the security, stability and prosperity of the world.
The November calendar of the six summits demonstrates that the international community cannot manage its affairs without purposeful multilateralism. Nations have to learn to give and take if they want to secure collective well-being. India is set to make a meaningful contribution to this process. It is also preparing for higher responsibilities that will arrive soon, as the chair of BRICS in 2021 and the chair of G20 in 2022.
Rajiv Bhatia is Distinguished Fellow, Foreign Policy Studies Programme, Gateway House. An author and a former ambassador, he comments regularly on various facets of International Relations.
This article was exclusively written for Gateway House: Indian Council on Global Relations. You can read more exclusive content here.
For interview requests with the author, or for permission to republish, please contact outreach@gatewayhouse.in
© Copyright 2020 Gateway House: Indian Council on Global Relations. All rights reserved. Any unauthorised copying or reproduction is strictly prohibited.
References
[1] 'Priorities of the Russian BRICS Chairmanship in 2020', BRICS Summit, 17 November 2020, https://eng.brics-russia2020.ru/russia_in_brics/20191226/1469/Priorities-for-the-Russian-Federations-presidency-of-BRICS.html
[2] Ibid.
[3] In 2019-20 India's exports to ASEAN stood at $31 billion, while its imports were valued at $55 billion.
[4] These are: (i) Maritime Ecology; (ii) Maritime Security; (iii) Maritime Resources; (iv) Capacity Building and Resource Sharing; (v) Disaster Risk Reduction and Management; (vi) Science, Technology and Academic Cooperation; (vii) Trade, Connectivity and Maritime Transport.
[5] Department of Foreign Affairs & Trade, 'The G20', Australian Government,
https://www.dfat.gov.au/trade/organisations/g20/Pages/g20#:~:text=G20%20members%20account%20for%2085,half%20of%20the%20world's%20poor