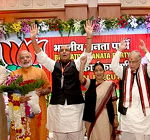 In the ongoing general elections, more than 800 million Indians are voting to elect the Lok Sabha. Women constitute around 48% of the voters, but the number of women candidates announced till 21 April was only 359 of 4439 candidates. [1]
The three major political parties – the Congress, the Bharatiya Janata Party (BJP) and the Aam Aadmi Party (AAP) – have announced the names of only 133 women candidates. [2]
In India, starting with the first general election in 1952, the number of women representatives in both houses of Parliament has never gone beyond double figures; the current 61 in the Lok Sabha is the highest.
This is lower than even in Afghanistan, where 69 women were elected in the 2010 elections to a total of 249 seats in the House of the People.  [3]
Evidently, more women should be in India's elected assemblies. But the gap between the percentage of women in the population and the low proportion of elected women persists, in large part due to the reluctance of political parties in India, most of them controlled by men, to field women candidates.
Reserving seats for women in electoral politics is one way to address this gap. A number of arguments supporting reservation have been discussed over the years, which say that the measure will counter gender inequality, and can eventually bring about more equal representation. But opponents argue that reservations further inequality because seats will not be won on merit, and an increase in women's participation in politics will not necessarily improve social indicators.
In 2008, the 108th Amendment Bill in India proposed a reservation of 33% seats for women in Parliament. So far, the Bill has repeatedly been deferred in the Lok Sabha. However, in 1992, the 73rd Amendment did allot 33% reservation for women in panchayats (local self-governments). This has ensured that more than 1 million women now hold positions at any given time in village bodies in India. [4]
A 2007 UNICEF study states that women in India's panchayats perform just as well as men in delivering public goods, and in fact do a better job of ensuring local infrastructure, such as drinking water facilities – critical in the water-scarce villages of India. The report says: "Women policymakers appear to be less corrupt than men, suggesting that the higher quantity infrastructure does not come at a higher price." [5]
The experience of several other developing countries also supports reservations. In Latin America, for example, quotas from the late 1990s have increased the number of women in Parliament as well as in high-level ministerial positions and as heads of state or of government.
As many as 16 countries in Latin America have implemented quota systems for women in the last 20 years. Especially after the fall of the region's military dictatorships in the 1980s, Latin America began to enact reforms aimed at gender justice, including greater political participation.
Some countries, like Costa Rica and Bolivia, have a strict 50% requirement of women candidates. In Argentina, from 5% women elected or appointed in 1991 (before quotas were implemented) the number is now 36.6%. In Ecuador, the percentage increased from 3.7% in 1996 to 41.6% [6]
The election of women presidents in the region, starting with Nicaragua's Violeta Chamorro in 1990, has also helped form a positive perception of women in politics. At present, four of the nine elected women heads of state globally are from Latin America – from Argentina, Brazil, Chile and Costa Rica. In seven Latin American countries, women hold more than 30% of high-level ministerial positions at the central or cabinet level. [7] Nicaragua tops the list with 57% women (8 out of 14) in the country's highest political posts.
In contrast, of India's 28 current Cabinet ministers, only two are women. [8]
Latin America now stands only after Europe in a regional ranking for women's participation in Parliament, according to a study done by the UN-affiliated global Inter-Parliamentary Union. [9] The social indicators for women in these countries – including economic participation, political empowerment and access to education – have improved, and many have introduced new laws focusing on women's rights.
In addition to reservations, Latin American countries used other measures to increase women's participation in government, including reserved seats within political parties, public campaigns to increase women's participation in politics, and laws covering discrimination against women in politics.
In Costa Rica, all the major political parties have party quotas for women. Women constitute 48% of the National Liberation Party legislative team of elected representatives, and 45% of the Libertarian Movement Party team. [10] The legislation was made possible due to persistent lobbying by the National Institute for Women, and supported by women Members of Parliaments such as María Lidia Sánchez, who presented the draft law in 1996. [11]
Although Brazil, the largest country in Latin America, with a population of 200 million, has a legislative assembly with one of the smallest proportions of women in the region – only 8.5% of the 513-member Chamber of Deputies [12] – the highest office is held by President Dilma Rousseff. She has promised to increase women's participation in politics; her own Cabinet had a record number of women and many have been appointed to high-level positions such as the Chief of Staff and as the head of the country's biggest publicly-held company, Petrobras.
According to a report by the Council of Americas, a U.S. think tank, a 2009 legislation in Brazil "requires parties to allocate at least 10 percent of advertising and 5 percent of public campaign funding to promote women's participation in the political sphere." [13]
Meanwhile, in India, both the Congress and the BJP have publicly said they will allot one-third reservations within the parties, but neither has implemented these measures. Two important hurdles – insufficient numbers or insufficient training – can be overcome with adequate planning, but neither party appears to be interested.
India too can set aside a percentage of party funds for women campaigning in the elections, to enable more women to participate in the political process. Since more than 80% of the women who contested the 2009 elections in India lost their security deposit due to insufficient votes, campaign funding from the government can be financial security for candidates who lack funds. [14]
However, as women's participation in public offices increases, new challenges can also arise. In Bolivia, where women constitute 25% of the Chamber of Deputies and 47% of the Senate, [15] the UN Entity for the Empowerment of Women notes that "problems related to discrimination, manipulation and political violence against a growing number of women in public life have become recurrent."  [16]
In 2012, Bolivia passed the significant 'Law against Harassment and Political Violence against Women' aimed at women in public office; offenders can be punished with prison terms up to eight years.
Such a law will be useful in India, too. Existing laws here against gender-based violence don't cover violence or discrimination specific to women in politics and holding public office, even though many women candidates in elections are harassed, as media reports indicate,  or threatened by other political actors.
The bickering by India's political parties about the women's reservation Bill in the Lok Sabha need not stop them from implementing quotas within party ranks, to begin with. A concentrated effort and persistent lobbying by supportive members of Parliament, women's rights groups and the National Commission for Women, could  move the debate forward and increase women's participation in the 2019 Lok Sabha polls.
Hari Seshasayee is Senior Researcher, Latin American Studies Programme, Gateway House: Indian Council on Global Relations.
This article was exclusively written for Gateway House: Indian Council on Global Relations. You can read more exclusive content here.
For interview requests with the author, or for permission to republish, please contact outreach@gatewayhouse.in.
© Copyright 2014 Gateway House: Indian Council on Global Relations. All rights reserved. Any unauthorized copying or reproduction is strictly prohibited 
References
[1] Government of India, Press Information Bureau. (2014). Releases. Retrieved from http://pib.nic.in/elections2014/eleRelease.aspx?opt=1
[2] 'Glass ceiling: Women candidates see just an uptick in Lok Sabha polls'. (2014, April 6).  The Economic Times. Retrieved from http://articles.economictimes.indiatimes.com/2014-04-06/news/48908434_1_women-candidates-women-mps-aap
[3] IPU Parline database. (2013, December 1). Afghanistan (Wolesi Jirga), last elections. Retrieved from http://www.ipu.org/parline-e/reports/2381_E.htm
[4] Ministry of Panchayati Raj. (2008, July 8).  Study on Elected Women Representatives in Panchayati Raj Institutions. Retrieved from http://www.panchayat.gov.in/documents/10198/0/ReportOnEWR.pdf
[5] UNICEF, (2006). Women politicians, gender bias, and policy-making in rural India. Retrieved from http://www.unicef.org/french/sowc07/docs/beaman_duflo_pande_topalova.pdf
[6] All Latin America country figures from: Quota Database (2014 April). Retrieved from http://www.quotaproject.org/uid/countryview.cfm?
[7] UN Women (2014, January 1). Women in Politics: 2014. Retrieved from http://www.unwomen.org/~/media/8FD64A021C8840AC9AE6906D50658487.ashx
[8] Cabinet Secretariat, (2014). Cabinet ministers. Retrieved from http://cabsec.nic.in/council_ministersofstate.php
[9] Inter-Parliamentary Union. (2014, January 1). Women in Parliaments: World Classification. Retrieved from http://www.ipu.org/wmn-e/classif.htm and Gender Equality Observatory for Latin American and the Caribbean. (2014, January 1). Autonomy in decision-making. Retrieved from http://www.cepal.org/oig/ws/getRegionalIndicator.asp?page=06&language=spanish
[10] 'Report of the Mission of Electoral Observers of the OEA [Organisation of American States] of the general elections of Costa Rica'.  (2010, February 7). Electoral Observations Journal, 55,30. Retrieved from http://scm.oas.org/pdfs/2010/CP24799T.pdf
[11] Economic Commission for Latin America and the Caribbean. (2012). The policy of parity and alternation in the electoral law of Costa Rica. Retrieved from http://www.eclac.cl/oig/noticias/noticias/8/49658/Ley_de_cuotas_de_
Costa_Rica_ING_Web.pdf
[12] IPU Parline database. (2013, April 16). Brazil (Cámara dos Deputados), General information. Retrieved from http://www.ipu.org/parline-e/reports/2043_A.htm
[13] Council of the Americas, 2014 Election Blog (2014, January 6). A Look at Gender Quotas ahead of Latin America's 2014 Legislative Votes. Retrieved from http://www.as-coa.org/blogs/2014-election-blog-look-gender-quotas-ahead-latin-americas-2014-legislative-votes/ascoa-womens-hemispheric-network
[14] Election Commission of India, General Elections, 2009. (2010, January 1).  Participation of women candidates in poll. Retrieved from http://eci.nic.in/eci_main/archiveofge2009/Stats/VOLI/16_Participation
OfWomenCandidatesInPoll.pdf
[15] Inter-Parliamentary Union.  (2014, January 1).  Women in Parliaments: World Classification. Retrieved from http://www.ipu.org/wmn-e/classif.htm
[16] UN Women, (2013). Bolivia-gender based political violence. Retrieved from http://www.unwomen.org/mdgf/C/Bolivia_C.html