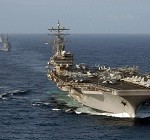 On February 9, the Indian Navy concluded its largest ever multinational naval engagement, Exercise Milan (meaning "a coming together") in the Andaman and Nicobar Islands.
The biennial naval rendezvous, held since 1995, has dovetailed with India's Look East policy, which stressed enhanced engagement with the Association of the Southeast Asian Nations (ASEAN) states. Beginning with the participation of four navies, Exercise Milan has now grown to include navies and coastguards from 16 countries across the Indo-Pacific region.
Since its inception, the principal purpose of the exercise has been more diplomatic – developing professional relationships and building confidence among the regional navies – than merely practicing technical skills.  It has become an important and highly successful part of India's growing soft military power throughout the region. In future, Exercise Milan may focus on more substantial cooperation in areas such as anti-piracy, humanitarian and disaster relief operations.
The initial focus of Milan was to build relationships with the navies of India's neighbours in Southeast Asia, including Thailand, Malaysia, Singapore and Indonesia.  Although these relationships were sometimes distant during the Cold War years, most ASEAN states are now enthusiastic about developing closer defence ties with India. This enthusiasm is reinforced by China's increasing assertiveness.  Indeed, many south east Asians are looking for India to play a more pro-active security role in the region, including providing maritime security in the Bay of Bengal and supporting an equitable resolution of the territorial disputes in the South China Sea.
Milan also portends India's growing defence and security engagement with the middle powers of the region, such as Australia and Indonesia – an engagement long-neglected by New Delhi. Indeed such engagements will be essential for India to be recognized as a regional leader.  India's defence engagement with Australia has accelerated markedly over the last few years and there is significant interest in including Indonesia and others in that equation.
Significantly this year, Exercise Milan also saw the participation of many states from the western Indian Ocean, including Maldives, Mauritius, Seychelles, Kenya and Tanzania. This is indicative of India's expanding security relationships in that region, particularly in capacity-building in the small island states.
Milan has particular significance now in the context of China's assertive actions in the South China Sea, the East China Sea, and increasingly in the Indian Ocean.
Significantly, just a few days before Exercise Milan commenced, three Chinese naval ships sailed through the Lombok Strait and conducted exercises near Australia's Christmas Island, just south of Java.  These exercises, which were carried out without prior announcement, were the first of their kind by China in the Indian Ocean.  It is not entirely clear what message China was trying to send with this move or, indeed, how much effort others should spend trying to read China's tea leaves. But the contrast between China's unilateralism and India's cooperative engagement with the region couldn't be starker.
Senior Indian naval officials look at these developments as proof of the need for greater engagement with India's neighbours.
For sure then, India should build on the relationships created out of Milan to develop broader regional naval cooperation. Many see the Indian Ocean Naval Symposium (IONS), which is a forum for Navies throughout the Indian Ocean, as a possible basis for a broader regional security grouping.  Importantly, IONS covers all Indian Ocean states, including South and Southeast Asia, Australia, Africa and the Persian Gulf.  The next IONS meeting, to be held in Australia next month, will likely discuss ways in which it can be transformed into a more effective maritime security grouping.  This can include personnel exchanges, exchange of information and even a pan-Indian Ocean naval exercise.  IONS will be an opportunity to keep up the momentum in developing the regional security engagement.
Indian policymakers must pay greater attention to India's Navy.  It has been too long neglected, as has been evident from the spate of accidents that the Navy has witnessed in the last few months, even though its role in India's security is increasing in importance, as seen from the coastal terrorist attack on Mumbai in 2008.   As Exercise Milan demonstrates, a reinforced and invigorated Indian Navy can play a leading and positive role in India's cooperative engagement with the region.
Sameer Patil is Associate Fellow, National Security, Ethnic Conflict and Terrorism, at Gateway House.
David Brewster is Senior Visiting Fellow, Maritime Studies, Gateway House, and Visiting Fellow, Strategic & Defence Studies Centre, Australian National University.
This article was exclusively written for Gateway House: Indian Council on Global Relations. You can read more exclusive content here.
For interview requests with the author, or for permission to republish, please contact outreach@gatewayhouse.in.
© Copyright 2014 Gateway House: Indian Council on Global Relations. All rights reserved. Any unauthorized copying or reproduction is strictly prohibited