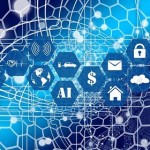 The Indian Navy is a technology-savvy force. The new-generation platforms that it operates are cutting-edge and digitally-ready. This puts it in an advantageous position to develop and assimilate new Artificial Intelligence (AI) tools that are becoming increasingly popular with the military and industry.
The Government of India has already taken concrete steps in recognising the potential impact of AI. In 2018, it entrusted NITI Aayog and the Ministry of Defence with establishing a roadmap for a national programme, aimed at Research and Development (R&D) of AI applications in the social sector and armed forces respectively. NITI Aayog then published a white paper, titled National Strategy for AI, while the task force, set up by the Ministry of Defence, called Strategic Implementation of AI for National Security and Defence, submitted its recommendations.[1]
The Indian Navy finds that its long-term goals of transforming into a 200-ship force by 2027, while maintaining optimal combat capability, are being repeatedly tested by shortages of both of manpower and capital[2]. Disruptions such as the ongoing nationwide lockdown have added a new challenge towards maintaining functional continuity.
AI is one technology that can augment manpower, optimise capital and boost organisational inter-operability. AI adoption will require re-skilling of the entire human resource pyramid of the Navy – an investment that must be made.
In the post-COVID-19 environment, capital and revenue flows for the armed forces may well be compromised by the government's austerity measures. A sum of Rs 100 crores has been earmarked annually for each of the services to fund AI-based transformation. This capital must now be used for adopting commercially-proven, AI-based technologies, for greater cost effectiveness in routine operations that may that precedence over the strategic and R&D-intensive Use Cases[3] that the task force had identified. [4]
Among the three services, the Indian Navy receives the smallest budget outlay – in FY 2019-20, it received Rs 45368 crores, 15 % of the total spend. It can, therefore, set an example in economising on expenditure by investing in additional AI Use Cases, such as inventory management, training, prescriptive maintenance and security and surveillance.
Collaborating with Indian industry, which has already integrated data analytics and AI into its operations, will result in shorter R&D cycles for additional Use Cases. These solutions can then easily be scaled up for adoption by the other two forces. This will also help reverse the current trend in Indian industry of first developing technology for commercial use and then suitably modifying it for military applications – the reverse of the established practice in the West.
The current pandemic has also led the Indian government to take note of dependencies in critical sectors such as Information and Communication Technologies (ICT) that includes cloud technology. Local substitution is now being urgently encouraged by the government for civic and strategic use. Now is the time to accelerate the defence-industry's collaboration towards building an advanced, indigenous technology base, especially in ICT infrastructure and AI.
It is important for all the three services to synergise their AI infrastructure and interoperability. This will be crucial when India's new theatre commands are operationalised.
Cdr. Amrut Godbole is a serving officer of the Indian Navy and currently Indian Navy Fellow, Gateway House.
The views expressed in this report/article are those of the author and do not necessarily reflect the official policy or position of the Indian Navy, the Ministry of Defense, or India.
This article was exclusively written for Gateway House: Indian Council on Global Relations. You can read more exclusive content here.
For interview requests with the author, or for permission to republish, please contact outreach@gatewayhouse.in
© Copyright 2020 Gateway House: Indian Council on Global Relations. All rights reserved. Any unauthorized copying or reproduction is strictly prohibited.
References
[1] Press Information Bureau, 'AI task force hands over Final Report to RM', Government of India, 30 June 2018, https://pib.gov.in/newsite/PrintRelease.aspx?relid=180322
[2] Open Government Data Platform India, 'Force-wise details of Strength of Personnel Below Officers Rank (PBOR)/Airmen/Sailors in the three Armed Forces during 2018 and 2019 (From : Ministry of Defence)', Government of India, https://data.gov.in/resources/force-wise-details-strength-personnel-below-officers-rank-pborairmensailors-three-armed
[3] A use Case is a specific situation in which a product or service can potentially be used.
[4] These include combat training, intelligence-surveillance-reconnaissance (ISR), computer vision software, autonomous weapon systems, military robots, cybersecurity, security, and surveillance.