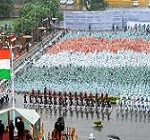 "Will you still need me, will you still feed me, when I'm 64?" asked the rock group the Beatles in their famous song, When I'm Sixty-Four.
Like the average age of its ruling elite, today India is 64 years old as an independent nation, and its people are asking their government both questions. The answer: a resounding No. The politicians do not need the people to stay in power, thanks to the easily manipulated electoral system.
Nor will the State feed them equitably despite the politically expedient promises to do so. And even as people, we are now considerably less loveable than we used to be. No Valentines or birthday bottles of wine will be forthcoming from the global community – itself in a funk.
Several incidents illustrate this. First, loveability.  A few months ago, we won the World Cup in cricket by a masterful combination of team work and hard work. We won gracefully. Last week, we went to England – same captain, similar team – and lost like a bunch of amateurs. Endless excuses for losing, no grace to admit mistakes and no consistency. Is it a fluke for India to win anything? The consistent and relentless pursuit of excellence has not been inculcated as we have grown older. Instead, losing but still surviving has become the national habit – not an admirable trait.
Easy to see how that came about. Poor leadership arising from dynastic politics and criminal antecedents of the political elite has contributed hugely. But the citizen has also let his inner fabric disintegrate. Poverty is a factor – and the State has used it to keep itself rich and the people poor. Early reforms gave Indians the delusion that they could be independent of State benevolence, and good economics would minimize the role of bad politics. But the State couldn't have India not need it or Indians not feed it any more. Hence a roll-out of expensive – and leaky – welfare schemes designed to win votes at the time of election, and subsequent deliberate lack of implementation is snuffing out India's dreams.
It's led to the issue of corruption and governance finding itself, at last, at the centre of the national debate. But the very issue of corruption is being handled in a morally corrupt manner. The ruling United Progressive Alliance realized that India's middle class – which votes less than the poor but controls the national debate – hugely supported Anna Hazare's anti-corruption campaign and the yogi Baba Ramdev's demand to bring back Indian capital illegally stashed abroad. Neither Hazare nor Ramdev's methods, while legal, are ideal; nevertheless, middle-class considerations made the government decide to involve both in the framing of an anti-corruption bill. When Ramdev and Hazare refused to be totally co-opted, the coalition, in an ironic twist, has set the state machinery in motion to unearth foreign remittances made by Ramdev's institution and investigate a 'misappropriation' of Rs. 2 lakh by Hazare's  trust. A movement to unearth and eliminate corruption, is being used to discredit its crusaders.
The central government's hypocracy continues in Karnataka. When the report of the Lokayukta (anti-corruption ombudsman) in the state revealed that the Reddy brothers of Bellary, close to and financially benefitting the chief minister's family, were involved in  illegal mining, New Delhi demanded the Chief Minister's resignation – rightly – and got it. So why the support for an anti-corruption law for the state, but an effort  to crush and discredit one for the Centre?
In another irony, shortly after the Lokayukta report, the Supreme Court banned mining totally – immediately putting 1.7 million labourers dependent on mining for their daily bread, out of work and once again dependent on the inefficient State welfare system.
Moral corruption in policy-making and ideology, disguised in calls for "inclusive growth" and "welfare" schemes has atrophied our muscle at 64, making us less attractive as a model for the world to follow. Other emerging markets like Brazil seem to do better with well-run government schemes that feed people, who therefore need and want the state to progress. India has no social security net, and the vast public depends on handouts through massive underemployment government schemes like the National Rural Employment Guarantee Act (NREGA).
Official reports say that the implementation of NREGA schemes are spotty and variable depending upon the efficiency or not of various state governments. They are far less effective than the Congress Party likes to project.  Despite that, new welfare bills such as the Right to Food are being considered, with plans for more food to be distributed by India's well-known inefficient and corrupt public distribution system (PDS). According to the  government's National Sample Survey statistics, less than 20% of food meant  to be distributed by the PDS reaches the intended beneficiaries. If the  Right to Food programme is linked with NREGA and distributed through the  PDS, there is ever more scope for corruption. And there's ever less chance for Indians to be weaned off the hope of more welfare by voting in leaders who make the most extravagant promises rather than voting for those who provide education, health and the possibility of real employment.
Corruption and poor distribution apart, the economic impact on India will be devastating under some of the various new 'welfare' schemes. If even 50% of India's welfare beneficiaries do not receive the promised food, they will be forced to buy it from the open market – at a price far higher than they do now.  Such enormous demand from India will make it a permanent importer of wheat, and will raise international prices, in turn making it unaffordable for the  urban and the landless poor. At 64, India is already seeing, on average, 50 farmer suicides every day, a haemorrhage which has not been staunched by loan waiver schemes that periodically devastate the financial system and for neither of  which has any been any one held accountable.
This callous lack of attention to our selves has made us less loveable to others – and to ourselves. Foreign investment, pouring in till just three years ago, is now receding rapidly, despite having fewer opportunities anywhere else in the world.
Our own stellar educational institutions like the Indian Institutes of Technology (IITs), suffering as they are from severe staffing shortages, are escaping with their existing assets to foreign shores. IIT-Mumbai last week announced a plan to build a New York campus. The institutions are by-passing the stifling policies of the Human Resource Ministry, which is still pondering over allowing foreign universities to enter India. Stashed away those dozen or more education bills still waiting to be passed, Minister Sibal, the demand for educational  services in India, and by Indians, has  moved to Singapore, the Gulf and  even Malaysia.
Loving us even less are our Corporations, which are taking their businesses  and their charitable impulses abroad. Tata, Mahindra, Ambani, Narayana Murthy, Nilekani, have all given millions to Harvard, Yale, Cornell and Penn State – universities that hardly need the money, but where they believe it will be spent with accountability. It is also where they perceive their future markets to be.
Our lack of loveability was reinforced last month when our ever-tolerant  Reserve Bank of India finally decided to hand it to us – an increase in interest rates by 50 basis points, adding to the cost of borrowing. Now India has low growth, high inflation (stagflation), no muscle power, no moral strength, no foreign funding, no cricket victories and a virus called corruption that's eating into our entrails.
It's an unhappy birthday indeed.
To reverse course, we need to immediately become handy at mending our fuses and reconnecting our lights, digging the weeds out of our garden, scrimp a
nd save so our grandchildren can bloom amongst the flowers. Then we can email the world a global post-card, telling them we're not wasting away – we've met our own needs and become well-fed.
By then we'll certainly be far older than 64 – and perhaps loveable again. 
Neelam Deo is Director, Gateway House: Indian Council on Global Relations and former Ambassador, Denmark and Ivory Coast.
Manjeet Kripalani is the Executive Director of Gateway House: Indian Council on Global Relations and the former India Bureau Chief of Businessweek magazine.
This article was exclusively written for Gateway House: Indian Council on Global Relations. You can read more exclusive content here.
For interview requests with the author, or for permission to republish, please contact outreach@gatewayhouse.in.
© Copyright 2011 Gateway House: Indian Council on Global Relations. All rights reserved. Any unauthorized copying or reproduction is strictly prohibited.