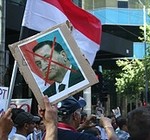 On day seven of street protests young Egyptians remain defiant, despite army helicopters overhead and the redeployment of police on the ground. The swearing in of a new government of the National Democratic Party has not satisfied protesters who continue to demand that President Mubarak step down. Otherwise, they say, a million people will march on Tuesday.
Banks and the stock exchange are shut and all domestic flights and train services stand cancelled. There are over a hundred dead, many more injured and instances of looting in Cairo. Around twenty of the country's most influential businessmen are known to have fled.
India is not the first country to begin airlifting its frightened nationals out of Cairo. The US, UK, Canada, Turkey and Israel are also evacuating their nationals. There are approximately 3000 Indians in Egypt two thirds of whom live in Cairo. They are there to sustain annual bilateral trade of approximately $2.7 billion and investments of over $2 billion. Well known companies like WIPRO, Mahindra and Mahindra, the Tata group and ONGC all have significant interests in the Egyptian economy.
India imports 70 per cent of its oil requirements and that is expected to climb over 90 per cent by 2020. While Egypt is not itself a major oil exporter it controls the Suez canal and the nearby Sumed pipeline. Although less than 3 per cent of the world's oil production flows through the canal and the pipeline, the price of oil has already moved above $90 and stock markets in the region have moved downwards. Concerns focus on whether unrest will flare up sharply in already affected countries such as Sudan, Algeria, Syria and Jordan. Even more important is the possible impact in the oil exporting Gulf countries which are autocratic and rich, with a tendency to suppress their Shia citizens. Saudi officials have gone public trying to calm fears citing previous crises such as the Iraq-Iran war, the Iraqi invasion of Kuwait and the US attacks on Iraq which were absorbed without derailing the global economy.
 A throng of protestors at Tahrir Square in downtown Cairo
The world is watching anxiously to see how events will unfold in this pivotal Arab country. Egypt is the largest Arab country with a population of approximately 80 million, 50 per cent of which are below the age of 30. High unemployment, corruption and nepotism under a long-lasting dictator, supported and sustained by the West – namely the US – characterize Egypt as they do other Arab countries. Although events in Tunisia inspired copycat revolts in the Arab world, it is the outcome in Egypt that will determine what happens in the region. At present former director of the International Atomic Energy Agency, Mohammad El Baradei is being touted as a possible leader of a transitional government. Western analysts are afraid, as is Israel, that the Muslim Brotherhood, the most highly organized opposition movement in Egypt which has been low key in public but active in providing back up to the protests, will become the dominant force in any successor government in Egypt.
That could endanger the Camp David (peace) Accords between Egypt and Israel which have underpinned the security of the latter while hindering any progress for the Palestinians. The Accords also made Egypt the second largest recipient of US aid, with over $1 billion annually for its army alone. Peace with Israel has also been an important cause of resentment against the US and its support for the dictatorship of President Mubarak. Although the US has changed its initial stance, from Vice President Biden's refusal to refer to Mubarak as a dictator, to Hillary Clinton calling for an orderly transition, there have been no genuine expressions of sympathy for the protesters demands for jobs, individual dignity and an end to cronyism.
The government of India has also reacted cautiously saying only that it is watching developments carefully. Many are calling on it to extend stronger support for the democratic aspirations of the youthful protesters on the streets of Cairo and other cities, especially in the context of its aspirations for a larger international role. But it would be in our own interest and consistent with our past policies to exercise restraint in a situation in which the outcome remains uncertain because, at least for the moment, the army and police remain under the control of President Mubarak. We cannot influence the outcome and could easily be wrong footed. We should however, express admiration for the largely peaceful way the brave people of Egypt are persisting in their protests. More powerful than statements is India's experience of secular, democratic politics that can serve as a potent example for Egypt.

Neelam Deo is co-founder and Director, Gateway House: Indian Council on Global Relations; She has been the Indian Ambassador to Denmark and Ivory Coast; and former Consul General in New York
This article was exclusively written for Gateway House: Indian Council on Global Relations. You can read more exclusive content here.
For interview requests with the author, or for permission to republish, please contact outreach@gatewayhouse.in.
© Copyright 2011 Gateway House: Indian Council on Global Relations. All rights reserved. Any unauthorized copying or reproduction is strictly prohibited.