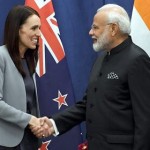 These remarks were delivered by the author at the India-New Zealand Business Council (INZBC) Summit 2021. 
In the 21st year of the 21st century, the factor of geographic distance and the reality of rather limited contacts in the past, are getting trumped by converging strategic perspectives. The shared bonds of Commonwealth, cricket, common law, English language and an expanding Indian community in New Zealand are now getting a new momentum.
Our two countries voluntarily subscribe to the Indo-Pacific construct, the notion that peace, security and development in the combined space of Indian and Pacific Oceans, stands deeply interlinked today. India and New Zealand champion together the concept of free, open, inclusive and rules-based Indo-Pacific.
It is now time for them to translate the shared perspective into practical plans and actions for the common good.
Here are five policy suggestions, based on our research and deep reflection:
India considers New Zealand as a significant partner in the Indo-Pacific. New Zealand could study closely the growing progress in India-launched Indo-Pacific Oceans Initiative (IPOI) and consider choosing one of the seven pillars/sectors to collaborate, as Australia, Japan and France have already done.
A Trilateral Track 1 Dialogue involving India, New Zealand and Australia should be initiated to deepen synergy on the broader aspects of the region and to expand mutually beneficial ties of cooperation with the Pacific Island States.
A Track 1.5 Dialogue involving officials and experts of India, New Zealand, Australia and Indonesia should be considered in order to discuss and craft a common approach on issues of strategy, maritime security, economic cooperation including in the health sector, joint combat against the pandemic, technological cooperation, climate action, and the Blue Economy.
Broadening the existing arrangements, two institutions – Asia-New Zealand Foundation and New Zealand-India Research Institute as well as the Indian Council of World Affairs (ICWA) and another think tank with economic/business orientation (such as Gateway House, based in Mumbai) should agree to work together to produce a Roadmap 2027 for expanded and diversified bilateral cooperation covering all relevant domains.
Finally, the India-New Zealand relationship will get a boost if the present deficit in the VVIP-level interaction could be remedied quickly. An early in-person meeting or even an extended digital interaction at the highest political level will send the right signal of increased resolve to raise the quantum and public profile of this underperforming equation. In addition, it will be simply great if the Prime Minister of New Zealand could accept the invitation to attend the inaugural session of FICCI LEADS 2021 conference.
We hope our policy suggestions will receive serious and positive consideration by the two governments and other concerned stakeholders.
Ambassador Rajiv Bhatia is Distinguished Fellow, Foreign Policy Studies Programme, Gateway House.
For interview requests with the author, or for permission to republish, please contact outreach@gatewayhouse.in.
© Copyright 2021 Gateway House: Indian Council on Global Relations. All rights reserved. Any unauthorized copying or reproduction is strictly prohibited