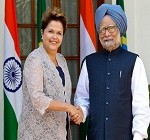 Hero Motors planning to set up manufacturing units in Brazil, Colombia and Mexico
The Hero Honda company has been regularly exporting many of its products to Latin America, but after Hondo decided to split from the joint venture, the Hero group has gone solo and is rebranding itself in Latin America as well. Recently, Hero Group CEO Pawan Munjal was in Guatemala to launch the Hero brand in Central America. The company's Colombian manufacturing unit is expected to start operations in 2014. Two wheeler exports to Latin America are growing with the new demand generated by the poor people who are coming out of the poverty line and joining the lower middle class – thanks to the Inclusive Development Agenda of many Latin American governments.
Sterlite Technologies sets up optic fibre plant in Curitiba Brazil 
Through a 50:50 joint venture with Brazil's Conduspar Condutores Electricos, India's Sterlite Technologies is setting up a fiber optic plant which will begin production by 2015. Besides domestic supply in Brazil, the optical fibre cables will be exported to other Latin American countries as well.
TechMahindra gets IT contracts in Brazil
Through its acquisition of Brazilian company Complex IT (an SAP service provider) in early 2013, TechMahindra has obtained multimillion dollar contracts in banking, oil and gas sectors. Other Indian IT companies such as TCS and WIPRO also have a presence in Brazil, a country that offers enormous opportunities for the Indian IT sector.
Chennai Express screened in Lima on 9 August
The film Chennai Express was released in Peru at the same time it hit theatres in India. It was renamed with a Spanish title "Una travesia de amor." But there are more filmy connections between India and Peru. One of the scenes from Rajnikant's film Robot was shot in the famous Machu Picchu heritage site.  An Indian entrepreneur, Aman Kapur, who settled in Lima, owns a number of cinema halls in Peru through a company called Movietime Cinemas Unlimited. The Peruvian Ambassador in New Delhi, Javier Paulinich, is working hard to take the next edition of Indian film awards to Lima. He is also inviting Indian film producers to shoot films in the exotic locations of his country.
Raul Ignacio Gustavinos has been designated as the new Ambassador of Argentina to India
Raul Ignacio Gustavinos, a trade expert who has served in Argentine missions in Paris, La Paz, Montevideo and Los Angeles – and was till recently head of the European department in the Argentine foreign ministry – will take over as the next Argentine Ambassador to India.
Professor Jorge Heine has been appointed as Research Scholar on Indo-Latin American relations in ECLAC, Santiago
This is the first time that the UN Economic Commission on Latin America and Caribbean (ECLAC) has created a Fellowship to research on India and Indo- Latin American relations. Prof. Jorge Heine is the ideal candidate for this position. He has just published a book called La Nueva India (The New India). He has written a number of articles on India and Indo-Latin American relations including for Gateway House and The Hindu. He has given lectures on these subjects in North America, Europe, Latin America and India and was previously Ambassador of Chile to India from 2003 to 2007.
ECLAC too had published a research paper on Indo-Latin American trade in 2011. Gateway House plans to follow up on this paper and establish institutional collaboration with ECLAC.
Bollywood film shooting in El Salvador
El Salvador is the fourth country in Latin America to have attracted Bollywood film shooting after Brazil, Mexico and Peru. Mumbai's East West Entertainment is shooting some scenes in El Salvador for their film "Deported to India."  Rafael Mejia, a Salvadorian, is the executive producer. Some Salvadorian extras and dancers too will appear in the film. Excited by this first-ever Bollywood entry, the government authorities of El Salvador are extending support to the producers.
Ambassador Viswanathan is Distinguished Fellow, Latin America Studies, Gateway House. He is the former Indian Ambassador to Argentina, Uruguay, Paraguay and Venezuela, and Consul General in Sao Paulo. 
This blog was exclusively written for Gateway House: Indian Council on Global Relations. You can read more exclusive content here.
For interview requests with the author, or for permission to republish, please contact outreach@gatewayhouse.in.
© Copyright 2013 Gateway House: Indian Council on Global Relations. All rights reserved. Any unauthorized copying or reproduction is strictly prohibited.