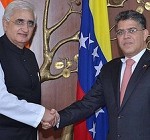 Airlines order aircraft from Brazil 
The Hyderabad-based Air Costa has placed orders for 50 Embraer aircraft from Brazil, worth $2.94 billion. Embraer is the third largest aircraft manufacturer in the world. Air Costa started operations in October 2013 with two leased Embraer aircraft. Some years ago, the Chennai-based Paramount Airways had also started operations exclusively with Embraer aircrafts, but the airline subsequently stopped operating.
Indian IT centre opens in Sao Paolo
Infosys opened its latest centre in Araraquara in Sao Paulo state with a capacity for 100 staffers. Infosys already has 700 employees in Brazil and a total of 1700 in Latin America, with centres in Argentina, Mexico and Costa Rica. Indian IT, BPO and KPO companies employ an estimated 20,000 Latin Americans in their operations in the region.
Indian oil companies to invest in Latin America
ONGC Videsh is in talks for a stake in the Libra pre-salt project in Brazil. Reliance has also announced that it is planning to acquire stakes in the Ayacucho-8 block and in the Petrocarabobo project in Venezuela. The company is also looking for heavy oil upgrade projects and a share in the Carabobo-1 block.  These announcements were made during the Petrotech summit in New Delhi in January.
Ambassador Viswanathan is Distinguished Fellow, Latin America Studies, Gateway House. He is the former Indian Ambassador to Argentina, Uruguay, Paraguay and Venezuela, and Consul General in Sao Paulo.
This blog was exclusively written for Gateway House: Indian Council on Global Relations. You can read more exclusive content here.
For interview requests with the author, or for permission to republish, please contact outreach@gatewayhouse.in.
© Copyright 2014 Gateway House: Indian Council on Global Relations. All rights reserved. Any unauthorized copying or reproduction is strictly prohibited.