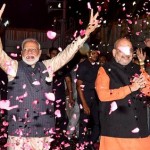 In early May, a mixed group of citizens, businessmen and politicians gathered informally in a vast hall in Calcutta, to discuss the national elections. The conversations were not as heated as they became later in the month, the street battles between political parties were not yet national news. But it was evident that a big fight for Bengal was underway – a fight between the very old guard, the current guard, and those hoping to be the future guard of this important border state. Getting much attention was the idea that the upstart Bharatiya Janata Party (BJP) was daring to unseat the Tigress of Bengal, chief minister Mamata Banerjee.
This is the mood across India – a desire to oust the old, and herald in the new, in politics, in ideology, in economy, in geopolitics. The large, majority win of the ruling BJP in the national election shows clearly that a fundamental shift in India is under way.
Two major states in India are bell-weathers for change: Bengal and Uttar Pradesh. Bengal because it has been unassailably dominated by a single party for four decades – the Communist Party for 30 years and its non-ideological version, Banerjee's Trinamool Congress (TMC), for the past decade. Uttar Pradesh because it is the most populous state, sending 80 candidates to India's Parliament. It was largely the stronghold of the old guard, first the Congress Party and especially the Gandhi family, and then the caste-based regional parties, for five decades. The BJP ruled intermittently in between, but has been the top choice for U.P. voters since 2014 when Prime Minister Narendra Modi won the national election – and is again, in 2019.
For the BJP, the state of U.P, with its size and poverty levels, is a petridish of policy and political experimentation. This experiment has been put into place over the past two years, and has borne fruit. The U.P. of today is almost unrecognizable from the U.P of two years ago. A state whose rural visual was one of bad roads, corrupt officials, lawlessness, thatched huts, penurious farmers, is now changed. Most villages have the modicum of a decent existence – village wells that provide water, tarred/cemented/cobbled roads leading to and in their villages, security, electricity for 22 out of 24 hours, toilets at home, a high school close by, a gas cylinder for cooking, agricultural subsidies, cash transfer programmes, a health clinic and health insurance, cheap food rations, and best of all, brick homes. These facilities are courtesy the many schemes of the government of India, both centre and state.
None of these schemes are new; they have been on the agenda of successive Indian governments for decades. The difference in 2019 is that the schemes have been delivered to their beneficiaries – and the government claims, with less leakage. It's a big step forward for India, which has been weak on delivery. Villages are not still pretty, but they are now self-sufficient, and has freed up the mind-space of villagers to think beyond their basic needs.
The additional boost of over 1 billion mobile phone subscriptions, with half on cheap broadband, has made this India heady and ambitious.
The girls are especially forthcoming. In village after village in U.P., the young girls boldly step outside their homes to speak to complete strangers, and when asked, rattle off more of what they would like from life. Suman Yadav, 18, the daughter of a dairyman from Ashogapur, Bhadoi district in U.P, has finished studying the 10th standard, and goes to a local college for the "+2." She says she would like to have a woman candidate representing her village, so that the issue of equal rights can come to her doorstep. Right now, only her brother can use the home laptop and smart phone. It's not fair, she says. "We don't want more, we only want what is our right," she says. A team of advisors came to her college last month, and asked her cohort what they expected from college. She said, "a bus service from our village to the college; computer classes; a 'smart class' that helps mind development; playgrounds; dance classes; museums close by so we can understand history better." These are the bold dreams from a village girl in a conservative part of India.
This cuts across religious lines. In Barasat village in the North 24 Parganas district, the men make a living from the many fish farms in the area, but the women dream bigger. They are in semi-seclusion, but for education they can venture out. Razia Pervin, a pretty and vivacious 20-something, is in college, speaks perfect English and is determined to compete for the Indian Administrative Services exam.
The young men too have dreams – and a role model in Prime Minister Narendra Modi. They relate to his backward caste background, and see him as a fellow-struggler, one who is trying to improve their lives. Jobs have not been forthcoming, but they say, bandey mein dum hai, or 'the man has guts.' Most will vote for him.
In Pratapgarh district's Kohra village, largely made up of farmers, housewife Snehalata Rai, says the three words unheard in rural India for decades: hum santusht hain. We are content. She is a brahmin, the high caste so neglected that they too, receive subsidies. But she says they want to be independent of handouts, and so she has worked hard to educate her children. One son is in the Indian army serving in Jammu & Kashmir, one son is a lawyer, and her daughter has a degree in education. The village encourages their daughters to use their education and work.
The lightening rod for this dramatic change, they say, is Modi, with his personal appeal, supported by the hard-working, non-elite cadres of the BJP. By giving the poor access to middle-class amenities like gas cylinders and compelling the population to get their services – even government services – through technology using their smart phones, Modi has provided a clear ladder for social upward mobility. Can the next step up from semi-literate and under employed be college and entrepreneurship? Achievable or not, it holds appeal.
The BJP as a party is working on that appeal. Not just politically, but it has physically inserted itself into India's rural and semi-urban life. Using its considerable treasure chest, it has purchased land in several district headquarters, and built permanent offices. Local journalists say that in UP, the BJP has brought together the various lower castes like Kushwaha, Maini, Maurya, Nishad, attend their society meetings, and promote them – much like veteran leader Mulayam Singh Yadav of the regional opposition Samajwadi Party, did with the infamous dacoit queen Phoolan Devi, when he made her his representative in India's Parliament in 1996. This has enabled the transition of the BJP, formerly viewed as an upper caste party, into a mass organisation.
The embedded BJP managers ensure that government schemes are implemented, and that grievances and ideas can be aired. They are supported by the various arms and legs of the party and its RSS volunteer social force, which work in and around the district – the student wing, the culture and ideology wing, the women's and labour wing, etc. Like the Christian church, there will certainly be some proselytization to the Hindu cause, but there will also be delivery of services.
Citizens in non-BJP states like Bengal see the change around them – and now want to be part of this emerging Indian mainstream. Chief Minister Mamata Banerjee has improved Kolkata some, as also some parts of Bengal. But the state's reputation is anti-business. It has had no new industry for four decades. Valiant efforts at re-industrializing Bengal by its professional economist finance minister, Amit Mitra, have borne limited results. The opposition Communist party candidate from Kolkata, Dr. Fuad Halim, offered even less hope. He proposed a minimum wage of Rs. 18,000 a month for workers, and Rs. 6,000 a month for pensioners in the unorganized sector, but had no plan for revenue generation.
This was a vote-loser. So was Chief Minister Banerjee's past activism – which denied land to industry for factories like the Tata's Nano car – which has come back to bite her. At a vibrant rally in Barrakpore, a small and dusty former British military cantonment with no modern improvements, Banerjee told her people that she had "done so much work but am unable to satisfy all. You want a mall, a market, a garden, everything – but where can we get all this from? Even God cannot provide it. You have to also give. I want to build an airport in Barrakpore, but we are not getting land from you. We need land." The poor response from the crowd reveals that Banerjee's request will not be accepted.
Instead, young people look to the BJP. In Barasat village, in Bashirhat constituency in North 24 Parganas, a poor district in Bengal near the Bangladesh border, Subadeep Karmakar, 23, works in his father's jewellery store. He has a degree in zoology from the nearby Taki Government College, but can't get a job in his field. His cohort has left for Bangalore, where IT jobs are plentiful and pay good money. He too, is an admirer of Modi – because, he says "He has done work."
The refrain of "he has done work" and "we can see it on the ground" is repeated across India, across caste, and across religious community. Unlike in the past, where elections were won by voting for one's caste even without the concomitant development, today, people say their vote will go to those "who do the work."
The vicious political discourse in the elections did not bring much of this to light – but the results reveal a wave of 'silent Modi voters.' These are people, largely youth and women, who live in states with powerful regional political leaders relying on their charisma and, in the case of Banerjee, fear and violence.
The old guard has not still accepted that old-style politics in India is no longer the charm that works, despite their major losses. In a very short span of time – just five years – India has made the visible shift from being a poor country, to being a country with basic necessities. The next shift, already in process, will be to be a lower middle-class country, and then a middle income one.
Those who compare Prime Minister Modi with other global 'strongmen' like Recep Erdogan, are not too wrong, but the measure of the comparison should be this: the move to middle class stability. According to Huri Islamoglu, an economic historian with Bosphorous University in Istanbul writing in 2016 after the coup in Turkey, Erdogan's popularity was still intact because he spent years paying attention to the rural poor and the urban lower classes, the shanty-dwellers in the cities who were the beneficiaries of Erdogan's universal medical services, many government programmes, jobs in mega infrastructure projects in industry and agriculture for export and domestic markets.[1]
It sounds very much like the Modi and BJP playbook – the creation of a middle class from a raw new constituency that has benefitted from government largesse, and active foreign policy moves to keep the country secure.
With the BJP having won the election, and with Modi reinstated as Prime Minister, the hope is for Modi to deliver on the rest of his promise – activate and empower the market economy to make India a middle class country.
Manjeet Kripalani is Co-founder and Executive Director, Gateway House.
This article was exclusively written for Gateway House: Indian Council on Global Relations. You can read more exclusive content here.
For interview requests with the author, or for permission to republish, please contact outreach@gatewayhouse.in or 022 22023371.
© Copyright 2019 Gateway House: Indian Council on Global Relations. All rights reserved. Any unauthorized copying or reproduction is strictly prohibited.
References
[1] Islamoglu, Huri, 'Turkey's fight for democracy', Gateway House: Indian Council on Global Relations, 18 August 2016, <https://www.gatewayhouse.in/turkeys-struggle-democracy/>
"Turkey, under AKP rule since 2002, was radically transformed from an underdeveloped economy into an emerging one, with significant industrial and service sectors. It was predominantly urban (75 %) with a substantial middle class of small- to medium-sized enterprises in the major cities and provincial centres. They had access to global markets as exporters of industrial and agricultural products and as investors in mega construction projects, these being activities largely facilitated through government initiatives and foreign policy moves.
"Just as important was the attention given to the urban lower middle classes, including former shanty town dwellers around major cities, especially Istanbul. They are now owners of flats in choice locations, with access to new metro lines, all thanks to government initiatives. These groups are also the main beneficiaries of the new universal medical services, together with numerous programmes reaching out to the unemployed, the sick, and the handicapped, among others. They form the central constituency of the AKP party (more than 50% of all voters) and Erdogan delivered more than just 'Islam' to them. The economy writ large and the ability to create jobs in mega infrastructure projects , in industry , in agriculture, producing both for export and domestic markets , is central to Erdogan's and his party's appeal."