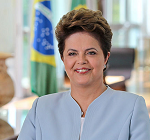 At the end of this month, the first lady President of Brazil, Dilma Rousseff, will make her first visit to India. The visit has two components, both equally significant: she will be at the BRICS summit being hosted by us on March 29 and a day later will be on an official State visit with an exclusive bilateral agenda, after the discussions among the five leaders of the BRICS countries.
Analysts of Indian foreign policy often speak of concentric circles of priority in India's external relations: the immediate neighborhood as the first circle, the ASEAN countries of South-East Asia and the Gulf countries as the next circle, the Indian Ocean Rim countries, a little farther and so on. Relations with the great powers, U.S., Russia and China are in a class by themselves. Brazil does not fall into any of these conventional categories, but is yet a strategic partner and close and frequent interlocutor. Why?
Brazil is an important country in the world today, though this fact is getting salience only slowly in India. In 2012, Brazil became the sixth largest economy in the world after U.S., China, Japan, Germany and France. It overtook U.K. in GDP terms. Brazil is also the fifth largest country in the world, two-and-a-half times the size of India, and interestingly, the fifth-most populous country as well. All this denotes that Brazil is big in every sense of the term, like India; but what is of even greater interest is that like India, Brazil is also a vibrant and noisy democracy and despite its surging economy, still a developing country.
Dilma Rousseff took office as the President on January 1, 2011. Her predecessor, the charismatic Lula da Silva, was President for the eight years prior. Lula was a transformative figure in many ways: in a country with great inequality and an aristocratic elite, he rose to power from humble origins as a factory worker who lost a finger working on a lathe machine. His focus on pragmatic poverty reduction and inclusive growth enabled his administration to substantially tackle social issues, zero hunger, education and health with visible improvements. On the international front he guided Brazil towards new relationships with Africa and developing countries like India, China and South Africa. His efforts changed – and raised – the internal and international profile of Brazil in a major way over the last decade.
President Dilma too comes from the Workers' Party founded by Lula, was nominated as a candidate by him, but is seen by Brazilian commentators as her own personality. She was a fiery student leader, imprisoned during the military dictatorship in the seventies, but rose to be a competent technocrat over the years. Her laser-sharp focus is on economic management, and after a year in office, her style of pragmatic and disciplined governance has won much acclaim.
The commonalities between Brazil and India are truly striking. This accounts for a relationship that was always cordial but is now acquiring greater content. The first obvious commonality is that of objective factors:  size, population and GDP. These are what classify both countries as 'emerging economies' and get them to sit together at same table in the G-20. The fact that we are not 'developed' countries – part of the rich man's club of OECD – but are still developing, the fact that we are robustly 'emerging' brings us together in BRICS, a grouping founded with a primarily economic rationale.
Then there are the commonalities of systems, values and beliefs. These can be described as the three Ds: democracy, divergence and disparities. In terms of political systems and structures, Brazil has many features that we as Indians are familiar with, such as multi-party coalitions,  pulls and pressures between the executive, the legislative and the judicial pillars, strong regional satraps holding sway over their areas,  tensions between the centre and the states ruled by different parties. In a word, consensus-building and management of political equations is as much a challenge in Brazilian politics as it is in our own.
Second, like us, Brazil too is a 'multi-society': multi-ethnic, multi-racial and multi-cultural. The only 'multi' that it does not have is linguistic – irrespective of whether they are of Japanese or Lebanese or German or African origin, all Brazilians speak Portuguese.  The 'unity in diversity' mantra that we invoke is equally applicable to modern Brazil, a country of immigrants from many parts of the world (but not from India, and I will come to that in a moment).
The third 'D' is that of disparities, and it is equally interesting. Again, as in India, there are regional disparities as well as shocking differences in wealth, education and privilege. Hence the debates on social justice, bridging the divides and support to the under-privileged are as important in public policy as they are in India.
With all these commonalities and similarities, why is it that the two countries are really still discovering each other? Why is it that the only images of Brazil that resonate with the average Indian are of Pele and football, of carnival and samba, of beaches and models? And conversely, the images of India for Brazilians still are only those of yoga and godmen? The reasons lie in history and geography. That we are far apart is a geographic given; but the forces of globalization have begun to change that factor in the past two decades. Historically, the Portuguese landed in India and in Brazil just two years later. But then our trajectories differed. Immigrants came from Europe, Africa and Japan to Brazil to grow cash crops; during the same period the Indians were being taken by the British to their colonies in Trinidad or Guyana – even farther than Brazil! After the sixties, we were somewhat distant friends, thinking alike at the U.N., but not seeing so much of each other elsewhere.
All this has changed and is changing further. Lula visited India thrice; now comes the current President Dilma Rousseff to signal an ever-enlarging engagement.
B. S. Prakash is India's former Ambassador to Brazil. Prior to this, he was Consul General of India (with Ambassador's rank) in San Francisco covering the entire western region of the U.S.
This article was exclusively written for Gateway House: Indian Council on Global Relations. You can read more exclusive content here.
For interview requests with the author, or for permission to republish, please contact outreach@gatewayhouse.in.
© Copyright 2012 Gateway House: Indian Council on Global Relations. All rights reserved. Any unauthorized copying or reproduction is strictly prohibited.