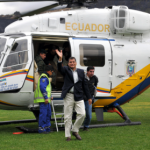 In November, the President of Ecuador was scheduled to visit India for the first time ever. But the visit has been postponed, indefinitely. The official reason, as reported in the Financial Express by Mentor Villagomez, the Ecuadorian ambassador to India, is this: "We have conveyed to India's Ministry of External Affairs that due to political problems in Ecuador, the president has postponed his visit. [1]"
However, the real reason for the cancellation is likely to be related to the recent announcement by Ecuador's defence minister, Fernando Cordero, to "unilaterally terminate the contract" [2] with India's Hindustan Aeronautics Limited (HAL) for the import of seven Dhruv helicopters—although the seven were delivered, the contract includes servicing, insurance, and other clauses too.
India exported the helicopters in 2009. Four have since crashed—in 2009, 2014, and two in 2015. Ecuadorian reports state that two crashes were due to human error, while the other two were due to mechanical failures [3]. HAL, according to media reports, plans to send a high-level delegation to Ecuador to try and resolve the issue [4].
Regardless of what transpires between HAL and Ecuador, the advances in India's relationship with Ecuador are noteworthy. In 2014-15, India imported more from Ecuador than it did individually from neighbouring Sri Lanka, Bangladesh, Pakistan or Nepal. India's overall trade in 2014-15 with Ecuador was $1.29 billion—more than our bilateral trade with Norway, Kazakhstan or Bahrain [5]. Additionally, 13 high-level visits took place between the two countries from 2005 to 2014, signalling an increase in political will among both governments [6].
India views its relationship with Ecuador largely through the lens of economic diplomacy. This is different from Ecuador's relationship with China, which is rooted in ideology, and tied closely to Ecuador's membership of the socialist ALBA grouping (Bolivarian Alliance for the Peoples of Our America). India sees in Ecuador a potential partner in energy security and defence cooperation; Ecuador sees in India economic opportunity. Driven by these considerations, it opened a consulate in Mumbai in 2013—only the third Latin American nation to do so after Argentina in 2009 and Brazil in 2006.
For the moment, two elements underpin the bilateral relationship. The first is oil. India is now one of the top five importers of Ecuadorian oil, and in 2014-15 imported 1.46 million tonnes of oil, worth $962 million, from Ecuador [7].  This should be seen as part of India's increasing reliance on Latin America as a source of oil—it also imports from Brazil, Colombia, Mexico, and Venezuela. In 2014-15, the region accounted for 37.34 million tonnes, or 19.87% of India's total oil imports [8].
The second important element of the bilateral relationship is defence cooperation. It started in August 2008 when Ecuador awarded HAL the contract to supply the seven helicopters at a cost of roughly $45 million at the time; India thus beat competition from Israel, Europe, and Russia for its first-ever export order of a major defence item through a bidding process. While defence cooperation has since reached a roadblock due to the crash of four helicopters, officials from India's Ministry of Defence and HAL are expected to visit Ecuador to try to reach a resolution.
Meanwhile, the growth in the commercial relationship between the two countries remains modest, though there is potential to enhance bilateral business exchanges in sectors other than oil and defence. These include pharmaceuticals, information technology, and agriproducts. Both countries can also increase educational exchanges, and collaborate on environmental and climate change issues.
Some progress has already been made, and proposals have been put forward. The Ecuadorian consul general in Mumbai, Hector Cueva Jacome, said in an interview: "There is tremendous potential to collaborate in the fields of health and pharmaceuticals, agribusiness and information technology. Indian pharma companies have already expressed interest in making Ecuador a base for their operations in Latin America.  We exported roughly $12 million of cacao to India in 2014, and are beginning to export quinoa as well. IT companies like TCS already have more than 2,000 employees in Ecuador [9]."
The Indian government and educational institutions like the Indian Institute of Technology can also help Ecuador set up of the Yachay Tech University, located in San Miguel de Urcuquí, which aspires to become the centre of technological innovation in Ecuador.
Considering all the untapped potential, the governments of both countries must work to increase the momentum in this nascent bilateral relationship. If both position themselves as the gateway to their respective regions—India for South Asia and Ecuador for South America—they can bridge the distance and deepen the bilateral.
Hari Seshasayee, formerly with Gateway House, focuses on Latin America and has a Masters in Latin American Studies from Stanford University, U.S. He works with the Confederation of Indian Industry (CII); this article contains his own views and does not represent the views of the CII.
This article was exclusively written for Gateway House: Indian Council on Global Relations. You can read more exclusive content here.
For interview requests with the author, or for permission to republish, please contact outreach@gatewayhouse.in.
© Copyright 2015 Gateway House: Indian Council on Global Relations. All rights reserved. Any unauthorized copying or reproduction is strictly prohibited.
Update: 
The Embassy of Ecuador to India sent its response on 1 December 2015. Click here.
References
[1] Siddiqui, Huma, 'Ecuador's president cancels India trip', Financial Express, 21 October 2015, < http://www.financialexpress.com/article/india-news/ecuadors-president-cancels-india-trip/154353/>
[2] Agencia Publica de Noticias del Ecuador y Sudamérica, Gobierno de Ecuador recibirá a comisión de empresa India HAL para dialogar sobre destino de helicópteros Dhruv, 27 October 2015, <http://www.andes.info.ec/es/noticias/gobierno-ecuador-recibira-comision-empresa-india-hal-dialogar-sobre-destino-helicopteros>
[3] Ibid.
[4] Siddiqui, Huma, 'HAL team to visit Ecuador to resolve Dhruv copter crisis', Financial Express, 2 November 2015. <http://www.financialexpress.com/article/industry/companies/hal-team-to-visit-ecuador-to-resolve-dhruv-copter-crisis/160355/>
[5] Export Import Data Bank, Ministry of Commerce and Industry, Government of India, <http://commerce.nic.in/eidb/Default.asp>
[6] Ministry of External Affairs, Government of India, India-Ecuador Relations, 7 July  2015. <http://mea.gov.in/Portal/ForeignRelation/ECUADOR_2015_07_07.pdf>
[7] Export Import Data Bank,  Ministry of Commerce and Industry, Government of India, <http://commerce.nic.in/eidb/Default.asp>
[8] Export Import Data Bank,  Ministry of Commerce and Industry, Government of India,  <http://commerce.nic.in/eidb/Default.asp> (Author's calculations, including 'Latin America' region, plus Mexico.)
[9] Interviewed by the author, October 2015.