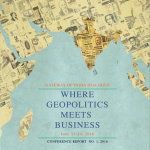 Foreword
On 13-14 June 2016, the first Gateway of India Dialogue was held in Mumbai, India. The conference's theme, 'Where Geopolitics Meets Business' ,was appropriate for an event that brought the insights of India's energised foreign policy to a city that serves as the country's financial and business centre.
The Dialogue was jointly hosted by the Ministry of External Affairs, Government of India, and Gateway House: Indian Council on Global Relations, a foreign policy think tank in Mumbai, which focuses on geoeconomics.
This was the first foreign policy and business conference held in Mumbai, and it brought together more than 220 delegates from 20 countries. Eminent experts and high-profile participants attended, as did numerous experts on economics and politics as well as dignitaries who spoke on India's foreign policy, how it is being impacted by global economic and technological developments. The delegates included senior scholars from geoeconomic think tanks around the world, as well as representatives of Mumbai's business community and officers of the city's civil and military services.
The Gateway of India Dialogue coincided with a meeting of the Think Tank 20 group, which is the ideas bank for the G20. A roundtable discussion for the T20 on 'Global Economic Governance' was held under the official banner of the 2016 Chinese presidency of the G20. Gateway House and the Ministry of External Affairs were the co-hosts of the event. Experts from 21 well-regarded international economics-focussed think tanks, and 16 Indian think tanks attended the day-long event. It was a high-quality discourse, generating robust and wide-ranging discussions.
The Gateway of India Dialogue too was marked by rich discussions and substantive analyses of contemporary and emerging commercial and financial trends. This included mega-trade agreements, and the movement of global capital and labour- issues that are critical to India's role as an emerging economy.
Mumbai's business community has communicated extremely positive post-conference reactions about the content and execution of the Dialogue. This is especially heartening because the city for long was presumed to have little interest in foreign policy issues. The overall energetic response to the Dialogue indicates that Indian corporations and citizens are increasingly recognising the critical convergence of geopolitics and business.
Examining this convergence was the founding principle on which Gateway House was established. It is a principle that we will continue to follow
Blaise Fernandes, Chief Executive Officer
Neelam Deo, Director
Manjeet Kripalani, Executive Director
Gateway House: Indian Council on Global Relations Mumbai
You can download the PDF version of this report, here.
This report encapsulates the discussions of the The Gateway of India Dialogue 2016. You can watch the full conference here.
For more exclusive content from Gateway House: Indian Council on Global Relations, click here.
For interview requests with the authors, or for permission to republish, please contact outreach@gatewayhouse.in.
© Copyright 2016 Gateway House: Indian Council on Global Relations. All rights reserved. Any unauthorized copying or reproduction is strictly prohibited.