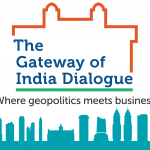 In a week's time, Gateway House will be opening its doors to an inaugural and landmark conference.  Can you tell us about this event?
Manjeet Kripalani (MK): On 13-14 June, Gateway House is co-hosting, along with the Ministry of External Affairs, The Gateway of India Dialogue: Where geopolitics meets business. It is India's first ever major foreign policy conference in Mumbai, and one where Indian and international political and business leaders will participate. We're all incredibly excited about the speakers and invited delegates, who include Foreign Secretary S. Jaishankar.
You co-founded Gateway House in 2009.  What were your objectives?
MK: Simply put, setting-up Gateway House was about bringing to life a real passion of mine. As the former India bureau chief of Businessweek magazine, I saw an opportunity to increase the influence of business in India's foreign policy, and for our diplomacy to leverage the globalisation of Indian business. It turned out that Neelam Deo, Gateway House's co-founder, also saw this need as an economist and distinguished diplomat who was India's Ambassador to Denmark and Ivory Coast, and Consul General in New York.
How has Gateway House evolved since?
MK: We have achieved a lot since our humble beginnings in a donor's parking lot! Back then, foreign policy was still regarded as the preserve of government, and new business thinking was the domain of business schools and chambers of commerce. I think we've established that there is a way to combine these worlds, with our experts providing opinions on a wide range of issues, including cybersecurity and energy policy. Our work isn't done—which is why we will launch such a high-profile event. But certainly we feel that the corporate and foreign policy circles are engaging with each other more than they were.
Why is a foreign policy think tank relevant to Mumbai, India's commercial capital?
MK: This is what is so neat about our mission. Of course, Mumbai is where India's industry and corporate titans roam. They have, individually and collectively, vast international exposure and profiles. It is true that to set up a foreign policy 'think tank', a novel concept in itself outside of New Delhi, required some explanation. But I think our work has led to some great momentum behind the combined strengths of government and business circles in driving India's international profile. Also, Mumbai has embraced Gateway House with the warmth and energy that are so characteristic of the city itself.
So what's on the agenda of The Gateway of India Dialogue?
MK: The dialogues are designed to build further momentum around India's global profile and role. We will bring together a broad spectrum of Indian and overseas thought leaders in government, business, think tanks, academia, and media. Issues such as Asian integration, non-dollar financial infrastructure, nuclear security, and global movements of people and talent, will be publicly debated.
India is trail-blazing globally on several fronts at the moment, including incoming foreign investment; and Prime Minister Modi's international profile and visibility on key global issues are growing.  Are you saying there is still more to do?
MK: The Gateway of India Dialogue is as much about recognising India's achievements as it is about widening our aspirations even further. It is about celebration, but also about jointly considering the challenges ahead for global diplomacy and business. It is our strong belief that issues such as energy security, nuclear proliferation and geo-economics (to name a few) are best addressed as a joint effort between business and government. Both have a unique perspective on such challenges and we are providing a forum in which to openly discuss how these can be addressed.
Also, consider that Gateway House is hosting T20, an event linked to the G20, just the day before the June 13-14 Dialogue, in which we are convening a group that too is very much contributing to the evolution of global economic policy. This is another demonstration of how Gateway House is making a mark at the international level.
Check out The Gateway of India Dialogue website for information regarding speakers and more!
Manjeet Kripalani is Executive Director at Gateway House
This article was exclusively written for Gateway House: Indian Council on Global Relations. You can read more exclusive content here.
For interview requests with the author, or for permission to republish, please contact outreach@gatewayhouse.in.
© Copyright 2016 Gateway House: Indian Council on Global Relations. All rights reserved. Any unauthorized copying or reproduction is strictly prohibited