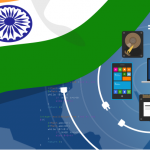 India has witnessed a digital boom in the last decade. From digital infrastructure to adoption of new technologies to big data becoming central to industry, the Indian socio-economic fabric  is redesigning itself with the digital thread in urban and rural areas alike. It is accompanied by the government's push through the 'Digital India' initiative, which is creating digital services as public goods. Internationally, India's software engineers are the creators, testers or supporters of software and its services. With 752 million internet subscribers,[1] India is second only to China,[2] and is poised to be the third largest consumer market in the world, after China and the U.S.
In short, India is an integral part of the global digital supply chain, and is salient to global technology stakeholders.
Does the country have the requisite capacity to benefit from this coalescence? There is some being built, of course. On the regulatory front, the National Cyber Security Policy of 2013 is being updated and revamped as the National Cyber Security Strategy. The Information Technology (Intermediary Guidelines and Digital Media Ethics Code) Rules, 2021 are being operationalised to regulate electronic transactions and cybercrime.[3] Important measures are pending, like the Personal Data Protection Bill, which is fundamental to digital governance in India.
The 11th Second Administrative Reforms Report of 2008 highlighted the importance of e-governance and the consequent need for capacity-building at every level of government. Currently, new recruits to the Civil Services do receive training in information technology and e-governance. And as of now, the Indian Telecommunication Service is the primary cadre from which officers are assigned to work on different aspects of technology policy and digital issues.
But this is not enough. Digital now extends beyond telecom. And the Civil Services coursework does not offer an enhanced understanding of how technology works, its domestic and international ecosystem, and the implications of emerging technologies – all of which can enable them to identify loopholes/risks to make and implement better policy.
India needs an exclusive and new all-India service cadre – an Indian Digital Service (IDS),  part of the civil service and recruited primarily by the Union Public Service Commission, to serve as the backbone of the Indian government's multiple digital and other emerging technology initiatives.[4]
This service will:
Reinforce the existing institutions to deal with challenges arising out of the digital world, from data protection to white labelling to cryptocurrency, use of the dark net, e-commerce abuse etc.;
Create a roadmap for e-governance, data protection, a level playing field in e-commerce for producers especially the Ministry of Micro, Small and Medium Enterprises sector, and consumers, cryptocurrency, Intellectual Property protection, cybersecurity etc.;
Use India's attractive digital ecosystem to drive the global digital narrative.
The last time a new services cadre was created was in 2018, when the government restructured some of the existing services to create Indian Enterprise Development Services for the Ministry of Micro, Small and Medium Enterprises.[5] Typically, it takes years for such a cadre to be established. With galloping digitisation, India can't wait for a new cadre to reach full maturity or for the Constitutional amendment needed for the creation of an all-India service.
Therefore, the government can immediately begin filling the ranks of the IDS through lateral hiring, by bringing in domain expertise from the private sector. Several ministries already do this, including the Ministry of Commerce & Industry, Ministry of Finance and Ministry of Health and Family Welfare.[6] Past lateral entries that have served the Indian Government well are former President K. R. Narayanan who was inducted into the Indian Foreign Service in 1949, former Prime Minister Manmohan Singh, Montek Singh Ahluwalia and Amber Dubey (former KPMG, currently at Ministry of Civil Aviation as Joint Secretary).
The establishment of the IDS cadre will streamline the technology policy work currently being carried out across ministries such as the Department of Telecommunications, the Ministry of Electronics and Information Technology, the Ministry of Commerce and Industry and the Ministry of External Affairs. The placement of the officers in these different ministries will provide the requisite knowledge and expertise.
In addition to policy-making at the central level, the IDS officers can play an important role at the state level in strengthening digitisation and building capacity.
The IDS will bring in the requisite institutional strength and skill-set for digital technology policy-making. This has the potential to propel not only India's digital transformation, but also its digital economy through able preparation and administration, effective dispute resolution and a futuristic outlook.
Blaise Fernandes is Director & Board Member, Gateway House.

This article was written exclusively for Gateway House: Indian Council on Global Relations. You can read more exclusive content here. 
For interview requests with the author, or for permission to republish, please contact outreach@gatewayhouse.in.
© Copyright 2021 Gateway House: Indian Council on Global Relations. All rights reserved. Any unauthorized copying or reproduction is strictly prohibited.
References:
[1] https://www.trai.gov.in/sites/default/files/QPIR_21012021_0.pdf
[2] https://www.mckinsey.com/business-functions/mckinsey-digital/our-insights/digital-india-technology-to-transform-a-connected-nation
[3] https://www.gatewayhouse.in/changing-status-quo-social-media-india/
[4] These include India Stack and the digitisation of government services such as GSTN (Goods and Services Tax Network), National Logistics Platform, AgriMarket App, e-NAM (National Agriculture Market), MyGov, DigiLocker, GeM (Government e-Marketplace) and UMANG (Unified Mobile Application for New-Age Governance).
[5] http://www.dcmsme.gov.in/employ-corner/IEDS/MSME-Notification.pdf
[6] https://pib.gov.in/PressReleasePage.aspx?PRID=1695534