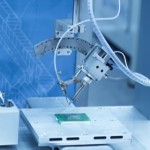 Precision analytical instruments, diagnostic kits, medical equipment, sensors, actuators, optics, semiconductors, and microelectromechanical systems (MEMS), are the backbone of any civilian and defence Research, Development, Testing and Evaluation (RDTE) activities. Modern practical scientific investigations are incomplete, imperfect, and flawed without these high-end gadgets.
Very few countries have the competency to construct and manufacture these instruments. The RDTE output of many import-dependent countries is entirely reliant on those nations with competence and export-capacity, built over the decades after the Second World War.
This post-World War II high-technology supply chain has been disrupted for the first time due to the Coronavirus Infectious Disease (COVID-19).
COVID-19 has severely affected global trade, having spread extensively in Western Europe, United States, Japan, and South Korea – all major innovators, manufacturers and supply-chain origins of scientific instrumentation – and arresting their manufacturing and innovation productivity. The high-technology manufacturers in these countries are looking at a loss of market, disruption in supply chains, strain on the manufacturing of the few in-demand products, fall in demand of many others, and commotion in distribution and maintenance repair and overhaul (MRO) services [1].
Although the COVID-19 is an ongoing disruption, other events such as trade wars, economic sanctions, and natural disasters perhaps can create similar impediments. Such obstacles can prove detrimental to the entire spectrum of RDTE operations in India.
However, these bleak circumstances can be reformed with a future-oriented, positive approach.
The scientific output of India's private and government laboratories, carrying out physical, chemical, biological, pharmaceutical and medical investigations, are heavily dependent on imports of high-tech instrumentation, classified under Chapter 90 of the Harmonized System Code (HS-90). The HS-90 consists of numerous optical, photographic, cinematographic, measuring, checking, precision, medical or surgical instruments, and their parts and accessories.[2] Many of the HS-90 companies have, for long, had India-based subsidiaries that operate distribution and MRO networks. But, India has been punching much below its weight by not providing the same companies attractive incentives to set up manufacturing units in the country.
India, with its growing number of universities, private and government sector RDTE laboratories, is a huge and growing market for the HS-90 industry. India's voluminous and tremendously skilled work force can be utilised in manufacturing HS-90 products. The existing innovation ecosystems in the country can become strategic collaborators to the HS-90 industry for continuous innovation and upgrades of its products, creating a base for a thriving high-tech industry. Attracting them to innovate and manufacture in India can give HS-90 companies quick and reliable access – by maintaining distribution and MRO networks – to developing markets in South, Central, West and South-East Asia and Africa.
New Delhi can immediately invite global HS-90 technology manufacturing giants under the 'Make in India' and 'Assemble in India for the World' projects. In doing so, this must not merely present prospects of highly skilled employment generation. Having these companies manufacture in India will expand the domestic RDTE ecosystems that can cater to growing domestic demand, maintain the fidelity of supply-chain and secure regular after-sales services – all vital for steadiness of national RDTE output. The global HS-90 giants will benefit as India – a transparent and democratic nation – can ensure them high manufacturing throughput and sustainable and profitable business.
India has already proceeded with formulating encouraging industrial policies for electronics manufacturing with the Production Incentive Scheme for Large Scale Electronics Manufacturing. This is currently aimed at attracting assembly, testing, marking and packaging (ATMP) for mobile phone manufacturers. The scheme provides an incentive of 4%-6% on incremental sales (over base year) of electronic goods manufactured in India under the targeted categories for a period of five years.[3]
The scheme can be extended to attract HS-90 instrumentation manufacturers. Because what constitutes ATMP units – microelectromechanical systems, logic microprocessors, memory chips, light-emitting diodes, semiconductor manufacturers and foundries – are important electronic components for HS-90 instrumentation too.
The high-technology supply chain disruption caused by COVID-19 will bring about remarkable rearrangements in global manufacturing and trade. India has a golden chance to address its chronic domestic challenges as well as trouble-shoot the acuities that confront the global HS-90 market. An attractive and confidence-building policy on this front will consolidate India's status as a serious, transparent and honourable high-technology manufacturing hub in the post-COVID era.
Dr. Chaitanya Giri is Fellow, Space and Ocean Studies Programme, Gateway House.
This article was exclusively written for Gateway House: Indian Council on Global Relations. You can read more exclusive content here.
For interview requests with the author, or for permission to republish, please contact outreach@gatewayhouse.in
© Copyright 2020 Gateway House: Indian Council on Global Relations. All rights reserved. Any unauthorized copying or reproduction is strictly prohibited.
References
[1] Thermo Fisher Scientific Inc. Form 8K – United States Securities and Exchange Commission, Current Report Pursuant to Section 13 or 15(d) of the Securities Exchange Act of 1934. Date of Report: March 23, 2020, https://www.sec.gov/ix?doc=/Archives/edgar/data/97745/000119312520081723/d895511d8k.htm
[2] ITC (HS), 'Schedule 1- Import Policy, Section XVIII, Chapter 90 – Optical, Photographic, Cinematographic, Measuring, Checking, Precision, Medical, or Surgical Instruments and Apparatus; Clocks and Watches, Musical Instruments; Parts and Accessories Thereof', Retrieved from the Directorate General of Foreign Trade, 2017, https://dgft.gov.in/sites/default/files/chap90.pdf
[3] Press Information Bureau, 'Cabinet Committee Decision. Cabinet approves Production Linked Incentive Scheme for Large Scale Electronics Manufacturing', Government of India, 21 March 2020. https://pib.gov.in/newsite/PrintRelease.aspx?relid=200572