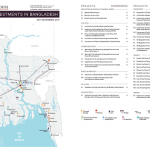 Don't Miss Amit Bhandari's article: China in Bangladesh: remaking the financial rules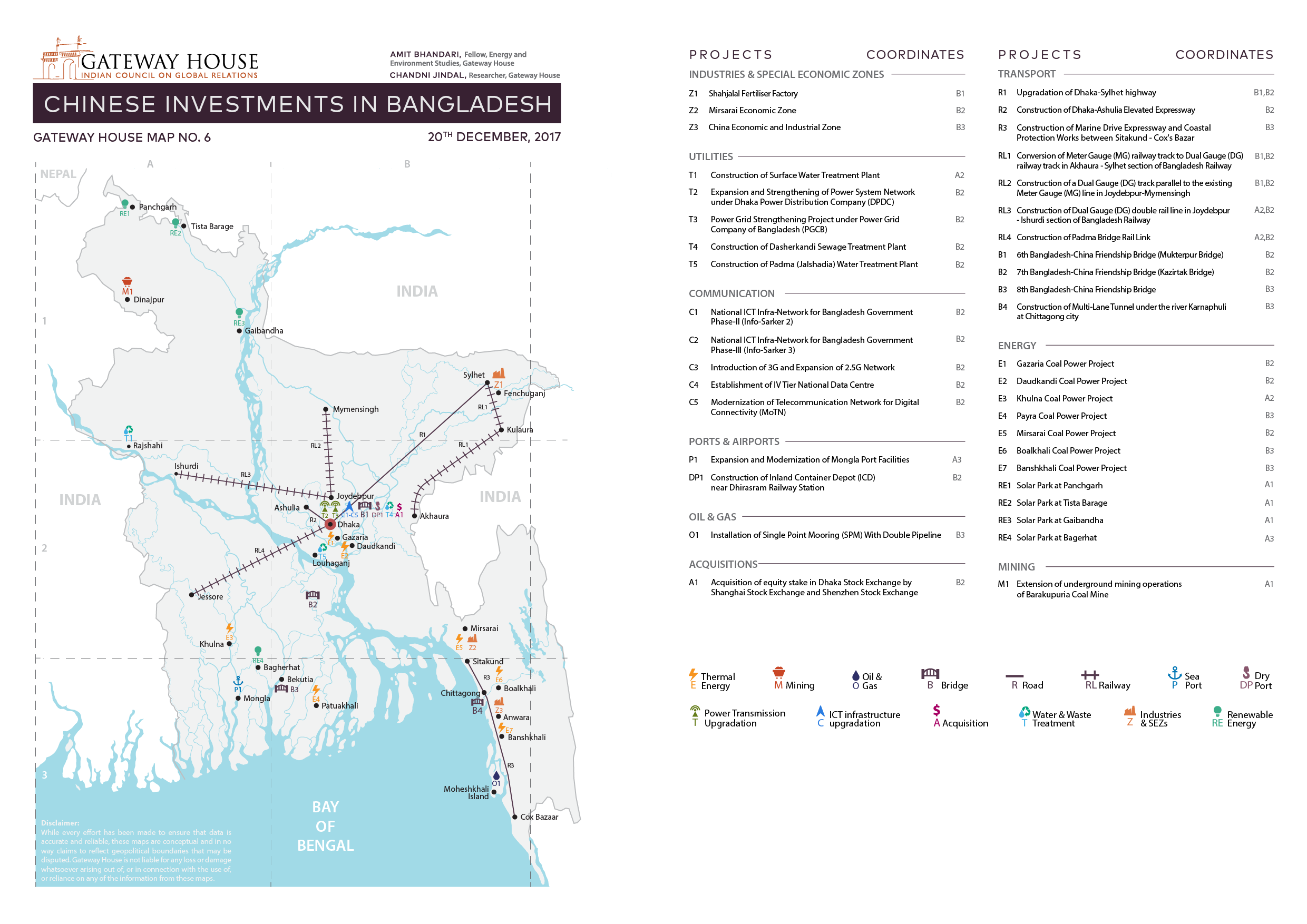 On 19 February 2018, the board of the Dhaka Stock Exchange (DSE) accepted a proposal by a consortium of China's Shanghai and Shenzhen Stock Exchanges to acquire a 25% share in Bangladesh's largest stock exchange[1]. There were only two bidders–the Chinese consortium and a rival group, including India's National Stock Exchange and the U.S. Nasdaq. The winning bid was $119 million in cash – 56% more than the Indian bidder's offer.
That number may seem small compared to the $3 billion in projects China launched in Bangladesh during the decade that ended in 2017, but it can be a harbinger of more substantial investments to come. A Gateway House analysis suggests that current plans could see total Chinese investment in Bangladesh expand tenfold–to $31 billion. The DSE investment hints at a strategic purpose behind China's bid: To gain greater access to – and possibly control over –  Bangladesh's financial infrastructure, and hence the guts of its economy.
Short-Term Gain, Long-Term Harm?
The new Chinese investment could be beneficial to Bangladesh, at least in the short term. China's own financial sector is led by the entrepreneurial Alibaba, a technically formidable, admired and effective online platform that is supporting government-driven financial inclusion. Transferring some of its knowhow to Bangladesh, which is already a global innovator in microfinance, can reduce transaction and distribution costs. But the Chinese presence can influence regulatory and compliance norms in Dhaka's financial markets and pave the way for an even larger Chinese role in the economy, ultimately making Bangladesh economically and politically dependent on Beijing.
Bangladesh is the most vibrant economy in India's neighbourhood with the lowest Chinese penetration; during 2016-17, China (including Hong Kong) accounted for just 7.3% of all foreign direct investment (FDI) in Bangladesh. As a result, Bangladesh has been able to side-step China, as it did in the case of the proposed Sonadia Port that China wanted to develop. It also has significant and growing economic ties with India, and is open to Indian investment. During 2017, Indian FDI in Bangladesh was $95 million – less than China's total, but still substantial. Indian companies already sell electricity to Bangladesh[2], are exploring for oil and gas there and are considering a proposal to construct a petroleum product pipeline from an Indian oil refinery to that country[3]. The prospects for such investments could evaporate if financial norms favour proposed Chinese investments in Bangladesh.
Target of Opportunity
Bangladesh has become a target of opportunity for China. Though low-income, it is a dynamic country that desperately needs infrastructure like roads, bridges and power-projects. But multilateral lenders are leaving the field open to new investors. The World Bank and the Asian Development Bank, perhaps reflecting environmental concerns in more developed countries, no longer finance coal-fired power plants. And even though Bangladesh needs bridges to allow more efficient shipments of goods, the World Bank scrapped assistance for a crucial bridge on allegations of corruption[4]. Weak institutions and poor infrastructure mean Bangladesh has trouble meeting standards for financial management set in the developed world. China has readily offered to build much-needed infrastructure with fewer strings attached, and the country has eagerly accepted.
The Gateway House map of Chinese investments in Bangladesh shows the scope and scale of China's ambitions. Most of these projects exist so far only on paper; the agreements were only inked in late 2016. But if they move ahead, China will become the largest foreign investor in Bangladesh by a large margin. That will enhance leverage China already has gained with the country's politically powerful military as a major weapons supplier.
Challenges for India
India has been unable to match China's big-ticket infrastructure spending. It could work with Japan, which is trying to increase its own infrastructure investments in the region; it is helping Bangladesh develop a deep-sea port, at the expense of a Chinese project, for instance. India can take steps to improve infrastructure supporting border trade with Bangladesh, investments that will reduce the appeal of Chinese infrastructure. Such opportunities will be lost if China gains disproportionate economic power.
So far, Bangladesh has shown itself to be willing and able to seek the best terms for itself and keep a balance between various powers. The question is whether countries like India will act in time to ensure that Bangladesh retains its freedom to choose.
This map is part of a larger book on Chinese Investments in India's Neighbourhood. To see the project description and place an order for the book, please click here.
Amit Bhandari is Fellow, Energy and Environment Studies at Gateway House
Chandni Jindal is Researcher at Gateway House
Visualized and mapped by Debarpan Das
This map was exclusively developed by Gateway House: Indian Council on Global Relations. You can read more exclusive content here.
For interview requests with the author, or for permission to republish, please contact outreach@gatewayhouse.in.
© Copyright 2018 Gateway House: Indian Council on Global Relations. All rights reserved. Any unauthorized copying or reproduction is strictly prohibited.
References
[1] 'Dhaka Stock Exchange greenlights China bourses as strategic partners as India, US lose out', bdnews24, 19 February 2018, <https://bdnews24.com/business/2018/02/19/dhaka-stock-exchange-gives-final-nod-to-china-bourses-proposal>
[2] Lok Sabha, Government of India, Questions, 17 December 2015, (Lok Sabha: New Delhi, 2015), <http://164.100.47.194/Loksabha/Questions/QResult15.aspx?qref=27598&lsno=16>
[3] Press Information Bureau, Government of India, Sh Dharmendra Pradhan meets his Bangladesh counterpart Mr Nasrul Hamid, 5 October 2016, <http://pib.nic.in/newsite/mbErel.aspx?relid=151455>
[4] World Bank, World Bank Statement on Padma Bridge, 29 June 2012, <http://www.worldbank.org/en/news/press-release/2012/06/29/world-bank-statement-padma-bridge>