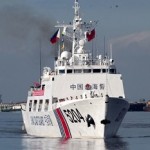 On 01 February, the new China Coast Guard (CCG) laws[1] came into effect. They provide a regulatory framework for China's law enforcement operations in areas under its maritime jurisdiction.
Established in 2013, China's coast guard operated under the State Oceanic Administration, a civilian agency. In 2018, the CCG was reorganised and put under the control of the People's Armed Police, which was itself brought under the Central Military Commission[2] earlier that year. This completed the metamorphosis of CCG from a civilian-controlled to a military-run law-enforcement agency. This meant deeper coordination between the People's Liberation Army (PLA) Navy, CCG and the People's Armed Forces Maritime Militia (PAFMM)[3] to aggressively pursue Chinese maritime claims specifically in the South China Sea (SCS).
China not only has the largest Navy in the world in terms of numbers of ships [4], but also the largest Coast Guard[5]. In the last decade, the CCG has more than doubled its large patrol ships (1,000-2,500 tonnes) from 30 to over 60 [6], and has also increased the number of ocean-going patrol ships (2,500-10,000 tonnes) from under 10 to 60 [7]. Unsurprisingly, global anxieties have risen with the operationalising of the new laws.
The reason for the heightened threat perception is two-fold – (a) jurisdiction and (b) CCG Grey Zone activities.
Jurisdiction: Despite the 2016 UN Arbitral Tribunal on the SCS between China and Philippines declaring Chinese maritime rights on the basis of the Nine Dash Line as excessive and illegitimate[8], China has continued to exert itself in total disregard of the tribunal ruling and international norms. The new CCG laws have left the term "jurisdiction"[9] geographically undefined, creating ambiguity over its applicability in disputed maritime zones. This gives the CCG greater latitude for grey zone activities like attacking third-country fishing vessels, and creates uncertainty for smaller nations in the region. Most threatened is the Philippines, which lost control over the Scarborough Shoal in 2012 in the face of Chinese maritime intimidation. Philippine Foreign Secretary, Teodoro Locsin Jr., on 27 January, described the new CCG laws a 'threat of war'[10]. Japan and Vietnam too have expressed concern, but for now official reactions have been muted.
CCG grey zone activities:   The CCG, along with China's maritime militia, has played a leading role in several grey zone operations. Some recent examples include the sinking of a Vietnamese fishing boat by the CCG in the waters off the Paracel islands[11], repeated intrusions off the Senkaku islands [12] and fishing disputes off Indonesia's Natuna islands[13].
The ambiguity in the CCG's jurisdictional limits, and China's appetite for grey zone operations, has increased the likelihood of a confrontation[14] between CCG white-hulled vessels and the grey-hulled warships of other nations within the SCS.
China however, says the Coast Guard laws are domestic only. On 2 February, the Chinese embassy spokesperson in Manila issued a statement[15] emphasising its sovereign right to domestic legislation. But given China's record of using its superior Coast Guard to coerce smaller nations over its excessive maritime claims, it is certainly a cause for global concern and demands a credible counter.
This is a job for the Quad, which has recently received a boost with the new U.S. administration advocating a stronger regional architecture[16] and expanded cooperation[17]. India can take the lead, and with the Quad must: –
Build real-time maritime domain awareness capabilities for smaller nations in the Pacific Ocean, similar to the Indian Coast Guard's agreement [18] with the Indonesian Coast Guard;
Expand the scope of the Information Fusion Centre–Indian Ocean Region[19] operations to include the SCS;
Institutionalise an annual Coast Guard multilateral exercise involving maritime law enforcement agencies of various countries in the Indo-Pacific and
Develop a Quad network within the SCS, akin to the U.S. Coast Guard (USCG) ship-rider agreement[20]. The ship-rider agreements provide a legal framework for the USCG[21] to operate within the Economic Zone (EEZ) of partner nations and authorises partner law enforcement officers to embark on USCG vessels.
Historically, India has played the role of net security provider in the Indian Ocean Region. India must now work with the Quad to extend its sphere of influence in the Indo-Pacific region, especially within the SCS to build collective maritime competence[22] for the smaller nations in the Pacific Ocean.
This article was exclusively written for Gateway House: Indian Council on Global Relations. You can read more exclusive content here.
For permission to republish, please contact outreach@gatewayhouse.in
© Copyright 2021 Gateway House: Indian Council on Global Relations. All rights reserved. Any unauthorised copying or reproduction is strictly prohibited.
References  
[1] Maritime Police Law of the People's Republic of China. Xinhuanet News.  http://www.xinhuanet.com/2021-01/23/c_1127015293.htm
[2] Ministry of Foreign Affairs of the People's Republic of China. Central Military Commission. https://www.fmprc.gov.cn/mfa_eng/ljzg_665465/zgjk_665467/3579_665483/t17843.shtml
[3] Regulations of the People's Republic of China on the work of Militia. http://www.mod.gov.cn/regulatory/2016-02/12/content_4618055.htm
[4]Military and Security Developments Involving the People's Republic of China 2020. China Military Power Report 2020.  https://media.defense.gov/2020/Sep/01/2002488689/-1/-1/1/2020-DOD-CHINA-MILITARY-POWER-REPORT-FINAL.PDF
[5] Erickson S. Andrew, Countering Coercive Envelopment. How to resist PRC Political-Maritime Control in Asia and Beyond.  https://docs.house.gov/meetings/FA/FA05/20200630/110841/HHRG-116-FA05-Wstate-EricksonA-20200630.pdf
[6] Military and Security Developments Involving the People's Republic of China 2020. China Military Power Report 2020. https://media.defense.gov/2020/Sep/01/2002488689/-1/-1/1/2020-DOD-CHINA-MILITARY-POWER-REPORT-FINAL.PDF
[7] http://www.andrewerickson.com/wp-content/uploads/2019/02/Chinas-Maritime-Gray-Zone-Operations_Hickey-Erickson-Holst_China-Maritime-Law-Enforcement-Surface-Platforms.pdf
[8]In the Matter of the South China Sea Arbitration. The Republic of the Philippines and the Republic of China. <https://pcacases.com/web/sendAttach/2086>
[9]  Article 3 of the law states – "This law applies to maritime police agencies carrying out maritime rights protection and law enforcement activities in and over the sea areas under the jurisdiction of the People's Republic of China".
[10] Teddy Locsin Jr. Twitter. <https://twitter.com/teddyboylocsin/status/1354352774591389697>
[11] BO NGOAI GIAO VIET NAM, Ministry of Foreign Affairs, Remarks by the Spokesperson of the Ministry of Foreign Affairs of Viet Nam Le Thi Thu Hang on the incident involving the Vietnamese fishing boat QNg 90617 TS and its eight fishermen around Phú Lâm (Woody) Island of the Hoàng Sa (Paracel) Islands of Viet Nam. <http://www.mofa.gov.vn/en/tt_baochi/pbnfn/ns200404161321>
[12] Publication of a draft of the China Coast Guard Law – the use of force against foreign warships, etc. https://www.mod.go.jp/msdf/navcol/assets/pdf/column182_01.en.pdf
[13] Ministry of Foreign Affairs of The Republic Of Indonesia. https://kemlu.go.id/portal/en/search/natuna
[14] The risk is even higher for smaller powers in the region that predominantly use warships for law enforcement
[15] Statement of Chinese Embassy Spokesperson on the China Coast Guard Law and Some Other Issues. Embassy of the People's Republic of China in the Republic of the Philippines. <http://ph.china-embassy.org/eng/sgdt/t1850430.htm>
[16] The White House, Readout of President Joseph R. Biden, Jr. Call with Prime Minister Narendra Modi of India. https://www.whitehouse.gov/briefing-room/statements-releases/2021/02/08/readout-of-president-joseph-r-biden-jr-call-with-prime-minister-narendra-modi-of-india/
[17] Secretary Blinken's Call with Indian External Affairs Minister S. Jaishankar. U.S. Department of State. <https://www.state.gov/secretary-blinkens-call-with-indian-external-affairs-minister-s-jaishankar/>
[18] Signing of MoU between Indian Coast Guard and Indonesia Coast Guard https://www.indiancoastguard.gov.in/WriteReadData/Tender/202007080953389212753PRESS_BRIEF.pdf
[19] Information Fusion Centre- Indian Ocean Region <https://www.indiannavy.nic.in/ifc-ior/about-us.html>
[20] U.S. Department of Homeland Security United States Coast Guard https://media.defense.gov/2017/Mar/16/2001717325/-1/-1/0/CI_16705_1.PDF
[21] Currently, the U.S. Coast Guard has ship-rider agreements with 11 Pacific island nations with no coast guard or navy of their own.
[22] AERO INDIA 2021, Press Information Bureau, Ministry of Defence, Government of India.  <https://www.pib.gov.in/PressReleseDetailm.aspx?PRID=1695245>