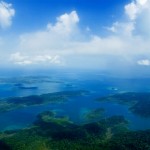 In the first four months of 2016, while India organised a review of its naval fleet and a global maritime summit to signal its readiness to take on a bigger role in the Indian Ocean region, China announced the setting up of its first permanent naval base in Djibouti, around 3,200km west of Mumbai. It also secured support from Sri Lanka to build another port, and from the Myanmar government, to build a deep sea port.
China's strategy to become a major player in the region is reflected in the manner in which it has succeeded in securing extensive support for the Maritime Silk Road of its "One Belt, One Road" initiative. On the other hand, in sharp contrast, is India's disjointed, haphazard attempt to leverage what could be a significant strategic asset in the Indian Ocean—the Andaman & Nicobar Islands.
In the Bay of Bengal, far removed from India's mainland, are Andaman & Nicobar's 572 Islands that form the south-east border of the country. From north to south the islands form an arc that extends 1,000 km. While the northern most part of the archipelago is only 22 nautical miles away from Myanmar, the southern most point called the Indira Point is a mere 90 nautical miles from Indonesia.
Andaman & Nicobar Islands dominate the Bay of Bengal and Six Degree and Ten Degree Channels through which over 60,000 commercial vessels move west to east and back annually. The northern groups of islands are separated from the southern group by 80 nautical miles wide 10 Degree Channel which, are international waters.
Among the nine major bottlenecks that control the entry to this region from West to East as well as the West are Malacca Strait and Six Degree Channel. Andaman and Nicobar Islands sit in this strategically important zone, close to an important SLOC or Sea Lane of Communication where India can play a significant role in denying access and restrict entry with its growing naval prowess.
As the islands provide India with a commanding geostrategic presence—with-domination of the Bay of Bengal and access to South and Southeast Asia, a focused development plan for the islands would greatly enhance the country's military capabilities and allow it to check a growing Chinese presence in the Indian Ocean Region (IOR). Several sightings of Chinese submarines have been reported close to the Andaman & Nicobar Islands in recent months.  Naval vessels and submarines routinely berth in the China-built Hembantota port in Sri Lanka while another China-built port—-of Gwadar in Pakistan—-promises to give direct sea access from China's Xinjiang, on its northwest frontier, through Pakistan.
Fifteen years after the setting up of a Tri-Service Command in the Andaman & Nicobar Islands, there is still insufficient clarity on what India wants to do with the islands to meet its foreign policy objectives. The Modi government has, in the last two years, certainly moved away from the reticence of previous governments to push for a greater role in engagement with the other Indian Ocean littoral states—Bangladesh, the Maldives, Pakistan, and Sri Lanka. Visiting Indian Ocean countries like Mauritius and Seychelles last year, Prime Minister Narendra Modi announced that India would "work to ensure a safe, stable and secure Indian Ocean region" while focusing on its security, signalling New Delhi's readiness to play a role beyond.
With the signing of a broad framework on defence cooperations in the Indian and Pacific oceans, Modi has decided to partner with the United States to play a greater role in the IOR and South China Sea.
Speaking at the Maritime India Summit held earlier in the year, the Prime Minister reiterated that the IOR is one of his priorities while engaging with nations in the immediate and extended maritime neighbourhood. Soon after coming to power in 2014, he brushed aside environmental concerns and cleared a decade-old proposal to set up a radar station on an island a few miles from the Coco Islands, which Myanmar had leased to China for setting up a listening post. It is reported that infrastructure development by China in the Coco Islands took place in a short span of time and, besides the radar station, the Chinese also built an airstrip while India took 10 years just to decide on building a radar station on Narcondam Islands close by.
Undeniably, the decisiveness shown in getting clearance for this radar station through signaled the new government's approach to security in the IOR, but that has to be sustained and followed up with a clear-headed response to growing challenges in the surrounding seas with regular movement of Chinese submarines and naval vessels, piracy and threat of terrorism.
After all, any policy for playing a bigger role in the Indian Ocean must have the Andaman & Nicobar Islands as its centrepiece. The Modi government has decided to build on the islands' strengths and announced a plan to develop port infrastructure and connectivity between the islands last year, with a Rs.10,000 crore allocation.  However, any prospective planning for the development of essential infrastructure thereon would need a clear political objective to pass the slow decision-making process in the country and the indifference of its bureaucracy.
Until now, the islands were  treated like any other union territory controlled by the central government, where infrastructure development or the opening up of uninhabited islands were never addressed, despite the islands' locational importance. This outlook ensured that an undersea cable link between India's mainland and the islands remains incomplete even after several years. Road and airstrip construction, even the building of jetties, has been slow or absent. Internet connectivity, even at the naval base in Port Blair is reported to be erratic. More than a decade after the tsunami of 2004, an important road linking the north with the south has still not been rebuilt. Indeed, until as late as last year, night landings were not even possible at Port Blair airport.
A few years ago, a naval aviation base was set up at INS Baaz in Campbell Bay, but the infrastructure needs of the navy also have to be addressed. Ship repair facilities need to be provided, for which, clearances must come through faster. Currently, only small naval vessels and coast guard boats ply the islands.
Some years back, the Tata Group was given permission to build a resort on one of the islands, only to see the project shelved due to environmental concerns. Now, the central government has proposed to open up five islands to tourism, but environmentalists have strongly opposed the idea as they fear it would threaten indigenous tribes and a sensitive ecosystem. Some experts argue that opening up uninhabited islands to tourism activity is a good way to establish Indian presence and it also allows for human intelligence gathering in these remote national assets. In the last several years, there have been instances when smugglers landed on uninhabited islands and no one in security circles had any knowledge. Environment minister Prakash Javdekar, on a visit to the islands in February, conceded that government policies have not been thought out well.
Such decisions on the building or non-building of infrastructure, whether for defence or civilian use, tend be taken independently, in absence of a clear understanding of how to position the islands.
In the long haul, a robust foreign policy on the IOR will require clarity on how the Andaman & Nicobar Islands should be positioned. In recent days, Japan has shown interest in developing a deep sea port in A&N and the shipping ministry is preparing a long-term plan. It is a favourable development. But, time is of essence when maritime strategy has to be operationalised on the ground with tight deadlines and the Modi government must set up a special team of experts and bureaucrats to get the development of A&N off the ground.
Sunil Raman, a former BBC journalist, heads Public Affairs for Hill & Knowlton Strategies in India.
This article was exclusively written for Gateway House: Indian Council on Global Relations. You can read more exclusive content here.
For interview requests with the author, or for permission to republish, please contact outreach@gatewayhouse.in.
© Copyright 2016 Gateway House: Indian Council on Global Relations. All rights reserved. Any unauthorized copying or reproduction is strictly prohibited