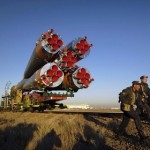 It is time for India to reconnect with a rapidly-changing Central Asia—increasingly the focus of world attention, and rivalry among the great powers over security and energy stakes. India too has high stakes in Central Asia, and a cogent policy outlook is long overdue.
At a time when India is re-examining its role in Asia, the country cannot ignore its historical links with the Eurasia, beyond the Himalayas, links which go back more than 2,500 years. These connections have been uninterrupted since the days of the Sakas—or Scythians, who are mentioned in the Mahabharata. But Partition and the subsequent Pakistani occupation of parts of Kashmir led to a direct physical cut-off on India's northern flank.
In reviving these links, India will find plenty of competition. Traditional player Russia is reasserting itself after a short retreat from the region. China is making a speedy foray into Central Asia with billions of dollars for its latest Silk Road Economic Belt project. The West has used the region as a valuable supply hub for the Afghanistan war effort. And the crisis in Ukraine is compelling the U.S. to review its Central Asia strategy.
Political uncertainty looms over the region, arising from the succession issues of its leaders. With the exception of Kyrgyzstan, the politics of Central Asia are unpredictable. Its politico-economic characteristics are not very different from that of West Asia. In fact, the 2010 Kyrgyz uprising had sufficiently indicated that the region is prone to an Arab Spring-type political explosion.
The region is also the northern frontier of the Islamic world, hitherto unaffected by a fundamentalist wave. But behind the secular setting, a shift to a far more religious society is underway, and Central Asia is emerging as the next radical Islamic region. Chechnya, Ferghana, and Xinjiang, with their 100 million Salafi Muslims, could form a new arc of instability. Even the Islamic State in Iraq and Syria (ISIS) has heavily recruited from Central Asia.
Legitimate stakeholder
Central Asians had for long considered India a legitimate stakeholder in the region. India has vast energy and security stakes there, and tremendous political goodwill due to the legacy of its friendship with the former Soviet Union. Despite this, India has failed to make commercial progress. Various factors—geopolitical constraints, Pakistan's hostility, and Afghan instability, among others—have kept India and Central Asia physically disconnected.
To move ahead, India needs strategic clarity, and Delhi must lay the groundwork for  enduring policy goals in Central Asia. That requires out-of-the-box thinking to foster regional economic integration in the North—even if means cooperating with China to enlarge regional connectivity and trade, rather than struggling to find a model for itself. A fresh foreign economic policy must be crafted to accommodate two-way partnerships and a web of economic interdependence with other countries and regional groupings.
Indian and Chinese interests historically converged in Central Asia. In the past, Chinese and Indian endeavours, including the fabled Silk Road and Spice Route that traversed through Central Asia and reached Europe, provided economic sustenance and political stability to the region.
Both India and China should recognise that their links to Central Asia are not in conflict. President Xi Jinping is revitalising the ancient Silk Route through which Indian goods and culture spread to the East. If India and China calibrate in Central Asia, the outcome could be harmonising rather than conflicting. An China-India congruity formed on the basis of the hard reality of a shared history, geography, and economic resurgence could still spring surprises, just as such a congruence did in Europe.
Whatever steps India takes in Central Asia will be more meaningful if Russia is included. Both countries have common stakes in Central Asia. So far India has not sufficiently coordinated with Russia on economic development in the region; now is the time for joint economic projects.
Restoring lost linkages
India can restore some of its lost linkages through the new regional forums shaping up in the region, like the Shanghai Cooperation Organization (SCO) and the Eurasian Economic Union (EEU). It can step up its trade, economic, and energy linkages with Central Asia through joint ventures.
In fact, the Central Asian energy sector remains relatively closed for Indian investors, and the private sector's engagement here is not significant. Indian companies can invest in the two potentially lucrative sectors of energy and mining—in resource-rich Kazakhstan, for example. Indian energy companies can also invest in downstream processing and refining of crude oil to manufacture petro-chemicals and other related products.
In terms of connectivity, while the over-land route through Iran and Afghanistan or the International North-South Transport Corridor are important pursuits, any connectivity to Eurasia is logically more directly possible through the northern parts of India, along the traditional India-Central Asia route that went across the Himalayan passes and the Xinjiang steppes. By accessing Eurasia, India can seek interlocking regional economic integration with its northern neighbours, including China. In fact, it may be the only  realistically attainable option worth pursuing.
India must quickly recognise the evolving changes, challenges, and opportunities in this region to avoid being relegated to the periphery of Eurasian politics. It is now up to Prime Minister Modi to manage a rebalancing in Central Asia through diplomacy and cooperation rather than competition.
Ambassador P. Stobdan is a Senior Fellow at Institute for Defense Studies and Analyses(IDSA), New Delhi. He is  an expert on Central Asian affairs and was previously India's ambassador to Kyrgyzstan.
This article was exclusively written for Gateway House: Indian Council on Global Relations. You can read more exclusive content here.
For interview requests with the author, or for permission to republish, please contact outreach@gatewayhouse.in.
© Copyright 2015 Gateway House: Indian Council on Global Relations. All rights reserved. Any unauthorized copying or reproduction is strictly prohibited