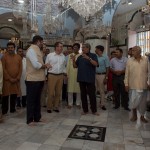 This week, the U.S. Defense Secretary, Ashton Carter, concluded an important visit to India – his second in less than a year – reflecting the momentum that the bilateral defence relationship has acquired during his tenure.
There were three significant outcomes of Secretary Carter's visit. One, the in-principle understanding between both sides to sign the Logistics Exchange Memorandum of Agreement (LEMA); two, the establishment of the maritime security dialogue and three, the initiation of new pathfinder projects as part of defence technology cooperation.[1]
The LEMA is an enabling arrangement between India and the United States to provide their bases, fuel and other kinds of logistics support to each others' fighter jets and naval warships. The text of the agreement is not yet finalised but it is a variation of the Acquisition and Cross-Servicing Agreement, which the U.S. has with its many of its North Atlantic Treaty Organization allies.
The agreement is part of the trinity of the so-called 'foundational' defence agreements along with the Communications and Information Security Memorandum of Agreement (CISMOA, for interoperability between the Indian and the U.S. military equipment) and the Basic Exchange Cooperation Agreement (for exchanging geo-spatial information) which the U.S. had been urging India to sign since 2005. For a decade, India prevaricated. Its main concern was two-fold: it didn't want to lose autonomy in its foreign policy dealings, nor get embroiled in conflicts which it had no stake in.
Now that both countries have agreed to sign the LEMA, the U.S. has sought to dispel India's concerns by clarifying that the agreement is not binding on either nation and that the U.S. armed forces personnel can be in India only at the invitation of the Indian government. The successful conclusion of this agreement will enable the signing of the other agreements. Signing CISOMA is significant since it allows the U.S. to provide some of the sensitive communication equipment from the hardware sold earlier to India, like P-8I maritime patrol aircraft.[2]
The second important outcome of the visit was the decision to establish the bilateral maritime security dialogue. This follows the January 2015 India-U.S. joint statement[3], which stressed freedom of navigation, particularly in the South China Sea – a proposition reiterated in the joint statement issued after the meeting of Secretary Carter and Defence  Minister Manohar Parrikar on April 12 in New Delhi.
While India is reluctant to actualise that commitment through joint patrols in the South China Sea region – as suggested by Admiral Harry Harris of the U.S. Pacific Command[4] – it is taking other steps with the U.S. to address that commitment. These include an agreement for information-sharing on commercial shipping traffic and, more importantly, navy-to-navy discussions on submarine safety and anti-submarine warfare. This will surely raise hackles in Beijing.
Last year, India and the U.S. had signed the new framework for defence relationship[5], under which special emphasis was given to defence technology co-development and co-production. Four 'pathfinder' projects- experiments in making simpler technologies and easy-to-produce equipment- had been identified as part of this. These projects are particularly important given India's own slow and difficult experience in indigenously developing and producing some of these basic technologies. The MEHPS system, for instance, will be useful for the army units deployed in the remote and high-altitude locations of Jammu and Kashmir and in the Northeast.[6]
India-U.S. defence technology collaboration
| | | | |
| --- | --- | --- | --- |
| Project | Product owner | Details | Status |
| Raven Unmanned Aerial Vehicles | AeroVironment | These drones offer a 360° view of the proximate area for soldiers, providing valuable tactical intelligence. | Modalities of implementation still being discussed |
| "Roll on/roll off" kits for the C-130J aircraft | Lockheed Martin | Transforms the cargo aircraft into a long-range surveillance aircraft. | Modalities of implementation still being discussed |
| Mobile Electric Hybrid Power Sources (MEHPS) | U.S. Government | Supplements power from the traditional generators on the battlefield | Bilateral cooperation agreement signed in August 2015 |
| Next Generation Protective Ensemble | U.S. Government | Protective body suit against chemical and biological warfare agents | Bilateral cooperation agreement signed in August 2015 |
| Digital Helmet Mounted Display (DHMD) | U.S. Government | Provides the necessary operational data/tactical intelligence through the helmet display | Identified as a pathfinder project in April 2016 |
| Joint Biological Tactical Detection System (JBTDS) | U.S. Government | System to detect and identify biological warfare agent attacks | Identified as a pathfinder project in April 2016 |
| Atmospheric Sciences for High Energy Lasers | U.S. Government | Development of directed-energy weapons and their efficacy in turbulent atmospheric conditions | Project identified for bilateral collaboration in April 2016 |
| Cognitive Tools for Target Detection | U.S. Government | Research around human cognitive processes | Project identified for bilateral collaboration in April 2016 |
| Small Intelligent Unmanned Aerial Systems | U.S. Government | Drones | Project identified for bilateral collaboration in April 2016 |
| Blast and Blunt Traumatic Brain Injury | U.S. Government | Research around injuries caused during blasts and explosions | Project identified for bilateral collaboration in April 2016 |
| Jet Engine Technology Joint Working Group | — | Engine technologies for fighter jets | Moving at a slower pace, due to the complexities associated with the level of technologies involved |
| Joint Working Group on Aircraft Carrier Technology Cooperation | — | Carrier design, advanced launch and recovery systems, and construction processes | Both sides will soon conclude the information exchange annex for data sharing on aircraft carriers; third meeting of the group is scheduled in July 2016 |
During Secretary Carter's visit, two new pathfinder projects- DHMD and JBTDS – were identified. Again, both systems are critical technologies, particularly the DHMD, which may become an important component of India's own efforts to put in place 'Soldier as a System' project and the Indian Army's efforts towards acquiring 'network-centric warfare' capability. Cooperation has also been announced on four advanced science projects (see table).
This progress is impressive. But the deepening bilateral technology collaboration doesn't yet benefit Indian private defence companies as all the above-mentioned projects are government-to-government. Discussions on the modalities of the implementation  of the two pathfinder projects which do involve the private sector – Raven UAV drone and surveillance kits for the C130 transport aircraft- are still on-going. Involving the private sector in these arrangements is critical for creating a robust defence industrial base in India.
Secretary Carter's visit has given a critical impetus to the India-U.S. bilateral defence relationship, especially as it runs parallel with the continued U.S. military assistance to the Pakistan Army – first selling F-16 fighter jets and recently AH-1Z attack helicopters[7]– which has generated much animosity against the Obama administration in the Indian policy establishment.
As India bandwagons with the U.S., it is necessary for New Delhi to have a clear understanding of the ends for which the engagement with Washington is pursued. Then only can India also play the sophisticated game of 'strategic autonomy' that this engagement is.
Sameer Patil is Fellow, National Security, Ethnic Conflict and Terrorism, at Gateway House.
This article was exclusively written  for Gateway House: Indian Council on Global Relations. You can read more exclusive content here.
For interview requests with the author, or for permission to republish, please contact outreach@gatewayhouse.in.
© Copyright 2016 Gateway House: Indian Council on Global Relations. All rights reserved. Any unauthorized copying or reproduction is strictly prohibited.
References
[1] United States Department of Defense, "India-United States Joint Statement on the visit of Secretary of Defense Carter to India April 10-13, 2016", 12 April 2016, <http://www.defense.gov/News/News-Releases/News-Release-View/Article/718589/india-united-states-joint-statement-on-the-visit-of-secretary-of-defense-carter>
[2] Aroor, Shiv, "Without CISMOA, The Indian Navy Works The P-8I", LiveFist, 26 July 2012, <http://www.livefistdefence.com/2012/07/without-cismoa-indian-navy-works-p-8i.html >
[3] Ministry of External Affairs, "US-India Joint Strategic Vision for the Asia-Pacific and Indian Ocean Region", 25 January 2015, <http://www.mea.gov.in/bilateral-documents.htm?dtl/24728/USIndia_Joint_Strategic_Vision_for_the_AsiaPacific_and_Indian_Ocean_Region>
[4] Press Trust of India, "India dismisses US Admiral's proposal for joint patrolling", DNA, 4 March 2016, <http://www.dnaindia.com/india/report-india-dismisses-us-admiral-s-proposal-for-joint-patrolling-2185561>
[5] United States Department of Defense, "Framework for the U.S.-India Defense Relationship", 3 June 2015, <http://archive.defense.gov/pubs/2015-Defense-Framework.pdf>
[6] Patil, Sameer, "Business underpins India-U.S. defence deal", Gateway House, 30 January 2015, <https://www.gatewayhouse.in/business-underpins-india-u-s-defence-deal/>
[7] "US Navy orders nine AH-1Z Viper Attack Helicopters for Pakistan", Dawn, 5 April 2016, <http://www.dawn.com/news/1250108>