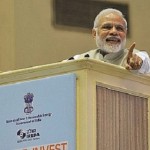 The bomb blast in Ankara, a deeply divided political class leading to an ethnic strife, spilling over of the civil war in Syria and an economy grappling with high public and private debt — Turkey – this year's G20 Summit presidency is an apt representation of many things that the world is struggling with today.
Turkey's priorities for the Summit revolve around finding methods to strengthen the global economy. Macro-economic cooperation, investment, employment and trade have ruled the airwaves; followed by other issues.
Incidentally, this is everything that India, too, has been seeking to build or rebuild within her own borders. Prime Minister Narendra Modi's initiatives like the Make in India campaign, Digital India, Skill India and developing 'Smart Cities' are all centered around kick-starting economic growth and creating employment within India.
These initiatives are also designed to attract foreign capital that the country badly needs to fund its growth. Things have started to improve as well. Foreign Direct Investment (FDI) in India has been on the rise once again and the country has jumped four places in World Bank's Ease of Doing Business report. A rank of 130[1] isn't anything to boast about but this modest turnaround make for a confidence building measure.
The Digital India programme is slated to rope in an investment of Rs 4.5 lakh crore, creating about 20 lakh jobs in the process.[2] Modi's recent trip to the Silicon Valley in California, U.S., too has been received with bouquets filled with promises from the likes of Google, Apple and Tesla.
Tesla's Elon Musk even tweeted that setting up of its famed Gigafactory to build energy storage devices in India is a possibility. Google, on its part, has promised to provide free wi-fi at 500 railway stations across India, Global chip-maker Qualcomm has announced a $150 million fund to invest in Indian start-ups and Satya Nadella-led Microsoft wants to provide low-cost internet to 5 lakh villages in India. Similar support was extended by multinationals from South Korea, Taiwan and Japan.[3]
Given China's mounting problems, this is a significant time for India to convince global investor community of its position as a worthy backup able to provide stable returns.
Although Japan, USA, Canada, Germany, Singapore, France and South Korea have already lined up to invest in smart cities in India, the question is that whether India can make a strong pitch to position itself as the working fulcrum of the global economy?
The global growth report card terms India as the only 'bright spot' amongst the BRICS countries with the GDP rising at about 7%. Although it continues to be erratic, the Industrial production which was almost stagnant for the last three years saw a massive growth of 6.4% in August 2015.[4] Even a 50 basis points cut by the Reserve Bank of India, in October, indicates that it is time to push the pedal on growth.
All these events do point toward a growth story that is slowly gaining confidence of its hey days. However, the most important task in hand for India, to undertake in global summits like the G20, is to convincingly communicate the domestic stability in the policy environment and instill their faith in the establishment.
There are still a lot of global investors sitting on the fence because of the key legislation like the Goods and Services Tax (GST) Bill and the land acquisition bill.
However, if one were to assess the overall global scenario taking in consideration the major players of the G20, the stage is set for India to project itself as an economy which would help in catalysing the global economy.  Even though India currently occupies only 2% of the global trade, it is the fastest growing major economy and must capitalise on this feat than squander it away.
Japan, the third largest economy in the world is plunging back to recession with its shrinking GDP, low wage growth and an astronomical debt of 250% of its Gross Domestic Produce.[5] The recent debacle of the stock markets in China and the subsequent panic that ensued in the global markets have explicitly indicated the volatility of the Chinese growth model and the dangers of over-depending on its economy. This lesson was learnt hard by South Korea, when the country's exports, a quarter of which depend on the Chinese market shrank by 14.7% last month, highest in six years, to under $40 billion.
Apart from Germany, which is busy firefighting the economic crisis in European Union, all other economies are struggling with economic difficulties of varying proportions. With all countries being firmly pushed against the wall, there couldn't have been a more compelling time to re-affirm global ties to enhance sustainable co-operation.
India, thus, must seek this opportunity in the upcoming G20 summit and impress upon its role as a proactive leader in these times of crisis.
Sagar Deoskar is a policy analyst and an ex-LAMP fellow. 
This article was exclusively written for Gateway House: Indian Council on Global Relations. You can read more exclusive content here.
For interview requests with the author, or for permission to republish, please contact outreach@gatewayhouse.in.
© Copyright 2015 Gateway House: Indian Council on Global Relations. All rights reserved. Any unauthorized copying or reproduction is strictly prohibited
References:
[1] "Economy Rankings." Ranking of Economies. Accessed November 12, 2015. http://www.doingbusiness.org/rankings.
[2] Singh, Arti. "Digital India Highlights: Rs 4.5 Lakh Cr Investment, 18 Lakh Jobs, M-governance, and 'I Dream Of…' – Firstpost." Firstpost Digital India Highlights Rs 45 Lakh Cr Investment 18 Lakh Jobs Mgovernance and I Dream of Comments. July 1, 2015. Accessed November 12, 2015. http://www.firstpost.com/business/digital-india-highlights-rs-4-5-lakh-cr-investment-18-lakh-jobs-m-governance-and-i-dream-of-2321734.html.
[3] "Factory Output Jumps to 3-year High in August." The Indian Express. October 13, 2015. Accessed November 12, 2015. http://indianexpress.com/article/business/economy/industrial-production-hits-3-year-high-grows-at-6-4-in-august/.
[4] "PM Modi in Silicon Valley: WiFi in 500 Railway Stations, and Other Top Tech Announcements." The Indian Express. September 28, 2015. Accessed November 12, 2015. http://indianexpress.com/article/technology/tech-news-technology/pm-modi-in-silicon-valley-wifi-in-railway-stations-broadband-for-village-and-more/.
[5] Riley, Charles. "Abenomics: Shinzo Abe's Plan to Revive Japan's Economy Is failing." CNNMoney. October 5, 2015. Accessed November 12, 2015. http://money.cnn.com/2015/10/05/news/economy/japan-economy-abenomics-experiment/.