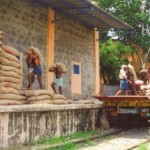 The July 31 deadline for ministers of the World Trade Organisation (WTO) to issue the post-Bali work programme for the next Ministerial Conference in Nairobi in December has lapsed. This leaves open a question: which of the unresolved issues of the 2001 Doha Development Agenda (DDA) will be tabled in Nairobi?
In talks this year the U.S. and the European Union have placed demands on India and China to consider issues outside of the DDA mandate, including lowering farm subsidies and requesting a "recalibration" of the Nairobi talks.  But India, China, Brazil, and South Africa have denounced "recalibration" as an attempt by western countries to reintroduce issues from the 1996 Singapore Round.
In Bali in 2013, WTO members had reached a patchwork deal.  Led by India's demands to maintain its public food-stockpiling programme, developing countries were permitted to continue food procurement without penalty under the Agreement on Agriculture's subsidies limit [1]. This arrangement would apply till members reached a "permanent solution" on food security by December 2017.
In exchange, developing countries agreed to a trade facilitation deal, of primary interest to developed countries, to reduce non-tariff barriers to trade across nations for a freer exchange of goods.
But in November 2014 Indian Prime Minister Narendra Modi and U.S. President Barack Obama agreed to extend the four-year clause to an indefinite period until the permanent solution could be reached. The extension came after India threatened to withhold ratification of a trade facilitation deal in the absence of an assured pathway to address the food security concerns of developing countries.
India's stance on food security was commendable, but the ensuing deal melded together previously separate issues of agriculture and trade facilitation. Was this an unjustified sacrifice for developing countries?
Developed countries pushed for trade facilitation on the basis of the $1 trillion global income gain estimated by the International Chamber of Commerce.  Critics suggested the figure was flawed and would largely benefit western countries[2].  Jeronim Capaldo, research fellow at the Global Development and Environment Institute at Tufts University in the U.S., argued that trade facilitation commitments without social protection measures for developing countries could be disastrous. This is because calculations are based on the assumption that all trade barriers can be removed and official estimates do not accurately reflect the benefits of trade facilitation or include costs specific to each country's varying economic and infrastructural capacities[3].
India remains the key negotiator of the development demands of G33 countries. Alongside the protection of subsidies for food security programmes, the G33 proposal calls for allowing social protection measures for land reform and rural development.
Unlike many developing countries, however, India has the financial capacity to comply with the mandates of trade facilitation and issues of interest to developed countries.  India's Foreign Trade Policy 2015-2020, announced this April, show that the country's ambition to increase trade is matched by its capacity to meet WTO trade facilitation mandates.
According to the Indian Express, the government seeks to double the value of exports by 2020.  The target is $900 billion.  The provisions of the Foreign Trade Policy match WTO mandates—it promises to streamline customs procedures into a single window system at 18 seaports and 17 airports, and provide tax exemptions for all goods and services exported from India[4].
India's domestic position on food security, however, does not cohere with its demands at the WTO to maintain subsidies for food production and access for the poor.  Only 11 states in India have implemented the National Food Security Act since it was passed by Parliament in September 2013.  A government-appointed committee tasked with reviewing the Food Corporation of India's procurement policy recommended reducing coverage of the Act from 67% of the population entitled to discounted grains to 40% and a phased introduction of direct cash transfers to replace food grains[5].
The announcement this July that India's and China's delegation will present the case for food security protections in Nairobi—which includes reductions in the agricultural subsidies of developed countries—shows that India is maintaining an outward stance on the development agenda[6].
But, as a negotiator, India will find it difficult to maintain its integrity as both a leader of G33 countries and a wealthy nation that now has an expressed stake in the expansion of global trade. Abhijit Das, head of the Centre for WTO Studies at the Indian Institute of Foreign Trade in New Delhi, has suggested India only entertain talks within specific areas of the mandate under the condition that developed countries "reciprocate by cutting their farm subsidies" and "address issues of food security and farm livelihood"[7]. 
India should also stick to the G33 proposal submitted in Bali that called for flexibilities for developing countries to support rural development programmes and "enhanced food security status of their rural populations.[8]" 
India's rapid economic growth in the last decade, however, has produced paradoxes—a top-ten economy with only a nominal reduction in the number of food insecure people. This persistent insecurity has forced the hand of developed WTO countries on food security.  But the top-ten economy status and thus the country's attractiveness to the West has made India more willing to entertain the developed world's interests of trade expansion.
That's why, despite claims, India can no longer maintain its hardline stance on development issues in good faith. This position was hailed in Doha in 2001 and it led to  concessions on implementation issues, accommodations on the public health concerns of developing countries, and a revival of the WTO itself—while successfully keeping Singapore issues out of the mandate[9].
Now, the Bali trade-off will make it increasingly difficult for developing countries to achieve agreements on DDA without compromises on trade that may eventually be injurious to their people.
Ashwin Parulkar is with the Centre for Equity Studies, New Delhi, where he focuses on issues pertaining to the right to food and homelessness in India.
This article was exclusively written for Gateway House: Indian Council on Global Relations. You can read more exclusive content here.
For interview requests with the author, or for permission to republish, please contact outreach@gatewayhouse.in.
© Copyright 2015 Gateway House: Indian Council on Global Relations. All rights reserved. Any unauthorized copying or reproduction is strictly prohibited
References
[1] Ministry of Commerce & Industry, Government of India, India & World Trade Organization, <http://commerce.nic.in/trade/international_trade_matters_wtoagreement.asp>
[2] Patnaik, Biraj, 'The fiction of victory at Bali,' Live Mint, 15 December 2013, http://www.livemint.com/Opinion/937J6cjegFCcJYDEcyzNzI/Indias-fiction-of-victory-at-Bali> and Wise, Timothy, 'Will the WTO fast-track trade at the expense of food security?' Al Jazeera, 24 July 2014,<http://www.aljazeera.com/indepth/opinion/2014/07/wto-negotiations-food-security-20147237431402983.html>
[3] Capaldo, Jeronim, 'Trade Hallucination: Risks of Trade Facilitation and Implementation',  Global Development and Environment Institute Working Paper No. 14-02 (June 2014), <http://www.ase.tufts.edu/gdae/Pubs/wp/14-02CapaldoTradeHallucination.pdf>
[4] Ministry of Commerce and Industry, Department of Commerce Government of India, Foreign Trade Policy, <http://dgft.gov.in/exim/2000/highlight2015.pdf>
[5] Report of the High Level Committee on Reorienting the Role and Restructuring of Food Corporation of India, January 2015, < http://fciweb.nic.in/app/webroot/upload/News/Report%20of%20the%20High%20Level%20Committee%20on%20Reorienting%20the%20Role%20and%20Restructuring%20of%20FCI_English_1.pdf>
[6] Press Trust of India, 'India, China to Highlight Food Security Issues at WTO,' NDTV, 30 July 2015, <http://www.ndtv.com/india-news/india-china-to-highlight-food-security-issues-at-wto-meet-1201891>
[7] Das, Abhijit, 'Showing spine at the WTO negotiations', The Hindu, 16 July 2015, <http://www.thehindu.com/opinion/lead/showing-spine-at-the-wto-negotiations/article7426095.ece>
[8] Food and Agriculture Organization, and International Centre for Trade and Sustainable Development, G-33 proposal: early agreement on elements of the draft Doha accord to address food security, September 2013, < http://www.fao.org/fileadmin/templates/est/PUBLICATIONS/g33-proposal-early-agreement-on-elements-of-the-draft-doha-accord-to-address-food-security_1_.pdf>
[9] Ray, Amit Shovon Ray and Sabyasachi Saha, 'India's Stance at the WTO: Shifting Coordinates, Unaltered Paradigm,' Discussion Paper: 09-06, Centre for International Trade and Development, School of International Studies, Jawaharlal Nehru University, January 2009, <  http://www.jnu.ac.in/SIS/CITD/DiscussionPapers/WTO.pdf>