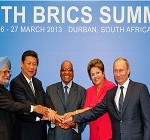 On July 6th, Chinese and Russian universities jointly launched the BRICS Universities League, a consortium of institutions dedicated to study the five BRICS nations — Brazil, Russia, India, China and South Africa.
China was represented by host Fudan University, Tsinghua University, East China Normal University, Sichuan University, and Zhejiang Normal University. Russia was represented by Ural Federal University, National Research University Higher School of Economics, Saint Petersburg State University, and Moscow State Institute of International Relations.
In parallel, Fudan University also organized an international symposium on BRICS studies. Here too, the Russians and Chinese dominated in attendance but experts representing think tanks from all the BRICS nations presented their foreign policy ideas. Their research covered international trade, transnational security and global governance – all with the goal of strengthening BRICS as a forum or an alliance.
Thus, the launch of the league and conference was a clarion call to launch BRICS studies programmes.
Clearly, the Russians and Chinese have taken the lead. This makes sense given that both have the expertise and resources to commit to such strategic research initiatives. After the launch, India, South Africa and Brazil also expressed interest in joining the league to upgrade their participation that has largely been bilateral and ad hoc. For instance, India and China are establishing a Gandhi Centre at Fudan University in Shanghai dedicated to the study of India.
Nonetheless, this should be a warning to sceptics – especially those in the West – who have been questioning the group's coherence, inter-dependence and utility. China, they say, is already part of G2, Russia prefers Europe, India is weak, Brazil has no growth, South Africa shouldn't even be there – these are oft-repeated views. The West reminds us that the political systems, social fabric, economic structures, and domestic mandates of the BRICS countries are different, or even in contradiction.
These arguments are cogent but such a mechanical critique disregards evolution. The alliance is in its infancy. Issues of common interest are growing. There is genuine frustration with the existing systems of global finance and political governance. Free markets and free trade have not brought prosperity to the masses. The multilateral institutions are unfair. The global implications of military interventions are rarely considered.
BRICS can offer solutions, even collaboratively with the West, for the dissatsified middle class and the voiceless poor that now accounts for majority of the world's population. The idea of establishing a BRICS Bank, the most concrete idea so far, came from India. Still more ideas are needed. It is possible, that unless these three countries participate actively, China will end up dominating the agenda. It is only competence in research that will ensure a level playing field.
So, as the first step, BRICS have begun looking to think tanks and universities for policy recommendations. Ideation can bring change for the developing world too, just as they have done for centuries for the developed nations.
Akshay Mathur is Head of Research at Gateway House: Indian Council on Global Relations.
This blog was exclusively written for Gateway House: Indian Council on Global Relations. You can read more exclusive content here.
For interview requests with the author, or for permission to republish, please contact outreach@gatewayhouse.in.
© Copyright 2013 Gateway House: Indian Council on Global Relations. All rights reserved. Any unauthorized copying or reproduction is strictly prohibited